Niche Dreams – Part 15: A Substantial Increase in Organic Traffic
My last post for Niche Dreams was several months ago. I know I had mentioned that I would continue providing updates and I sincerely had the intention of doing so. My apologies for keeping all of you hopeful Amazon affiliates waiting. Part of the reason for lack of updates is due to time and concentrating my efforts on my niche website. Another factor was that no really notable progress had occurred until recently.
If you're counting months since my last earnings report, 4 have passed that I've collected commissions for. I'm not going to go into great detail for each of those months. Long story short, the first two months were disappointing while the last two have really been quite exciting. I will share the earnings for September – December but all other metrics will just be for December. This is when I believe I finally have broken through in terms of search visibility.
Current Metrics and Statistics of my Niche Website
Trust/Citation Flow and Domain/Page Authority
ROOT DOMAIN
TF: 8
CF: 34
HOME PAGE
DA: 24
PA: 28
Observations
The current metrics are a bit of a shock. I'm actually comparing them for the first time to what I reported in September since my last update. Citation Flow dropped by 20 points while Trust Flow also fell by 4 points. For the MOZ metrics, Domain Authority decreased by 2 points while Page Authority remained the same.
Normally, I'd be in a panic seeing such a drastic drop in Majestic's Citation Flow. After all, I consider it to be a superior gauge of authority then MOZ's system. Although, that's just my personal opinion. One reason I'm not worried is that search traffic is on the rise. Another reason is that competitor websites with a much more established presence have a similar TF/CF score.
This is all a bit puzzling and I can only speculate that Majestic recalibrated their algorithm similar to what MOZ did last year. I haven't read any news about an update to support this theory, it's just a hunch I have. There's also the possibility that I may have lost some significant backlinks for my scholarship program. That's okay, as I believe Google has caught on to that method of backlinking and has greatly reduced their value.
Keyword Rankings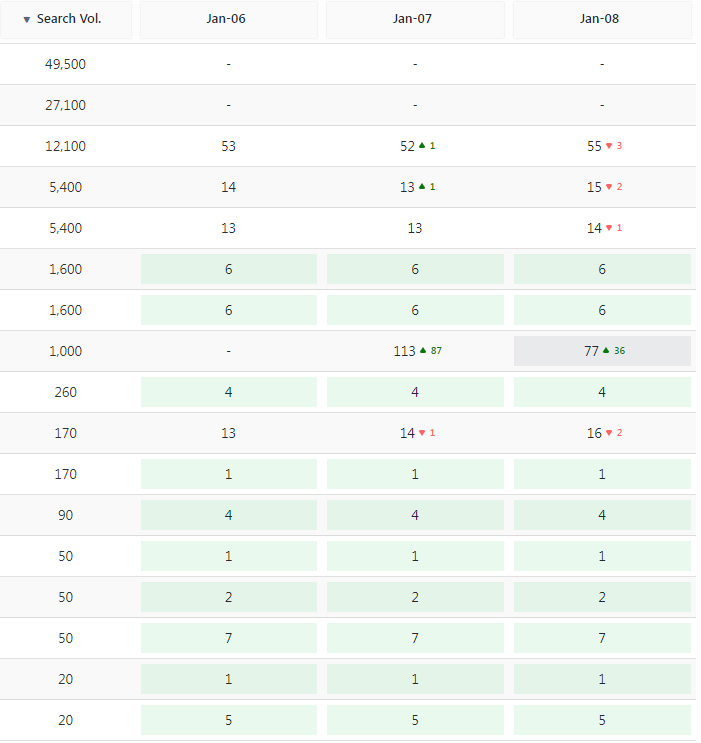 The medium-volume keywords (1,600) are slowly creeping towards top 3 rankings and might provide a template for me to follow for similar keywords at that volume.
Observations
Hot off the press are the latest rankings for the same keywords I reported on back in September. I figured since it's closer to the middle of this month I'd provide the freshest results instead of the last 3 days of December. You'd think that there would be a few keywords that really climbed up the rankings, however, many remained close to their previous positions 4 months ago.
Some notable gains include the 1,600 volume keywords moving from #9 to #6. The 12,100 keyword, which links to a main power page, also saw a slight increase from #68 to #55. That particular keyword is one that I need to revisit and concentrate my link building efforts for that page. I've hardly done any link building so it's pretty safe to assume these gains are due to the increased authority and focus on internal link structure.
Pay no attention to the high-volume keywords (49,000 & 27,500) as they really only register outside of the top 100 when a new post is published. The day either of these has a stable ranking under 100 will be cause for celebration!
If you're looking for a tool to keep track of your own keywords, I still highly suggest you try SE Ranking. There are a lot more features besides the keyword tool which have been invaluable in building my niche site and evaluating competitors. Check out my review to learn more about these features. They offer a free trial so you can give it a spin before you commit to it.
Amazon Affiliate Earnings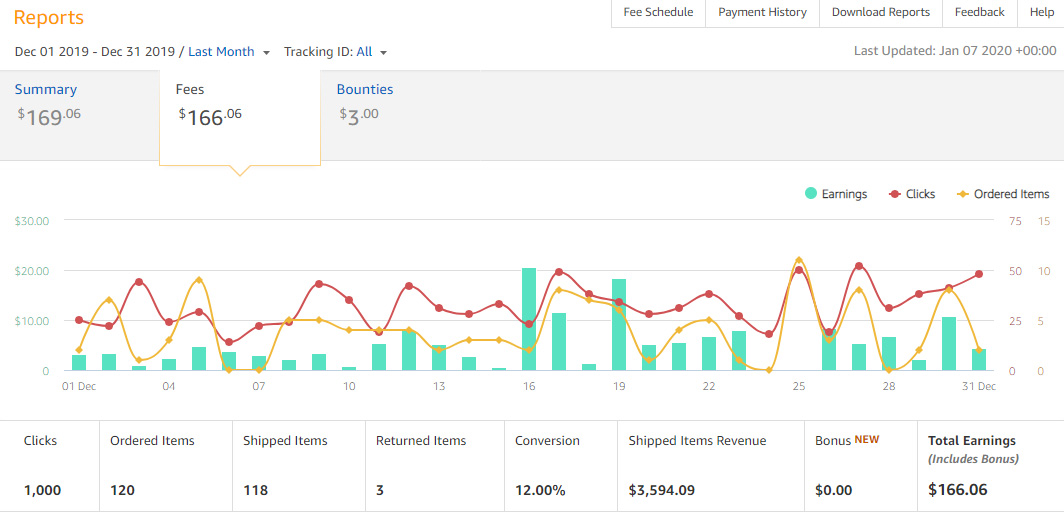 A new record and hopefully a trend that will continue!
Observations
At $166.06, December's earnings easily surpassed the previous high of $113.81 set nearly a year ago in February 2019. The difference is that December had a nice even spread of comissions throughout the month instead of the extremely fortunate single-day monster comission from a high-priced item last February.
What's really interesting is seeing the increase in clicks (1,000 even) which is nearly double that of the last report (588). Even though the ordered items was only 14 more for this period, the Shipped Items Revenue is almost doubled at $3,594.09 from the previous amount of $1,854.63. The takeaway from this is that people are buying merchandise at a greater cost on average.
It's easy to suggest that this boost in earnings is due to the holiday season. However, the real turning point started in November and at my current pace for this January, I expect to hit another new record. Below you'll find my commissions for each of the previous 3 months. As I said earlier, those first two were disappointing but there's been a great bounceback since.
September: $51.10
October: $36.74
November: $104.93
Google Analytics Traffic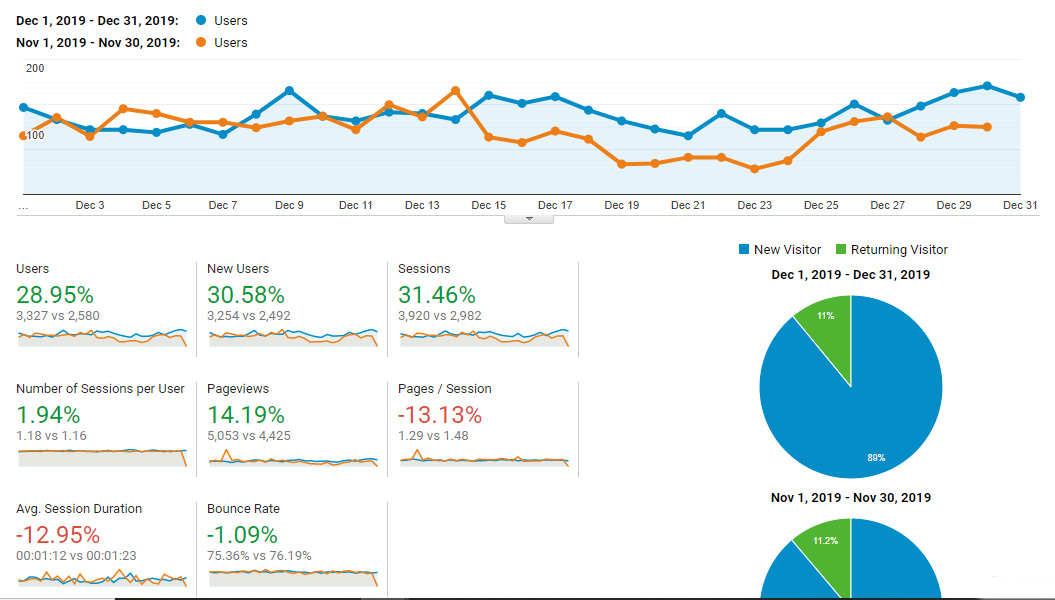 30% growth in new users from Nov. to Dec.!
Observations
It's quite a pleasant surprise to see the growth in new users from November to December. The only explanation I can provide is that I've finally earned some trust from Google. Roughly 3,300 users visited my niche site in December and current projections estimate another large increase coming for this month. I couldn't help but do the math by taking the daily average visitors from 1/1/20 to 1/8/20 and forecasting January's visitor total. If these numbers continue, I should hit 5,000 visitors for this month! That's not taking into account that I'm reporting the half-day total for today (Jan. 8th) and any increase in daily visitors from this point forward.
What I believe to be the single-most-important factor for this growth is the hard work I put in creating unique content and posts months and months ago. I've spent hours personally writing in-depth reviews, articles, interviews, and even my own personal experiences for Kettlebell Krusher. It's taken a lot of patience to see all of this hard work finally pay off. Looks like I'm being rewarded for my efforts at last!
While the majority of this growth can be attributed to increased visibility in Google, social media has also played a part. Pinterest and Facebook are the main contributors to this growth. Although, most of my social media time is dedicated to Instagram. Unfortunately, Instagram only allows a bio link making it difficult to direct visitors to my new content. The good news is that I believe I've found a great solution to allow my followers to easily get to this content with the help of smart.bio.
Notable Accomplishments Over The Past 4 Months
Honestly, I have really implemented any new tactics for promoting my niche website. Lately, time is scarce and it's been a struggle to balance my work and life priorities. I'm so driven to make Kettlebell Krusher a success that it is sort of becoming an obsession. I'd rather devote my free time to making improvements to the site than spend it leisurely. It's a passion that has continued to burn since day 1!
Because of the small success that I'm currently experiencing, I'm able to evaluate all of this data I've shared with you and implement a strategy accordingly. There's nothing revolutionary from what I'm about to share but these efforts should increase the earning potential of my niche site. If you've had your affiliate website launched for over a year, there's a good chance you're doing this as well.
Integrating Other Affiliate Programs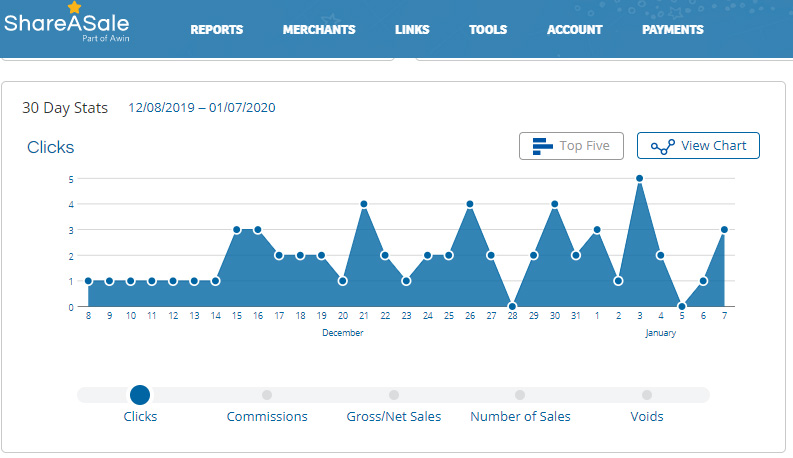 ShareASale, just one of a few other affiliate programs I've joined.
Obviously Amazon is my primary source of earning a side income with Kettlebell Krusher. Their brand recognition and the fact that you earn on other items not clicked is why they are the #1 affiliate program in the world. However, what happens when there's a segment of your niche that Amazon doesn't have many products to promote? Well, you look for opportunities elsewhere, right?
That is exactly what I'm doing. Over these last 4 months, I've joined several other affiliate programs to offer products that Amazon does not. These are usually very unique categories or virtual products that can be delivered instantly. Currently, these things are a fraction of what I promote compared to Amazon. Although, if and when I expand to sister niches I can use these programs to promote more unique products.
The example above, ShareASale, is getting a small number of clicks but has already earned me $15. Not much, I know, but they have a huge list of merchants which I have yet to fully investigate. I think there's a lot of potential for success by participating in this program. Another one I'm excited about involves working directly with an industry figure and sending referrals to his digital products. This person has been a huge inspiration and I'm proud to work with them. I'm relying on SEO to promote his products and have yet to see Google take notice. I believe that, in time, this will earn a good chunk of money.
Updating Old Content
I've read on numerous blogs that updating your old content can help increase rankings for that particular page quickly. I'm not talking about putting in tags for "Best Blah Blah of 2020". Rather, going in and seeing which products are working and those that aren't. If a product has been selling well but is listed at the bottom of a page, then it makes sense to move it further up. If another product isn't getting any clicks then perhaps it's time to find an alternative item. This naturally involves rewriting several sections of that page which Google sees as freshness. The kicker is that I update to give my visitors more options; an increase in rankings just happens to be a nice bonus!
Eventually, I'll do this for my strictly informational content too. I want to keep these visitors engaged and if the content becomes stale, they'll lose trust. It's a delicate balance of prioritizing the monetization aspect of the website with user needs. As the site grows, and new content is added, it becomes more difficult to revisit these older pages and posts. To this point, I've done all the work myself but there might be a time when hiring help is worth the money.
Wrapping Up Part 15 Of My Niche Dreams
I really enjoy sharing this information with everyone. It doesn't feel like a chore or obligation, but it does take a lot of time to put together. Truth be told, if these last two months we're subpar, this update likely wouldn't be happening. Luckily, that's not the case and I'm excited about what lies ahead in 2020.
I have a lot of ambitions and ideas in my head to help further the visibility and credibility of my brand. At some point, I plan to do a major redesign of the website. I can visualize it in my head but it will be a massive undertaking for sure. I also want to start getting more into video production. My wife got me video editing software which I have yet to use because I've been so busy. There's one killer idea that has been in my head for months that involves video. First, I need to learn how to use it and gradually work on some basic post-production techniques before I can start on that project.
I'd love to say that another update is coming next month. I'll try my best, but as busy as I am, I can't guarantee when or if it will be up. However, I'm happy to answer any questions in the comments below if you're looking for advice. I hope you all have a very successful new year with your own affiliate website!