If you're reading this you're most likely interested in becoming an Amazon affiliate. Quickly approaching 1 trillion dollars in value, Amazon is an online retail juggernaut. As a web designer, I'm afforded some free time during my work hours which allow me to focus on other projects. Building a niche website and promoting it is one of these projects. I know it won't be easy, but I plan on sticking to it for at least a year. At that point, all the work and effort I've put in should start to pay off.
This blog series I've dubbed "Niche Dreams", will chronicle the events and observations I've made for my affiliate website. I expect to write a new post on a monthly basis. My hope is that it will aid people who truly wish to be successful in the affiliate program or deter them from joining in the first place.
For those curious, I chose the title Niche Dreams because it is a dream of mine. I'm not satisfied with peaking at $100, $200, or $500 a month in earnings. I want thousands! I don't need 10 beasts money. Somewhere in the middle would be fine. Another reason for the title of this series is it is a play-on-words on the classic comedy "Nice Dreams", starring Cheech and Chong. It won't help you with affiliate marketing, but it is good for a laugh!
Why I Decided to become an Amazon Affiliate
As I mentioned earlier, I know it is going to be a difficult journey to make some real money through the Amazon affiliate program. You can't just build a website, slap a bunch of products on it, and expect to earn commissions. The main hurdle is having your affiliate website discovered. This is primarily achieved through SEO. Amazon forbids spamming, besides that isn't a good tactic to get conversions anyhow. Instead, you need to drive traffic to your website that has intent.
How do you attract this type of traffic? With good, structured, and informative content. A lot of websites use a tactic of comparing 5 or 10 related products on one page. Each product might have a few paragraphs worth of information. They will then place the appropriate affiliate links for each of those items on call-to-action buttons, images, and text links. Having multiple products on a page will increase your word count. Google loves lengthy pages, but that is just the first mandatory step in order to succeed.
If you want to be successful, it is best to assess your skills and abilities first. I've listed some of my reasons for joining the Amazon affiliate program below.
Balancing My Skills and Rationale
Skill: Jack-of-all-trades
In baseball, it is rare to find an athlete who is a 5-tool player. These five tools are hitting for power, hitting for average, speed, arm strength, and fielding. Players who excel in each of these areas are extremely valuable to their teams. No, I'm not a professional ballplayer, but I do possess several skills that save me from having to spend money on my affiliate website.
These skills include web design, SEO, blogging/writing, and server administration. I tried to think of a 5th skill, but I drew blank! I've worked hard at developing these skills and am still learning every day. Hopefully, you have some of these skills as well. Trying to outsource any of them will quickly add up your out-of-pocket expenses.
I started off with web design. Then, my need for a better web host forced me to learn some admin skills by getting my own virtual private server. That helped me to optimize my websites through performance and things like installing SSL certificates. I never considered myself a blogger or a writer, but I wanted my site and business to gain prominence on the internet. I needed to provide something of value to visitors even if I don't directly benefit from it.
SEO, on the other hand, has been the most challenging skill to develop. I not only focus on Google, but I value the smaller market visibility that Bing and Yahoo provide too. On-site SEO is extremely important, but it isn't nearly as difficult as off-site SEO. Building backlinks, getting reviews, creating brand awareness is extremely difficult. However, if you truly want to succeed with the Amazon affiliate program, off-site SEO will be vital.
Rationale: Amazon has a global, established presence
It is reported that there are over 300 million active Amazon users worldwide. Over 75% of U.S. online consumers shop on the service. Think about that for a moment. The majority of your target audience will either have an Amazon account or are familiar with them. The trust that Amazon has earned will make your job that much easier for converting visitors into purchasers.
For your part, creating a professional-looking website is a stepping stone to Amazon's store. Once a visitor clicks on one of your affiliate links, the clock starts ticking. They have 24 hours to complete a purchase in order for you to earn a commission. A big selling point for myself becoming an affiliate is that you will earn a commission on just about ANYTHING that is purchased in that time frame. This means if they decide to buy a baby stroller instead of your promoted product, you will earn a commission on that stroller sale! That's a good deal if you ask me.
The website I built for my niche was actually launched a few years ago before I gave up on it. There were a couple mistakes I made before I resurrected the site as an Amazon affiliate. The first mistake, I underestimated just how involved I needed to be with SEO. I'm sure a lot of affiliates who have failed feel the same way. The second mistake was using ClickBank. I'm not trying to trash on them (I plan on integrating ClickBank in my site again down the road), but their horrid landing pages are no match for Amazon's trusted product pages.
My Biggest Reason for Becoming an Amazon Affiliate
My #1 reason for joining the program? Yes, the money of course! But… it is also referred to as passive income. That means when your hard work is getting you a decent return, you can start to automate your website. Those skills I mentioned before? You may choose to start outsourcing them. Need a new product comparison page? Hire a writer with the money you've earned. Invest your returns back into your website!
Getting a website off-the-ground, I believe, is the most difficult phase. Once you have a good system in place and the money is coming in, you can dial back your efforts. I'll always be somewhat hands-on with my affiliate website, but I just don't have the time that is needed to continue to create excellent content. My clients take priority, and when things are slow that's when I can take advantage of that free time.
Stay Motivated and Have Faith
I've probably rambled way too long on my backstory for this project, but I think it is important that people understand the motivation and desire it takes to create a profitable niche website. I encourage everyone that wants to join the Amazon affiliate program to also give it at least a year. I don't mean work on it a little here and there, but really dedicate a good amount of time per week on a consistent basis.
The truth is, since re-launching my niche website in early May, I've only made 1 sale. My commission earned? 90 cents. I'm not deterred though, as I have a very long way to go to achieve high rankings. I just wanted to share that bit of information to those who are starting out. Don't let your hard work go to waste.
Now let's get to the real reason you're reading this. The tools and research I've used to form a strategy for marketing my website.
Studying your Amazon Affiliate Peers
It was important for me to find Amazon affiliate websites that grew quickly and ranked for high volume keywords in a short period. To me, a short period is a year. Sorry if that bursts your bubble. I do believe in the Google Sandbox, which caps the ranking ability of a new website. Even if you buy an expired domain related to your niche, I would still lower your expectations. You might rank more quickly than a newly purchased domain, but if you're looking to have an immediate impact you'd probably have to buy a high authority domain at an online auction.
The domain I'm using is a few years old at this point. Granted, it wasn't used for a couple years after the initial year. I'm sure in Google's eyes it is like starting over. I did purchase an expired domain that had a small but decent backlink profile. It had been absent from Google for nearly 5 years. So I used the Wayback machine and recreated the site, indexed it, and set up page-by-page redirects. We'll see if that results in a spike in rankings. It's been a couple weeks at this point and no apparent increase. If you do decide to go the Merger Technique route, only use 1 domain for redirecting. You may end up being penalized otherwise.
As far as the tools I use, it is a combination of SE Ranking and some Chrome extensions. You can read my review on SE Ranking here. Yes, I am affiliate of SE Ranking as well. However, I would never promote a tool I don't fully endorse. It's certainly worth the money, even on the personal plan.
Chrome Extensions to Gauge Domain "Juice"
I cringe a little when using the word "juice" to describe the power of a domain. However, using "authority" (while an accurate description), is something I reserve to describe this first extension.
MozBar


MozBar creates an icon in the Chrome toolbar displaying the Domain Authority of the current website in your browser. Clicking on this icon will cycle it from a separate toolbar (which includes Page Authority), to just the DA or turned off completely.
Moz is an industry leader when it comes to SEO. Their DA and PA metrics are widely considered to be an effective way of showing how much influence a domain has on its external links and ranking ability. The higher the DA and PA, the more likely that website will outrank competitors on the domain and page level. I think it's necessary that you create an account on Moz.com and be logged in to use MozBar. However, this can be done for free and rarely should you have to keep logging in.
Majestic Backlink Analyzer


Majestic Backlink Analyzer provides another set of domain metrics called Citation Flow and Trust Flow. As described by Search Engine Land:
"Citation Flow is a number of predicting how influential a URL might be based on how many sites link to it. Trust Flow is a number predicting how trustworthy a page is based on how trustworthy sites tend to link to trustworthy neighbors."
In my opinion, Majestic's TF and CF are more accurate at determining the true "juice" of a domain. Domain Authority is sometimes susceptible to inflated numbers due to black hat methods of boosting that metric. However, I absolutely use both when considering the importance of a domain. In this case, an Amazon affiliate website.
This is also a free extension that doesn't require a Majestic account. However, it can be a real pain in the ass using their "prove you're not a robot" validation method for free usage. Unfortunately, Majestic seems to use some old Google ReCaptcha code that will have you picking out street signs, storefronts, and cars multiple times before authenticating. Perhaps they want to sway people to their paid service. Regardless, it is still a great tool for getting metrics on the domain, sub-domain, and URL level.
Putting These Extensions to Use For Finding Amazon Affiliates
Now that you have these extensions installed, it's time to start hunting for established Amazon affiliate websites. Amazon makes this quite easy to do since all affiliates are bound by their terms of service. One requirement of the TOS is the Amazon Affiliate Disclosure. This is pretty much boilerplate text that is mandatory for all affiliates. Some websites post it in the footer. Others have a page describing it. You'll want to use this text as part of a search query to find these sites.
For Example, try this query in Google:
"is a participant in the Amazon Services LLC Associates Program" "5 best"
Make sure you enter it exactly as shown with quotes. Now with your MozBar icon, cycle through it until you see the DA and PA underneath each search result. It should like something like this: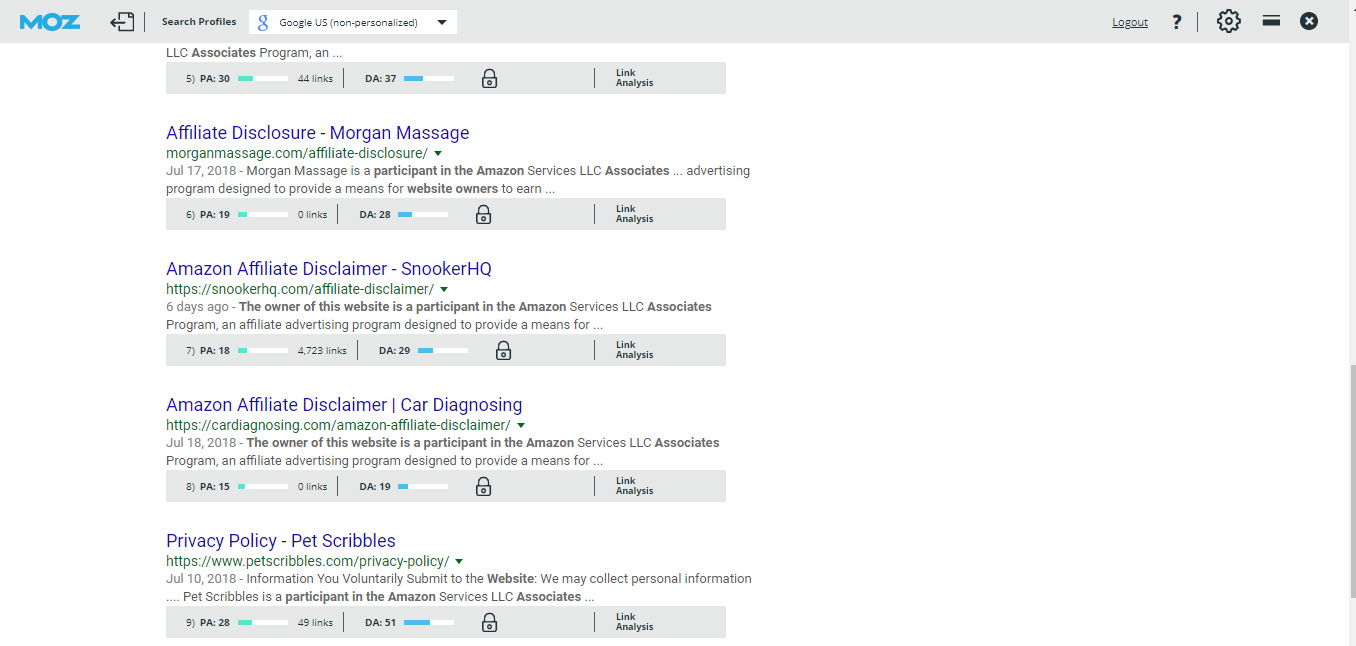 MozBar helps to determine worthy Amazon affiliate websites
Try playing around with the search time frame in Google's settings. I like to filter down to a year, or even a month sometimes. Personally, I wouldn't bother checking out any websites that have a DA lower than 20.
When you find a potential website to research, click on it and make note of the content. Do they have a lot of lengthy posts on the home page or blog page? Are these posts dated and if so, are they spread out less than a week apart? If the answer is yes you may have a good candidate for researching.
You'll also want to check the root domain TF and CF with Majestic's Backlink Analyzer. I also set the bar at 20 TF to consider researching a website further.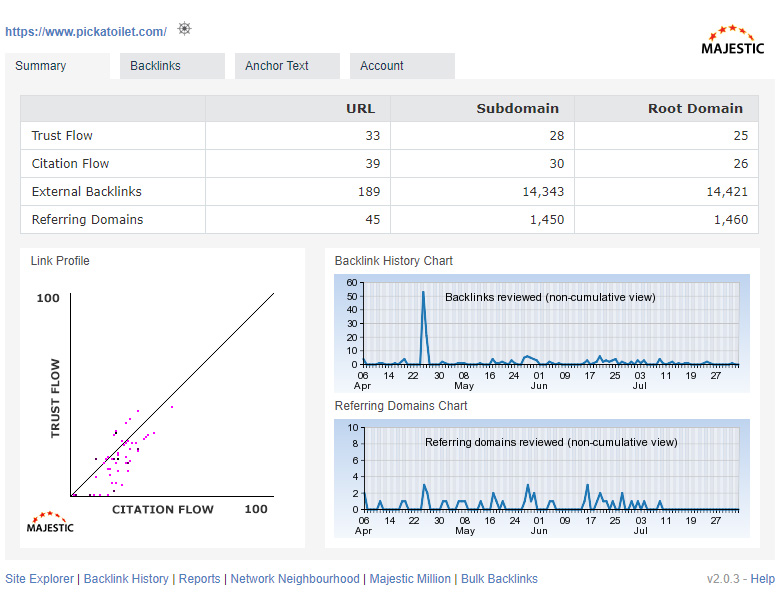 Pickatoilet.com is shaping up to be a good research candidate
Checking Out the Backlink Profile of an Amazon Affiliate Peer
Everything is looking good so far. Now you'll want to see what backlinks are pointing to the target website. I offer some suggestions on my top 3 backlink checkers that you can use. Included among them is SEO Review Tools Backlink Checker. It's fast, free, and generally returns a decent amount of backlinks for established websites.
Using this tool for the domain pickatoliet.com, you can see that they have a ton of backlinks. Over 2,000. Don't panic, most of those are probably duplicate links that have moved around the archives of the linking website. The more important numbers are the referring IP addresses and domains. Each of those is close to 300. Also, take note of the percentage of follow links. It is important to have no-follow links in your backlink profile, although your primary focus should be going after the follow links. As far as a ratio is concerned, I like to target 70% follow to 30% no-follow.
What you'll want to do is to try and acquire backlinks from the same follow domains in this list and other websites you research. If I am being completely honest, this is where you'll need to decide on what is morally right in acquiring these links. Many of them will be earned via a grey hat or black hat method. Private Blog Networks and other link schemes are frowned upon by the SEO community as they are methods used to manipulate Google's algorithm. I'm not here to argue the merits of good and bad. The fact is, these methods will help you rank faster than traditional backlinks at the risk of a future penalty.
Satellite Websites, Guest Posting, and Blog Backlinks
There is nothing wrong with building what I call, satellite websites, and creating a backlink to your affiliate website. Any social media platform that provides a follow backlink can be used to create these external pages with little risk of getting a penalty.
Websites such as Strikingly and Kiwibox allow people to create blogs and websites for free. You can use them to create a nice looking satellite website talking about your main affiliate website. I would suggest making them look as nice as possible. Don't use spun content. Put some effort into them as if they were on your affiliate website.
Guest posting is another popular method for getting a link back to your website. Write an article about your niche and shop it around to related blogs and websites. Guest Post Tracker offers a directory of categorized websites for a small fee.
No matter how you decide to get these backlinks, They are vital to your off-site SEO strategy. For me, it's the most difficult part of building my niche website.
Viewing the Timeline, Ranking Power, and Earning Potential of an Amazon Affiliate Peer
This last step in my researching of an affiliate website does require a SE Ranking subscription. The personal plan is currently only $84 for the year. Of course, there is a no obligation free trial you can sign up for to test it out.
You'll be using their competitor tools to research Amazon affiliate peers. However, you'll also want to start tracking your own keywords at some point for your niche website. In that personal plan, you have up to 50 keywords which can be tracked. That should be plenty to start out with.
SE Ranking's Traffic and Organic Search Overview
These next screenshots should really put the earning potential of an Amazon affiliate website into perspective. The pickatoilet.com website has passed each test with flying colors. Now it's time to see if the site is truly worth something.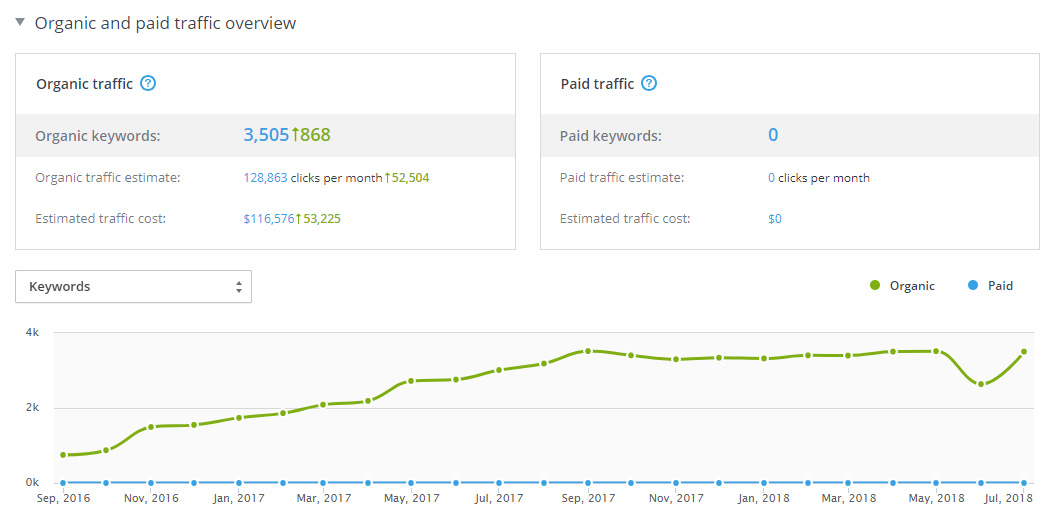 Pickatoilet.com is very much a money-maker!
Full transparency here. I did not cherry pick this website before starting to write this post. I did see a backlink from Authority Hacker upon running the backlink checker WHILE writing this article. I'm sure Authority Hacker has a great wealth of information on niche website building and used pickatoilet.com as an example. However, I had no idea prior to writing this blog post.
You can see from the timeline of the organic keywords over the last two years that they have had an established presence for some time now. They've gone from approximately 750 keywords to 3,500 in that span. That is mighty impressive. An estimated 129,000 clicks a month is equally jaw-dropping. The estimated traffic cost of $116,576 a month shouldn't be confused with net profit. I wish I had an equation for converting that number to an estimated monthly affiliate commission.
I will say that the 10beasts.com case study revealed a peak of $40k in monthly earnings back in Decemember 2016. Back then it had 1,900 keywords listed in Google. That number has steadily climbed to 7,500 keywords as of July 2018. The current monthly estimated traffic cost is $55,000. That's about half of pickatoilet.com is now! I guess it wouldn't be too far-fetched to assume that pickatoilet.com earns $100k a month. That's Scrooge McDuck money right there. It's unbelievable!
SE Ranking's Keyword Volume Overview
Just to emphasize how important organic search rankings are to the success of an Amazon affiliate website, the below screenshot is just some of the most clicked keywords for pickatoilet.com.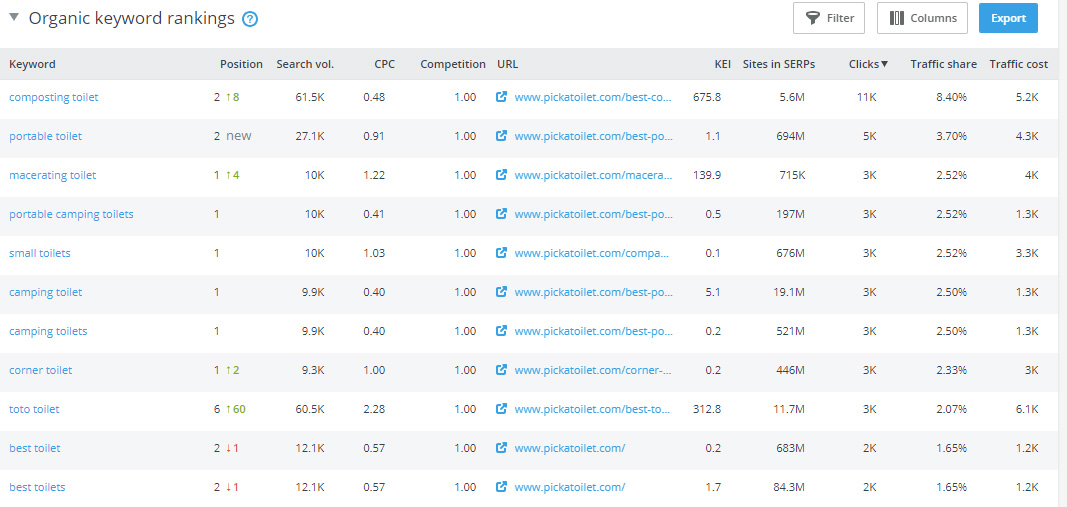 Pickatoilet.com is dominating high volume keywords
Looking at the screenshot, you can see the website ranks in the top ten for a few 60k+ volume keywords. A lot of 10k volume keywords are ranked #1. Forgive me for the pun and bad language, but the owner knows his shit!
You're probably thinking, that's great and all, but I don't have that kind of time or patience! In the next section, I'll show you metrics from a few of the top Amazon affiliate websites I've discovered. These websites have gone from ZERO online presence to a very high volume of traffic within a year.
3 Examples of Amazon Affiliate Websites That Have Skyrocketed in Traffic and Rankings
Normally, I'd be against showcasing affiliate websites that are currently trying to rise in rankings. In this case, the following examples are already crushing it. Only fools would try to get a slice of their niche pie. For all I know, it could be the same group of elite affiliate marketers who have cracked the code to ranking high volume keywords quickly.
I've studied these examples for both their on-site and off-site SEO. The idea is to emulate and imitate. Not their niche and content, but rather their website structure, backlink profile, and off-site marketing techniques. I have no idea if they are one-man operations or how much money was spent to reach such high acclaim. The fact is, they all had a steady increase in rankings through one year.
Globosurfer.com
Globo Surf features a very appealing design and layout. It has a nice color scheme, the content is organized, SSL certificate installed, and they have just about every social media platform covered. Some of those social media profiles are just empty accounts (youtube). Regardless, they have the appearance of a company that is well-connected.
On the home page, you'll notice that it acts as a hub of sorts. A lot of the hyperlinks go to their "best of" pages. In theory, link "juice" from the home page should be passed down to these pages significantly helping them with ranking for targeted keywords. I've mimicked a similar set up on my home page to my "best of" pages.
Globosurfer.com Organic Keyword Overview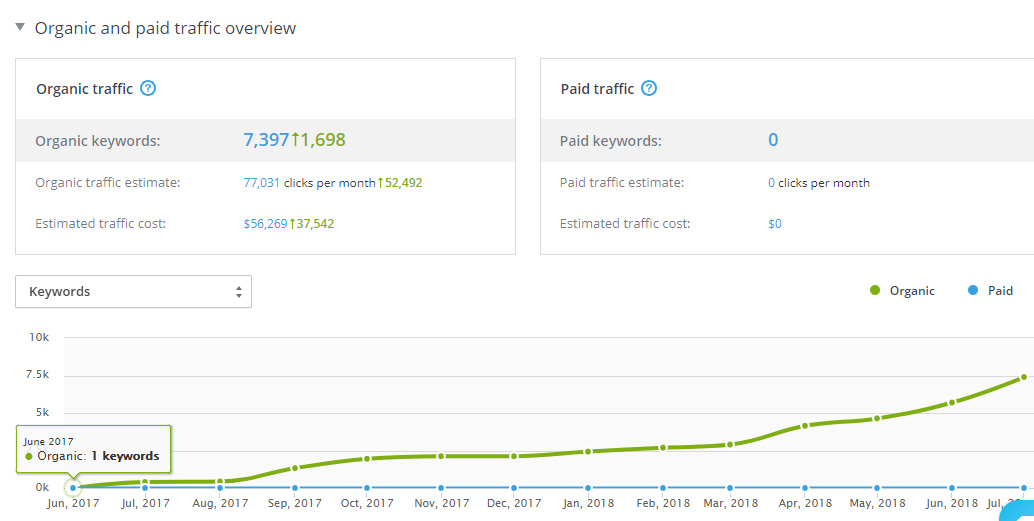 Globosurfer.com went from 1 keyword to nearly 7,400 keywords in 12 months
That's quite a jump to go from 1 to 7,400! If you look at their sitemap, it is broken up into sections. There is a LOT of content on this website. Google returns 625 results for the domain. If I had to guess, I'd say they really ramped up their content publishing in Feb. or March of this year. After staying around 2,500 keywords for several months, it has been a steep climb since that time.
Globosurfer.com Keyword Volume Overview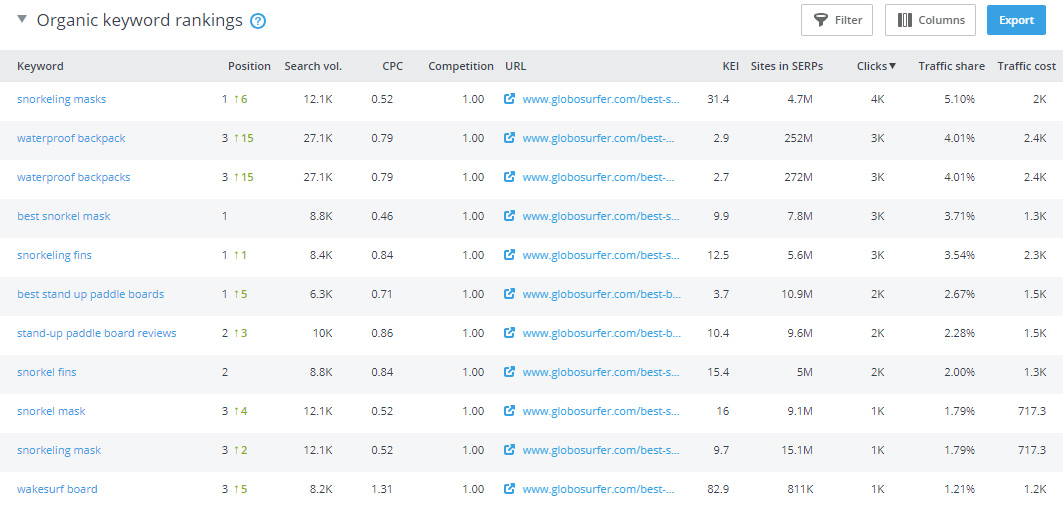 Snorkeling masks and waterproof backpacks lead the top clicked keywords
It looks like globosurfer.com has lost a little bit of steam since these rankings were updated. I show them at #4 in Google for snorkeling masks. Interestingly, they seem to have fallen off the map for the term waterproof backpacks. Did it get hit with a penalty? I don't think so. It might be Google re-evaluating that page. If it doesn't return in a week or two, that may be cause for concern.
Bestazy.com
Not satisfied with waiting a year? How about 8 months? Bestazy.com first appears on the radar in December of 2017. Since then it has amassed nearly 5,000 organic keywords. At first glance, it also has a nice design and flashy interface. However, it doesn't appear to have much substance. Instead of focusing on one niche, they seem to be "reviewing" everything under the sun. There is no consistency.
I believe because they are all over the map, their keyword rankings are subject to wild ups and downs. The data from SE Ranking in July shows some impressive numbers. Checking today, a lot of the keywords have had a large drop by a page or two. Still, I'm willing to bet they make a nice chunk of change on commissions.
Bestazy.com Organic Keyword Overview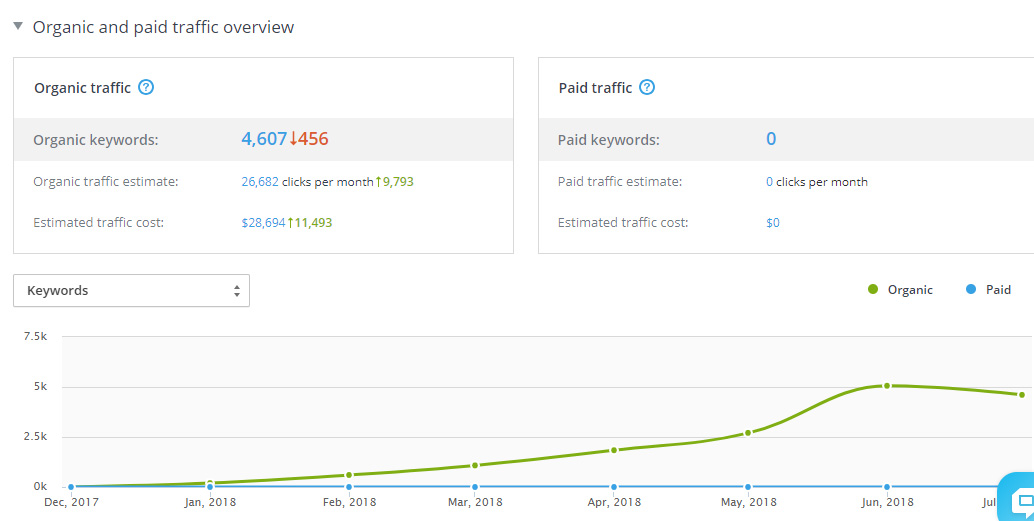 Bestazy.com went from 4 keywords to just over 4,600 keywords in 8 months
Notice the bump from May to June? Perhaps that had something to do with the spike in their rankings.
Bestazy.com Keyword Volume Overview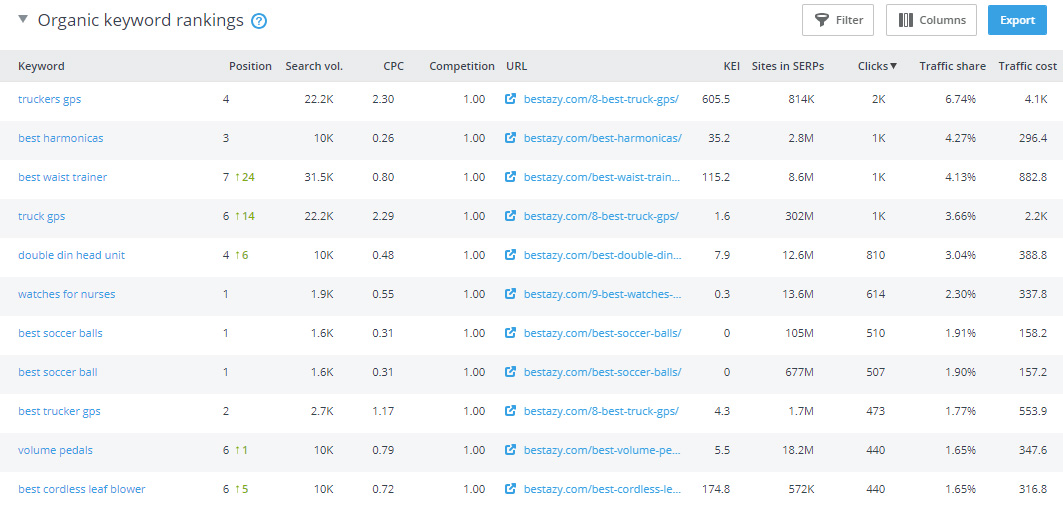 Many of these keywords have dropped in rank by a lot
It seems like the owner of Bestazy is trying to cash in on the "flavor of the month" products on Amazon. The home page features an infinity scroll that loads product after product. It'd be interesting to see some real-time statistics from this website. Older pages don't seem to have too much staying power, but maybe new pages rank well so who really cares?
Mypetneedsthat.com
Okay, so this website technically had a presence over a year ago. It goes from 73 organic keywords in February 2017 to a mind-boggling 33,536 organic keywords as of July 2018. I show Google returning 816 results for that domain. This might just be the one Amazon affiliate website to rule them all. All of that hard work has certainly paid off.
Mypetneedsthat.com Organic Keyword Overview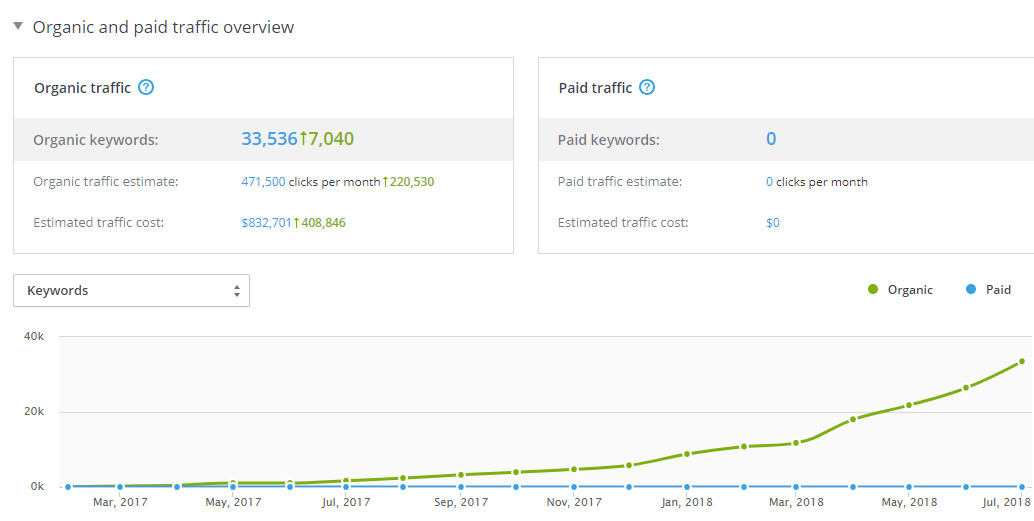 Mypetneedsthat.com went from 73 keywords to a staggering 33,500 keywords in 17 months
I'm still trying to wrap my head around these numbers. 471,500 clicks PER MONTH. Estimated traffic cost is $832,701 PER MONTH. WOW! This affiliate's pets will never need anything ever again. What has been accomplished is simply incredible. It makes 10beasts.com look like a poodle.
I couldn't help but notice that the website has a look and feel similar to Globo Surf. The contact addresses of the two websites show that they are located in different states. Maybe the aesthetics are just a coincidence. However, I did notice something interesting in the top and middle of the home page.
The Top Rated and Most Recent sections contain what I can only describe as virgin pages. These pages contain only content. Just text and images. There are no products, no internal links, nothing to transfer any link "juice". Do these pages provide some sort of unseen SEO benefit? I don't think they rank at all for their topics. Maybe this is some form of content soaking to build authority status in the eyes of Google? Whatever it is, it deserves further research. Now Let's get to these keyword rankings.
UPDATE 8/9/18: Well that was short-lived. Those virgin pages now contain hyperlinks throughout the content. Perhaps their SEO guy goes in after the fact and adds in the hyperlinks. By the way, their total pages indexed count is now at 976. They are pumping out lengthy content at an insane rate!
Mypetneedsthat.com Keyword Volume Overview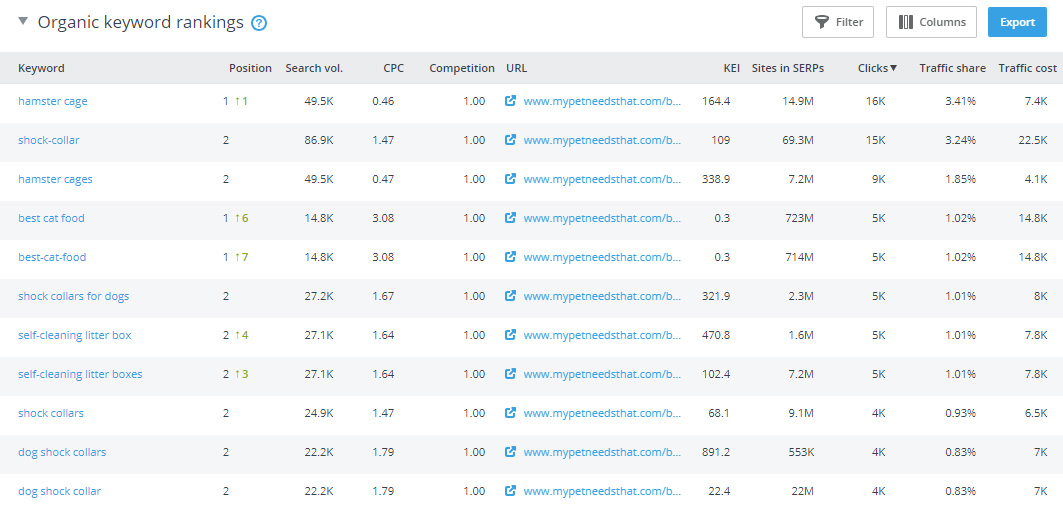 Extremely high volume keywords ranked in the #1 or #2 position!
These keyword rankings are stable. Not much fluctuation at all. To achieve such success in that period of time deserves a story in itself. It really is incredible. I did notice that they used the merger technique I talked about earlier. Looking at their backlink profile they have a lot of ancient links redirecting from the domain betrbeagle.com. I have to believe this is a big reason why they were able to rank for keywords so quickly. Combine that with tons of solid content and maybe they found the holy grail of building a profitable niche website.
Examining the Common Traits These 3 Affiliate Websites Share
Here are some things I've noticed among these 3 Amazon affiliate websites. I've implemented them on my own niche website and I suggest you do too.
SSL Certificate – Anyone starting a niche website should install an SSL certificate. Google really wants you to! Plus, you can get one for free
Review Schema on Product Pages – You know those pages in the search results that have star ratings with a reviewers name? Make sure you're doing that for your product pages as well. It helps your pages stand out in the search results
DMCA Protected Badge – You get the benefit of protecting your content but also a very powerful follow backlink from the DMCA website. You will need the pro plan for $10/month (I found a coupon code for $5/month!)
There are probably some more common things they all share that I'm not thinking of at this moment. But these few are a good start before you discover other common items.
Wrapping Up Part 1 of my Niche Dreams
You've read this far, and I appreciate your time. You might be wondering why I haven't even mentioned my own website or what it involves? I'd love to share it, but the time isn't right at this moment. I wouldn't want to risk any copycats or drive up any further competition.
I will say that my niche revolves around a product I use quite frequently. It is something I believe in and actually enjoying using. I think it is important to feel strongly towards the niche of your choosing. Don't pick something because the metrics look promising. Choose it because it appeals to you.
If you have any questions, please feel free to comment below. The future posts in this series should offer some valuable insights as I slowly progress in building my niche website.