In the last two installments of Niche Dreams, I talked about how I wanted to integrate myself into my brand. It's something I probably wouldn't have been comfortable doing a year or so ago, but times have changed! I've learned a lot during these months of building up my niche website, and I figure using my experiences within the niche is the best way to get exposure.
One of my goals was to create a video review of a product I use and promote on the site. That's been accomplished. I also finally set up my brand with Instagram and shared my first post. Finally, I got around to writing my story as an about page on Kettlebell Krusher. It's very personal but I hope visitors can relate to it with their own life goals and start to follow the brand through social media.
Completing all these objectives for last month would've been satisfying enough. However, I'm very pleased to report that I had the BEST month ever for earning commissions! Nearly tripled from my previous best! Of course, this is in large part to 1 huge sale that really tipped the scales. I'll discuss that sale in the metrics portion of this post.
Current Metrics and Statistics of my Niche Website
Trust/Citation Flow and Domain/Page Authority
ROOT DOMAIN
TF: 14
CF: 25
HOME PAGE
DA: 19
PA: 24
Observations
Trust flow increased two points and domain authority increased 1 point from last month. I really didn't think there would be any change let alone a positive one. Once again, there was no link building done for the month. It's a shame because I think that it could really help my keyword rankings. But at this time, the cost is too much whereas creating content is something I can do myself for free.
I know that I had mentioned a bunch of web design projects in queue, but those took longer than expected and I am just now starting to finalize them. I'm also trying to be responsible for paying bills on a timely basis. As much as I'd love to say screw it and pour a bunch of money into Kettlebell Krusher for link building, I need to be smart and patient. There's always the hope of getting natural links through content sharing anyhow.
Keyword Rankings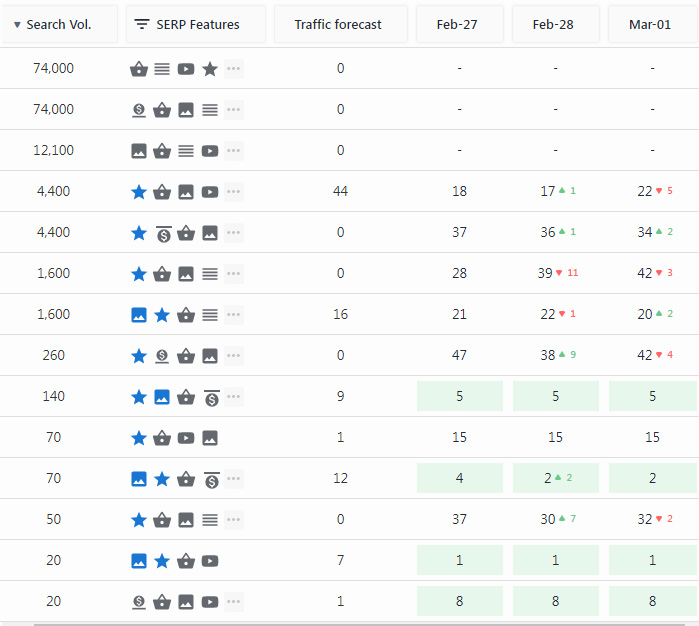 What started off as promising month for rankings ended in free fall.
Observations
I have no doubt that some sort of algorithm update was done by Google at the end of February. Search Engine Journal made a post about SEO chatter concerning major ranking shifts on Feb 22nd and 27th. If you look at the comments for the linked post, many people are in shock of just how drastic a fall in rankings they experienced.
It's possible that over the next week or two, further adjustments might be made to help get rankings back on track. If this happened to black hat SEO's, that would make sense. However, it does appear genuine websites with white hat SEO practices aren't immune to this update.
The frustrating part for me is the drop in the 4,400 keywords. I had just cracked the top 10 for one of them only to tumble back to the 20's and 30's. Take a look at the screenshot below and compare with the final rankings of the month. Did anyone else suffer a similar drop??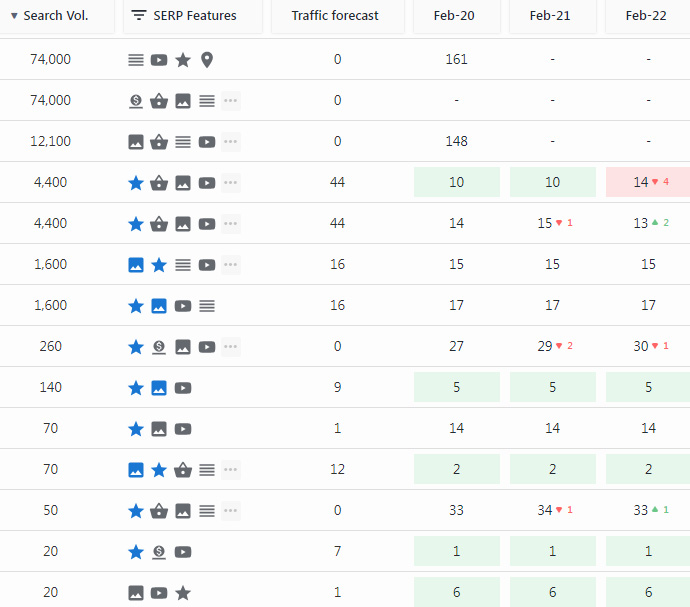 The good 'ole days, before Feb. 22nd!
Amazon Affiliate Earnings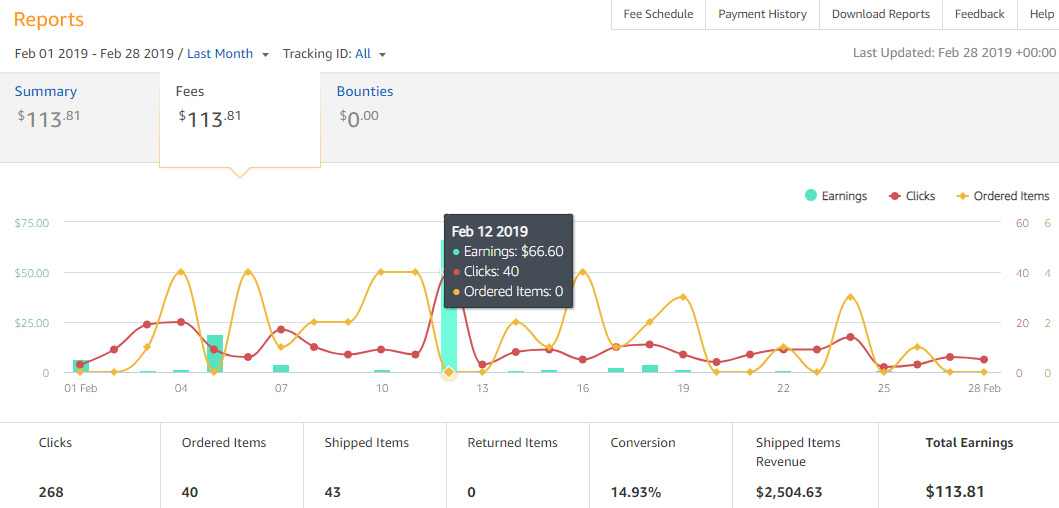 $100+ month feels great to rebound from the low of last month!
Observations
Even though February is a short month, my site still managed to smash all previous earnings. $113.81 is a significant jump from the best month I had with roughly $40 earned in commissions. Yes, that one sale really catapulted these earnings. Although, the hope is that with increased traffic, anomalies like this will happen more frequently.
If memory serves me correctly, that $66 commission was based on nearly $1500 of revenue. Someone purchased a double quantity of an expensive item. When I first saw the report, my jaw nearly dropped to the floor!
Both clicks and ordered items were slightly up from last month. I was also happy to see a big fat zero for returned items too. Lastly, shipped item revenue increased by almost $2000. I realize that isn't the most important number, but it is still very nice to see.
Google Analytics Traffic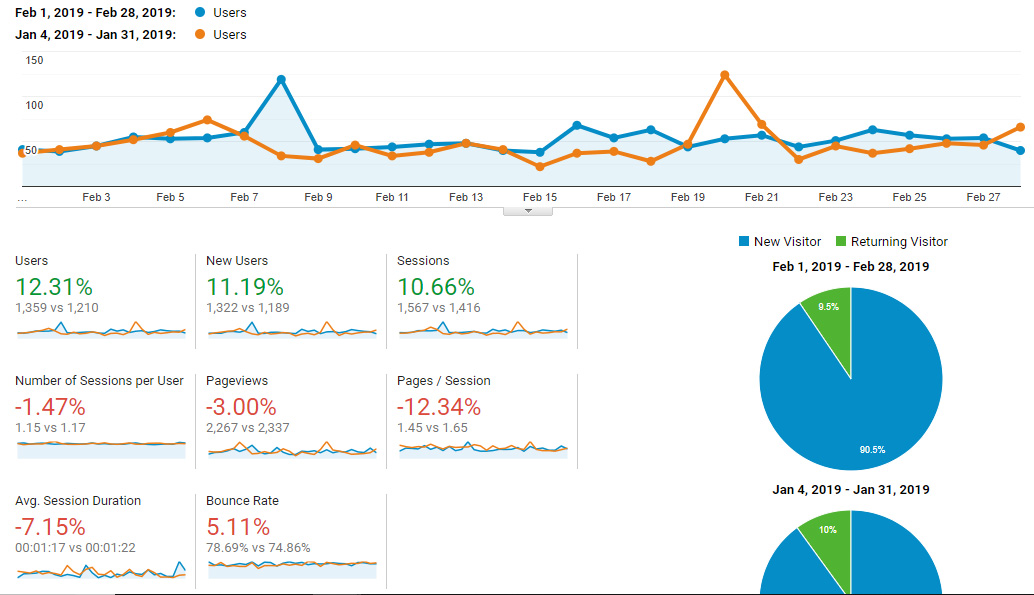 Over 10% increase in users and sessions!
Observations
Just as I expected, the huge increase from January leveled off in February. There was still a slight increase compared to the previous period. More importantly, organic traffic continues to grow at a decent pace. Since that's the main bread and better for driving traffic, I'm quite pleased with those results.
What I'm really excited about as far as driving traffic, is if I can do more with social media. Pinterest traffic is rising slow but steady, but I can't help but feel optimistic about the potential of Instagram. I'll dive into my strategy and goals with that platform shortly.
Putting Myself Out There
For many of you reading this, I'm guessing this is where our strategies differ the most. You certainly don't need to be the face of your brand to find success. However, due to my personal involvement and commitment to the products featured on Kettlebell Krusher, it makes the most sense in my case.
The health & fitness niche, although highly competitive, is perhaps one of the most popular among social media sharing websites. In order to convince my audience to buy into the products I'm promoting, I need to provide some evidence. This evidence comes at the expense of judgment and privacy. Something I wasn't willing to sacrifice earlier in my life, but I figure there's not much to lose and so much to gain.
I don't expect or even aspire to be some all-star social media icon. I'm quite fine being on the lower rung of users as long as it helps my brand. That being said, it's all pretty new to me and will take some time to feel comfortable in this role.
Video Review of a Promoted Product
Below is a video I recorded to give my honest opinion on a certain kettlebell brand. Even though the video is only a couple minutes long, I probably did around 10 or so takes. Aside from finding my comfort zone, I struggle with production quality vs. realistic expectations. I would love to create some professional looking review video with music, graphics, transitions etc. Unfortunately, that just isn't feasible currently.
Viewing the video from an SEO perspective, my goal was to supplement written content. In my opinion, this sends a positive signal to Google and helps build authority status. I'm assuming that through brand mentioning (i.e. youtube channel name matches brand name) Google understands that it is my video and not someone else's that is embedded into my review post.
Creating this video also allowed me to experiment with video pins on Pinterest. Ironically, the video pin has slightly more plays/views than on youtube. However, I think the best benefit comes from the experience learned and confidence I hope to grow.
From here on out, any product I've personally used will most likely be accompanied by a video. Even if it is not the most professional-looking, I believe videos will give an advantage over rivals who aren't creating videos.
Sharing My Story
When I talk about my story, I'm referring to my weight loss journey that I'm currently on. It started early last year with an emphasis on losing as much weight as possible before my wedding date. That day has since come and gone, but through dieting and the use of kettlebells, it was, by and large, a success.
I didn't reach my goal weight but managed to shed a significant amount of pounds. This story is explained in detail on the about page of Kettlebell Krusher. Its purpose is to inspire others to use kettlebells to reach their own fitness goals.
Obviously, losing weight is a popular search query and also followed by many on social media. There are many different methods and ways to do so, that's why it's important to hone in a specific plan. Currently, keto appears to be hot diet plan. Since I'm primarily focused on losing weight through exercising, I don't really go too in-depth about my dieting (paleo btw). It does provide an opportunity to eventually cross-over into that niche should I choose to do so at some point.
Even though my experience with kettlebells is coming from the perspective of losing weight, I still can tie that into the other benefits that kettlebells offer. Such as building muscle, rehabbing from an injury, or training for athletes. I've made sure to present myself as an enthusiast and not a certified trainer. There's plenty of those already, and I figure my focus would be someone that others can relate to for their own health goals.
Using Instagram to Build Rapport
Instagram has been around for over 8 years now, and yet, I'm a total newbie. I created an account a few years ago to follow my girlfriend's interests (now wife), but rarely logged in. Instead of making a brand new one, I figured I'd just rename the user name and update the profile information. Since I previously imported friends from Facebook as followers, there wasn't a worry of starting off from scratch with zero presence.
To my amazement, I discovered that Instagram really doesn't want you to post from a PC or computer. This was foreign to me as every other social media platform is device-agnostic. For my first Instagram post/story I wanted to create a before and after photo of myself to share my progress. I ended up making the graphic in photoshop, sending it to my phone, and posting it that way.
I admit, I've barely scratched the surface when it comes to Instagram. I'm sure there are much more efficient ways to present a story. However, since I 've been procrastinating on deploying my brand on Instagram, I was eager just to get a post out.
A Stunning Reaction
After publishing the post, I was blown away at how quickly it started to get attention. Unlike Pinterest, which can take a day or more for visibility, I received several likes/loves within minutes. A few comments followed shortly after. Granted, a couple of these were associates from my Facebook imported contacts, but others were complete strangers.
I copied several hashtags from similar user posts and I think that really got the ball going. It's awesome to see how many posts are associated with a hashtag as soon as you type that hashtag in. Some people hashtag the hell out of there posts but I decided to keep my first post around 7-10 hashtags. Getting my first taste in this community got me thinking about the social media ecosystem.
I do think there is a major shift in dominance among the top social media sites. Facebook and Twitter still reign as the #1 and #2 sites in traffic. Although, this chart shows how Instagram is working it's way up to the decade-plus-old platforms of YouTube and Facebook in users.
My feelings on the communities and users of the four major social media platforms (Facebook, Twitter, Instagram, Pinterest) can be divided into two groups; positive and negative. Can you guess where I lump each one?
The Good, The Bad, and The Ugly
Let's start with the positive platforms, Pinterest and Instagram. My brief experience with each shows that the majority of users are supportive of one another. Not a lot of judgment or disdain is thrown around. Perhaps this is due to the very fabric of Pinterest and Instagram where other users are admirers or followers who most likely have no idea who you are in real life.
Facebook, on the other hand, has its relationships built on family and friends. How could that possibly be bad? Perhaps there is too much familiarity. There isn't always a willingness to embrace different ideals and opinions. How many Facebook connections have destroyed real-life friendships because of…politics? If you don't agree with someone, you're wrong. People seem entrenched in their beliefs and there's no changing their mind.
This brings me to Twitter (the ugly). To me, it's a cesspool. A chest-thumping, grand-standing platform that incites anger and encourages boasting. It brings out the worst in humanity! Careers have been destroyed by ill-advised tweets going viral. It seems like every day there is a war of words between celebrities, politicians, and socialites. This is not to say it isn't an effective platform for gaining an audience, but the overall community is hardly supportive of one another.
The problem with Instagram and Pinterest from a business perspective is the impact they have varies by industry. If you're a law firm hoping to build a following through Instagram and Pinterest, you have a challenge ahead. These two platforms work best when there is a commonality between users. Fitness, cooking, and hobbies can serve as a link between a brand and its followers. Compare that to a construction company and that's just not something many people are interested in.
Wrapping Up Part 8 Of My Niche Dreams
It was a great month financially and also accomplishment-wise. The hard part will be juggling all of this with my personal and work-life. It's been hard enough keeping up with Pinterest. I think with Instagram, what I post can be a little rough around the edges. Once I get the hang of pumping up a quick photo or video, it should come naturally.
Now that I have my social media platforms of choice established, I want to start networking with industry elites. Perhaps I can get another interview or two and slowly work my way up the ladder. It's a long road ahead, but I feel really good at where things are currently.