Niche Dreams – Part 6: Website Reveal and Insights
There were only a few participants in last month's poll for whether I should reveal my niche website or not. I would have preferred a much larger amount of votes, however, a deal is a deal! The votes for I already know! might as well be yes votes. The site and my persona are so entwined it doesn't make any sense to tip-toe around specifics.
Being able to provide detailed examples and explanations on certain parts of the website allows me to give the best insight possible. What I won't share are certain things such as keywords and other detailed data. Don't worry, keyword rankings and volume will still be discussed. They'll just remain masked as it's not necessary to track their progress from previous months.
Before I pull back the curtain, let's go over the usual statistics and metrics. On the one hand, I wish the website would grow quicker. Although, it's been another steady month of commissions with the potential for big months ahead. Since getting married in November and dealing with the holidays in December, there hasn't been a whole lot of new content added to the site. Yet the traffic is still increasing and Google's trust is also growing.
Current Metrics and Statistics of my Niche Website
Trust/Citation Flow and Domain/Page Authority
ROOT DOMAIN
TF: 12
CF: 25
HOME PAGE
DA: 18
PA: 24
Observations
The only change for these metrics is a +3 increase in citation flow. If I had to guess, I'd say that the guest post from last month is the cause of this boost. I would love to do more of this type of link building, but I plan to focus more on content. At least for this month.
It's interesting how different the home page URL trust flow and citation flow is from the Root Domain TF and CF. I thought that they were one and the same but the URL has a TF of 19 and CF of 33. It's not something I'm monitoring month-to-month and the difference isn't huge. From the various websites I've studied, it seems that the differences between the two can go in any direction.
Keyword Rankings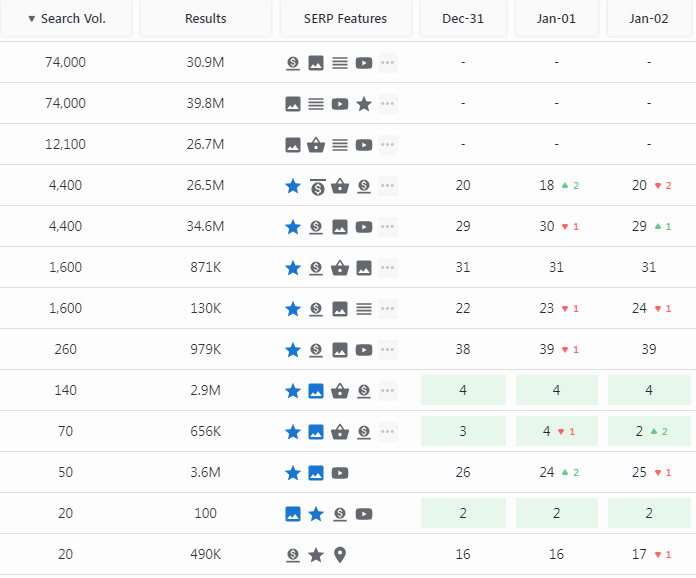 Solid gains across the board! Especially for the 1,600 vol. singular/plural keyword.
Observations
As I write this, I'm just now comparing the keyword rankings from this month and the prior month. This has to be the biggest overall jump for this keyword group since the website launched. I had no idea and am absolutely thrilled with these results!
The 4,400 keywords (the plural variation has the better rank) continue to climb. I've personally counted the plural keyword at a peak of position #15. I believe that if I stick with creating great content and sound link building, it'll crack the top 5 within the next 4-6 months. That might seem like a ways off, but thinking in terms of the website's age, that's not a bad outlook at all.
The 260 keyword is part of a 3-keyword variant group with the two 1,600 volume keywords. Out of that group, the page targeted is primarily optimized for the two bigger volume keywords. The fact that the 260 keyword jumped by 40 or so spots is really amazing.
It'd be nice to get on the board for the mega 74,000 volume keyword and the 12,100 keyword without resorting to my keyword flashing technique (as explained in Part 2). I think that's where following a link map and filling it with multiple high-quality guest posts is critical to ranking quickly for those larger volume keywords.
Amazon Affiliate Earnings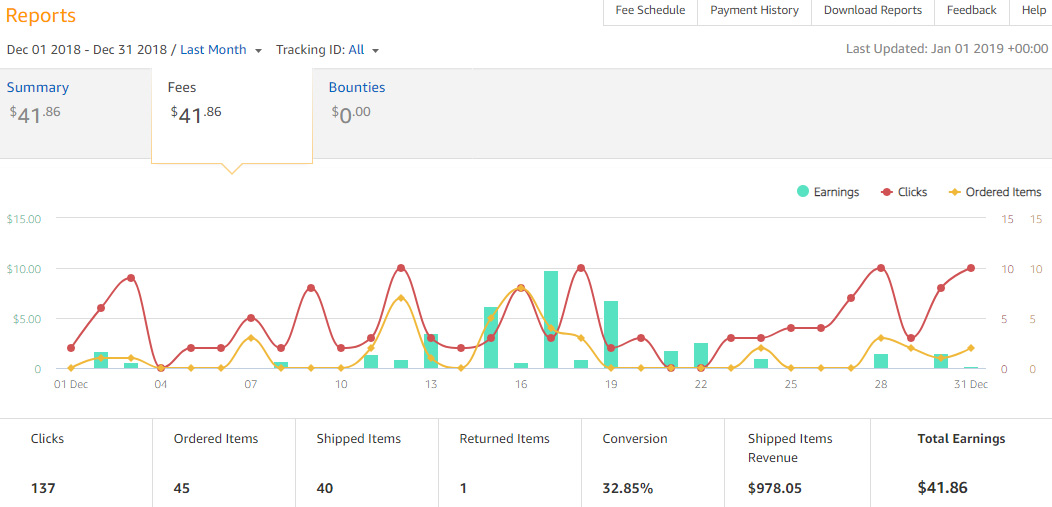 A nice bounce back month of reaching $40 in earnings again.
Observations
I was disappointed with November's earnings which were $10 less than October's. Now, things are trending back in the right direction with $41.86 earned for Amazon U.S. commissions. The global report for earnings says that I made $47 for the month of December. I'm not sure how accurate the locale reporting is because that $47 is listed under United States. Clearly, though, it is including sales from the U.K. and Canada which are still too small to reach the payout threshold for those regions.
The real shocker this month is the conversion ratio. A whopping 32.85%! That smashes last month's 10% ratio by a wide margin. What's the primary cause for such a jump? Maybe it is holiday shoppers more willing to hit the purchase button. Perhaps also those looking to start their new year's resolutions (the site is in the fitness niche after all).
Since the most popular products sold tend to be under $20, the low price point probably helps conversions too. I'd really like to have a wide range of products from inexpensive (under $20), moderately expensive ($20-$99), and expensive ($100+). Honestly, there isn't a lot of products to advertise that cost over $100. I'll probably end up researching relatable niches when the time is right and plug those expensive products outside of the main hub pages of my niche site.
Google Analytics Traffic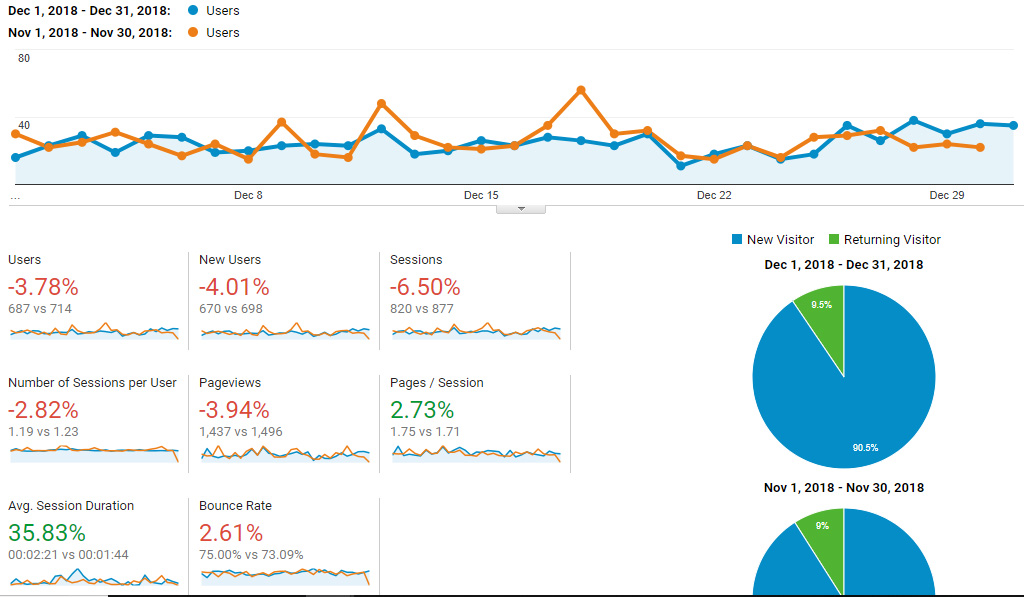 Traffic was down even with the addition of an extra day.
Observations
It's tough seeing 6 negative trends vs 2 positive trends. What I will say is that those negative percentages were minor whereas session duration increased by 35%. People are spending more time on the website which is a good thing!
I think I actually posted less content in December than November. That means fewer opportunities for fresh organic traffic as well as referral traffic (mostly from Pinterest). One would think that holiday shopping would result in more searching and therefore more traffic. However, this soon-to-be-revealed niche the website is built around is still relatively unknown. It's my job to make the site a resource, not only for this niche, but also to bridge the gap in similar sister and parent niches.
Niche Website Reveal
Here we go! I'm a little hesitant to go public with my niche website. Yes, there is the worry of copycats. However, all statistics regarding the site will be somewhat tainted going forward. I have no idea how much traffic will be gained from the interest in seeing an Amazon affiliate site vs. legitimate traffic.
I'm pretty sure most of you won't be purchasing these products and affecting sales. Although, I do believe that since traffic and user habits are considered in Google's algorithm, rankings will increase faster than they should. Not that I'm complaining! It's just that this new variable thrown in shouldn't be considered a viable tactic for growing a niche website.
So without further ado, I give you: Kettlebell Krusher. This website is dedicated to providing information on kettlebell products, workouts, exercises, and news as it pertains to professional and amateur usage. The website is hosted on the same server that this is and actually shares the same IP address. Since this is the first link referencing the site, I'm curious if it will count as a factor into rankings. I'm leaning towards no simply because the IP address is the same.

History and Reasoning for Choosing this Niche
I purchased the domain back in 2014 and built a website for advertising several ClickBank programs related to kettlebell workouts. Needless to say, it wasn't a success. I believe I abandoned it a few months after launching it. In fact, you can see the old site via the Wayback Machine. Although, there is broken functionality due to the way Wayback archives websites.
In the beginning, I was optimistic about earning commissions with ClickBank. A lot of people on popular affiliate message boards were praising the potential of getting a sizeable income from referring visitors to ClickBank products. Unfortunately, I believe I came into the game a little too late.
I don't want to trash on ClickBank, but to me, it's obsolete. What vendor would fork over a portion of their sales when it is now easier than ever to get an SSL certificate and install a shopping cart on their website? Payment processors like Stripe make it affordable and simple to collect money.
As a ClickBank affiliate, you typically need to redirect visitors to an awful landing page and hope that the visitor commits to the purchase. That adds an extra step which will, of course, reduce potential sales. Since you have no control over the vendor's product page, you're completely reliant on their ability to promote the product in a professional manner. When looking at the majority of these landing pages, they seem overly spammy and full of gimmicks. That doesn't bode well for enticing visitors to complete a transaction.
Website Revival
Fast-forward to the spring of 2018 when I got the motivation to use Amazon for generating commissions. Since I wanted to lose weight by working out with kettlebells, I figured why not double down and use this experience to help grow Kettlebell Krusher. I learned that you don't need to spend hours a day in a gym to get the same results you can with kettlebells. This would end up being one of the main focal points of the website.
Exercising with kettlebells on a regular basis has kept my motivation alive for building Kettlebell Krusher. It's something I'm passionate about and believe in. No, it's not a requirement that you're physically involved in the niche your promoting. However, it should make it a lot easier to not give up too soon.
After building the core product pages, I knew I needed to have a blog to keep things fresh and appease the search engines. Although I'm no expert, my familiarity with kettlebells allows me to comment on the news for this niche. Everything from workout trends to competitions is fair game for chiming in on. Some of the blog posts don't get much visibility, but there are others that are popular and I'm not sure why. Sometimes you get lucky and you can then use this data to target specific sub-niches.
My Personal Involvement with Kettlebells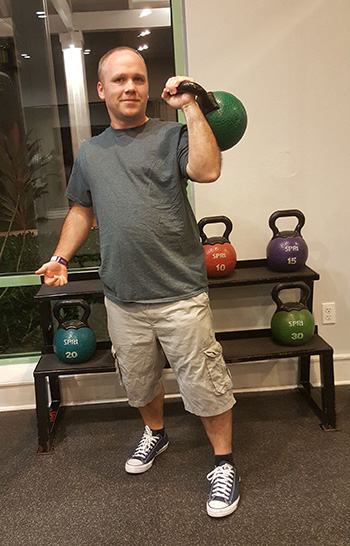 Here I am holding a very old-looking kettlebell
I mentioned that I wanted to lose weight as my primary reason for using kettlebells. But there are also other positive impacts that have resulted from their usage too. Muscle strength is the most apparent, but living a healthier lifestyle has also given me some mental clarity and focus that I was previously lacking.
I've shared the story of my weight loss journey on various platforms such as Quora. I view this as a good tactic for getting referral traffic since people are looking for different ways to lose weight themselves. There have been a few other websites where I've detailed this journey which also gives the opportunity to build backlinks, whether they are no-follow or not.
The one thing I've yet to do is share this story on Kettlebell Krusher. Now that the curtain has been pulled back, the time is right to do so. I never intended on using myself as a promotional tool. Honestly, it's not something I'm completely comfortable with. However, I am determined to find success and if that means I need to put myself out there, so be it.
Applying My Design and SEO Knowledge to the Site
Based on my research, I know that in order to build authority with Google, I can't just build dozens of product comparison pages. I need to provide valuable resources and expect nothing in return other than traffic and increased dwell time.
Maintaining a blog is one way to do this. Content curation makes it easy to discuss and provide relevant news alongside some original content. However, to truly stand out, there needs to be more.
Video Pages
One of the more popular types of pages on the website are the exercise pages. A video demonstration at the top followed by a few paragraphs offers multiple ways for visitors to learn various kettlebell exercises. Although these videos are short, I think that just having them throughout the site gives it a little more credibility and helps overall rank.
These aren't my videos, they were actually created by an Amazon vendor which I advertise the product for in the sidebar of those pages. Even though there are many more of these pages that I can create and these videos are publically accessible on YouTube, I don't want to over-saturate the website (and upset the vendor) by creating an abundance of these video pages.
I think I've covered some of the more popular exercises and that is good enough. Maybe in the future, I'll categorize and expand on these pages more. For now, they've certainly helped to increase the dwell time on the website.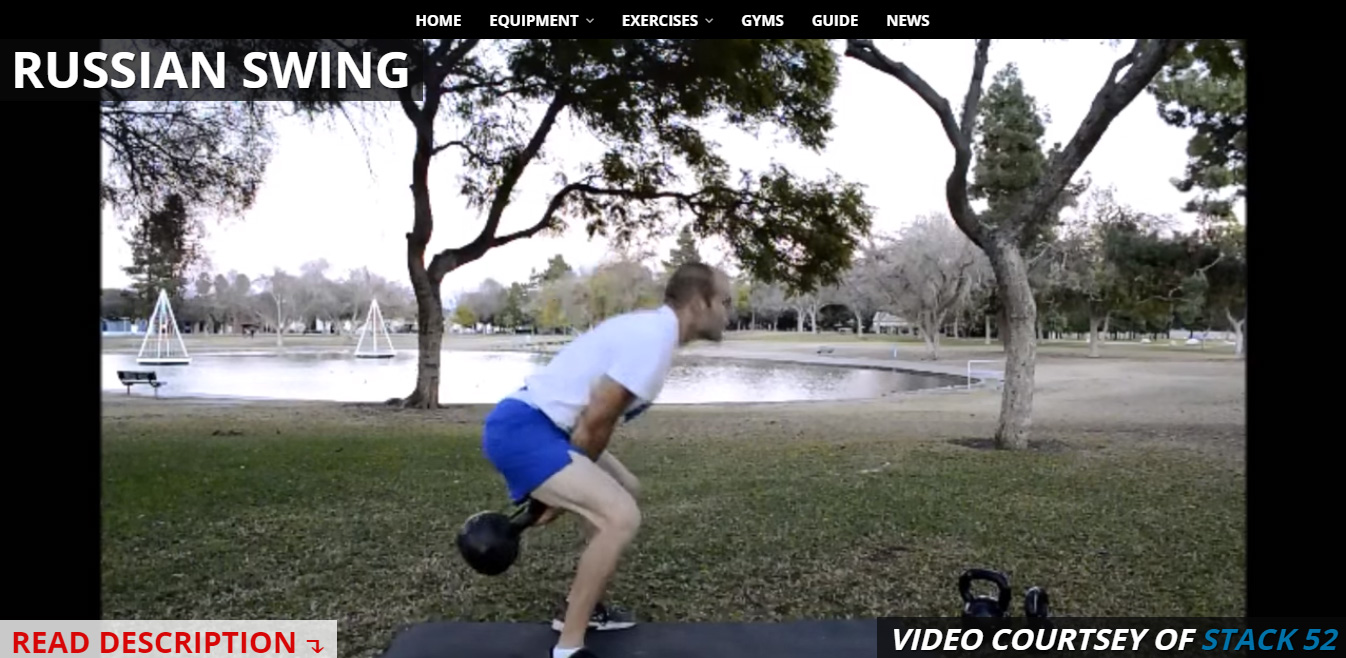 Example of Video Page (Upper Half)
Gym Finder Page
In a previous Niche Dreams entry, I alluded to this page as giving something to your visitors that requires interaction and is useful. Although I'm not seeing much traffic for this page at the moment, I think it has huge potential.
I personally searched for kettlebell gyms throughout the United States and added them to my own internal searchable database. This does use Google's Map API, so I need to cautiously monitor activity due to the fact that Google will charge you for large volume usage. So far, I haven't come close to this limit.
My next step with this page will most likely be to contact all of these gyms via email and notify them of inclusion into this database. This might generate some additional chatter or links back to the website. Perhaps even new partnerships.
Below the widget, I've written content advertising a ClickBank product. Ironic right? This will most likely be temporary as I'd rather work directly with a trainer or gym for better conversions. However, you can see my strategy of filling a void for people that do not have access to a kettlebell gym.

This gym finder tool also helps increase dwell time.
Power Pages
Way back in Niche Dreams: Part 2, I talked about my strategy for creating power pages as suggested by SEOJet. These power pages aren't designed to convert sales, rather, they transfer link power by having multiple inbound links pointing to them.
For Kettlebell Krusher, the guide and scholarship pages contain internal links to the money pages. This effectively passes the link juice to the product pages and helps boost their rankings in the SERPs. Although I can't control the anchor texts for the scholarship page, the guide page has links coming from guest posts, Web 2.0's, and forum/comment boards. This gives me complete control over what anchor text to use to satisfy the best combination of terms as recommended by SEOJet.
I haven't quite achieved the results in rankings I'm looking for, but this is probably due to the low quality of the inbound links. Instead of spending time on building Web 2.0's and comment links, I recommend going after guest posts on sites with traffic. Specifically, sites that have at least 50,000+ monthly visitors. This amount of traffic should also have decent metrics for PA/DA and TF/CF on the website of your guest post. I say this because of this month's increase in overall rankings for my niche site which I believe stems from a recent guest post fitting that criteria.
You'll most likely need to spend money on either outreach for obtaining these links or paying the website owners a fee. The trick is to know where to look. You may think that you need links from your own region (such as the U.S.), however, this shouldn't matter. Try to find websites with traffic AND fits your niche, are written in proper English and have a few years of history (check the whois registration date). It's likely that you'll be asked to pay a much smaller fee from a website based in India, for example, than one in the U.S. with similar metrics.
Future Plans for my Niche Website
Now that I'm able to better concentrate my efforts, the plan is to build the brand by putting myself out there. At some point, I will post my personal story of my weight loss journey. I want to inspire the everyday guy or gal and inform them that using kettlebells really does work. After all, if the sedentary lifestyle of this webmaster can change for the better, it might be enough to convince others to give them a shot. I want my visitors to relate to my past situation and provide proof of the positive impact kettlebells have had on my life.
It'll be a big step out of my comfort zone, but the following tactics should help establish my website as an authority figure in the industry. It'll be a long road ahead, but if I can remain consistent and dedicated, I believe the website can grow exponentially.
Create Commentary, Instructional, and Review Videos
I was fortunate enough to receive a Pixel 3 as a Christmas present. I immediately ordered a tripod holder for it with the intent of recording videos of myself. These videos would include reviews of products that I use and advertise on the website, commentary on relevant news, and demonstration videos. I actually already have one video on youtube of a workout I created.
There is a common belief that having videos will help your SEO efforts tremendously. This article does a good job of breaking down this belief and the reasoning behind it. So although I'll be entering into new territory, this strategy is perhaps the most cost-effective for getting the best results quickly.

Example of a promotional graphic for the kettlebell workout I created. Nothing too fancy!
Forming New Alliances and Partnerships
I already have several kettlebell trainers in mind that I would like to pursue a partnership with. These people are experts in the niche but may not have the promotional and technical skills that I possess. By forming an alliance, I can provide them with referral business and also help with the design and functionality of their website.
I won't wow anyone with the little traffic and following that I'm currently receiving. Although, I may win them over by helping them directly first. For instance, a lot of these kettlebell websites don't have any SSL certificates. For the sake of building a relationship, I could offer to set them up with certificates free of charge. It would require little time on my part but might persuade some to give me exclusive content in the form of interviews, tips, etc.
Expand Into Relatable Niches
The fitness niche is enormous. The many sub-categories that fit into it might not make sense to include in my niche website. However, there are some which DO cross-over nicely. Dieting comes to mind as the primary objective is to lose weight. That's my reason for working out with kettlebells and I'm sure that goes the same for others.
It would be foolish to try to cover the broad subject of dieting, but perhaps, I could zone in a specific diet plan. One that has the opportunity for growth and currently has little competition. Of course, I'd need to be careful not to stray too far off-topic from my primary niche. The best thing would be to intertwine them with supporting links and subject matter to one another.
Dieting is just one idea. As I've mentioned, the fitness niche has a lot to choose from. I just need to research carefully and pick the right ones!
Wrapping Up Part 6 Of My Niche Dreams
There is a bit of relief I feel sharing my niche website with you all. It's not like it was some well-guarded secret. A little detective work would ultimately lead to the website. However, now that I've revealed it, it will be a lot easier to explain my strategies and methods.
I'm thinking that Niche Dreams will end after a year. That will be 12 months of reports, insights, and statistics. Over the next 6 months, I'll be looking to build the website as a reputable source for all things kettlebells. The groundwork has been laid and it's just a matter of making the effort and not neglecting the site.
Originally, I had the idea of building multiple niche websites. I may still do that, but there is no way I intend to be as hands-on like I a with Kettlebell Krusher. If anything, I'll build them and then outsource the content using the knowledge I've learned from this experience. Realistically though, that's not gonna happen for quite awhile.