Some of you have probably noticed the banner I've recently added for SE Ranking. Yes, I do have an affiliate tracking code attached to the link. And for the sake of transparency, the links in this post also have my affiliate code. However, I wouldn't advertise any products or services that I don't personally endorse. Over the past several months I've searched long and hard to find a toolset for SEO that is accurate and affordable.
For a variety of reasons, after thoroughly testing a service, I wasn't quite willing to pull the trigger and pony up for a subscription. SEMRush was probably the most impressive. I actually still have a free account that I use for minor SEO research. As much as I liked it, it was too expensive for me to commit to. I almost ended up going with SEOprofiler. But the more testing I did, the less impressed I was with how their in-house metrics (like LIS – Link Influence Score) correlated with real-world ranking performance. Their backlink checker seems to be hit or miss too. Finally, after seeing glowing reviews for WebCEO, I thought I had finally found the one. To my disappointment, it felt limited with what I wanted to accomplish with my SEO research.
Ironically, I stumbled across SE Ranking while searching for WebCEO. In fact, doing a Google search for WebCEO shows an ad comparing SE Ranking against other tools, including WebCEO. They are definitely making a concerted effort to stand out from the competition. But can they live up to the expectations they've set forth? Below I give my honest and in-depth perspective on their service.
Gauging SE Ranking's Credibility
Right off the bat, I can tell that they are not some fly-by-night company. Using their OWN research tools I was able to determine and verify a list of their top target AdWords keywords. Searching in Google for keyword ranking, SEO tool, and competitor research each show a #1 or #2 ad placement for their service. These are high volume keywords which don't come cheaply. As I mentioned previously, they are going hard after the competition too. Targeting a competitor brand name as a direct keyword shows they have a lot of confidence in what they offer. SEM Rush, Raven Tools, and WebCEO all bring up SE Ranking in the paid ads alongside their competitors. In the case of WebCEO, ranking #1.
Now take a look at these particular competitors by loading their respective websites in new tabs. Compare it to SE Ranking's website in a new tab. Or rather, look at the address bar. Notice any difference? They are all secured via SSL (phew) but… SE Ranking has gone the extra step and purchased an EV Certificate. This type of certificate displays the business name alongside the lock symbol. However, they are generally harder to acquire since a company must go through a vetting process first. It is just another signal that establishes trustworthiness. This is not to say that these other companies can't be trusted. It just goes to show that THEY are indeed a legitimate business.
UPDATE: I've noticed that SE Ranking now uses Let's Encrypt for SSL. What hasn't changed is my opinion!
Getting started with a free demo account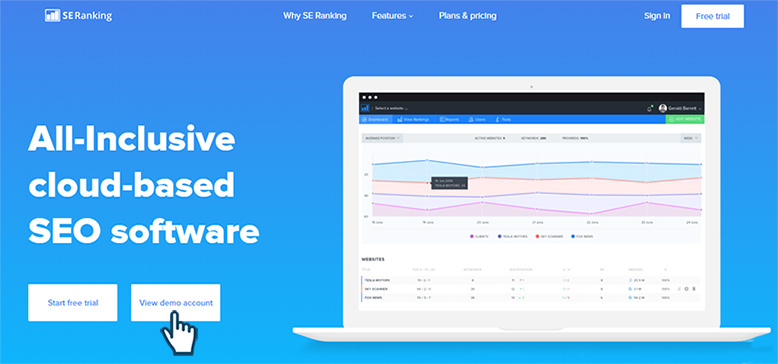 SE Ranking offers a preview without needing to signup
Before you even sign up for the free trial you are encouraged to play around with the demo account. Clicking on View Demo Account will take you to the main dashboard which is pre-populated with examples of real data and websites. You won't be able to change or edit this information (that's what the free trial is for). However, it does provide you with a nice snapshot of what to expect for keyword tracking. But hold on, we're not even at the part that I find most impressive.
I'd like you to see just how valuable the Competitor SEO/PPC Research feature can be. You can access it from the main demo dashboard by clicking on Tools. From there you can enter any domain name to see what kind of presence they have for organic and paid keywords. You'll be able to choose from several countries as a target region.
For this example, we'll use Minneapolis Lawyer as our search query in Google. One of the top ads is for the website minnesotapersonalinjury.com. After entering the domain in SE Ranking Research, you're presented with an overview of organic and paid keywords that the website ranks for. Both of these keyword types have estimates for number of keywords, clicks per month, and traffic cost. There is even a charted timeline over the span of a year and a half for each month that shows the number of keywords. This is especially helpful to see if a competitor is trending in a certain direction.
Organic and paid keywords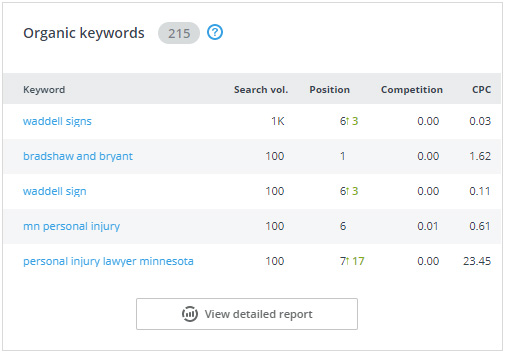 Competitor's list of orgainic keywords
The next section down summarizes the top organic and paid keywords for the competitor. You'll be able to click on View detailed report for either section to get a more complete list of keywords. Sticking with this example, click on the detailed report for organic keywords. The previously estimated metrics appear as well as the timeline. There is a drop down for the timeline which allows you to see trends for the number of keywords, number of clicks, and traffic cost. With this information, you can see if a competitor is on the rise or decline.
The real interesting part is the detailed view of the organic keyword rankings. A sortable table for keywords, position, search volume, KEI, clicks, etc. gives valuable data you can use to plan your own strategy. If you're not sure what these columns represent, simply hover over the title of each for a description. Clicking on each title will sort that column by the corresponding ascending/descending numbers.
How accurate is this information?
I'm not going to lie. 100% accuracy is damn near impossible. Google rankings can change in the blink of an eye. The data provided is pulled on a month-by-month basis. SERP volatility, the Google Dance, and other factors are unpredictable beasts. Don't be surprised if a keyword and the associated competitor URL appear at all for a particular search query. This should be expected. However, in my experience, the keyword rankings are dead on most of the time. Or at the very least within a few positions of the report. I'm not sure how competitor clicks are estimated, but I've been given no reason to doubt this information.
If you're still following my example, waddell signs is this competitors most clicked keyword (at the time of this article). The search volume, at 1k national monthly searches, is decent enough to warrant attention. During my search query I just performed for waddell signs, the competitor ranked number 7. One spot higher than what SE Ranking reported. Not bad!
Let's take another 1k search volume keyword they are listed for, accidents in mn. SE Ranking reports an organic ranking position of 16. Excluding any paid keyword ads that appear, the position I saw is 19. Still within an acceptable range. You can expect that the greater the search volume for a keyword AND the higher the ranking position reported, the higher the margin for error should be. Such as the highest reported search volume term, white – collar crimes. At a reported ranking position of 87, it is pointless to research this number as there is too much competition against too poor of a ranking.
Researching a keyword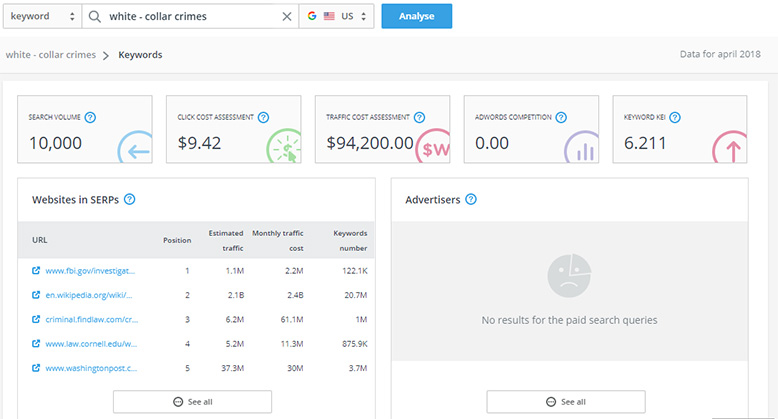 See top competitors for a keyword
Aside from researching a competitor, you can analyze a keyword too. You can either select Keyword from the dropdown of the search box or click on the Keyword Research tab in the left menu. The above image shows the results for white – collar crimes query that was referenced before.
When looking up keywords, you'll see values for metrics much like you did when analyzing a domain. One part that stands out is a list of the top ranking websites for that term. Clicking on the See All button will expand the list of websites. Not surprisingly, the FBI's website ranks number 1 for this term. In fact, we don't see a legitimate competitor until position 16. Another law firm with the URL criminallawdc.com/white-collar.
Related and similar keywords are listed in the next section. Using information from the volume and KEI columns, you can zero in on specific keywords that you might be able to rank easier for than the one you're originally targeting. Of course, KEI (Keyword Effectiveness Index) shouldn't be relied on solely as a deciding factor. Usually, the higher the KEI, the easier it is to rank for that keyword. But that isn't always the case. Large search volume keywords with a proportionate number of websites in the SERPS can be misleading. Still, when using all of the available data, an effective strategy can be implemented.
The final section displays any popular ads for that keyword. Provided that there are any. Since there are no ads for white – collar crimes, it might be worth looking into for a pay-per-click campaign. No competition for a high volume keyword could be very beneficial. However, the intent of the average searcher should be assumed. It is likely more for information than retaining a service.
research is just one feature of SE Ranking
I haven't even touched on the main features of SE Ranking. I'm a research nut, so naturally, that feature is what impressed me the most. However, that is just a matter of opinion. The main dashboard allows you to track keywords across different search engines. With Google, you can hone in on a specific city. You can even track mobile rankings for Google! I like the fact that Bing and Yahoo are available to track too. A lot of SEO agencies could care less due to the limited market share of these two search engines. But Bing DOES have a 30% share, certainly not worth ignoring.
Other features like integrating your webmaster tools and analytics accounts, backlink reports, backlink monitoring, and website auditing all offer great insights into promoting your business or your clients' buisness. I'll be posting a separate review for these features in the near future.
SE Ranking makes it easy to test their services without even needing a trial account. Take some time and play around with the demo account. If you're satisfied you can signup for a free 14-day trial account. No credit card information is required. The personal plans are billed annually and provide great value for little money. When it comes to rating the research portion of their service, it was a no-brainer to give it 5 stars.
Detailing SE Ranking's Core Features
NOTE: The below information was originally listed on a separate page. It has been combined with the content above to provide a more complete picture of SE Ranking's features.
A month ago I reviewed SE Ranking's Competitor SEO/PPC Research feature. To me, it is a separate set of tools altogether from their main keyword research toolset. It is still my favorite part of their service and is used heavily to plan a strategy for my clients. Just because I favor it, doesn't mean I don't value the main suite of SEO tools available, specifically keyword research.
For anyone checking, I do participate in their affiliate program and have links with my id in this post. I'm not trying to run a sales pitch with this review, I believe the product speaks for itself. I wouldn't promote something if it didn't provide some measure of value to me. In this case, that value is substantial. To claim keyword research at its finest is a bold statement. My goal is to prove that to you in this review.
Signing up with SE Ranking
Like a lot of other SEO tools, you can create a free trial account to test out the service. They currently offer 14 days before you need to purchase a plan. That should be plenty of time to do your own research and explore all that they have to offer. I still get a kick out of how I discovered their comparison chart page against other top SEO tool providers. Searching for "WebCEO", a rival SEO service, brought me there!
It's obvious that they consider WebCEO as the main competitor. Although they have similar features, SE Ranking beats them handily with the number of keywords and projects you can track. The price is much more affordable too.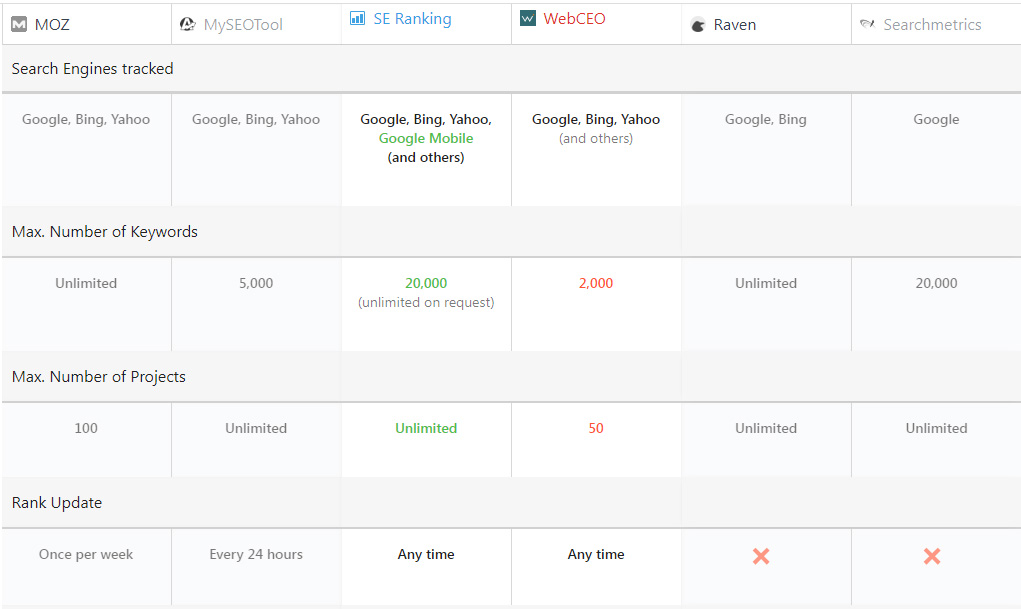 SE Ranking Tools Compared to Others
Notice the maximum number of keywords and projects allowed? Yeah, I did too. Another overlooked feature is the ability to track Google Mobile results. This is huge. Recent studies have shown that more than half of Google searches are done on a mobile device. Google has certainly taken notice of this trend as evidenced by recent changes on how their mobile results are displayed.
Some of you might be wondering why a juggernaut such as SEMRush isn't included in the chart. It's a valid question. My guess is that they don't want to take on such an established competitor, at least not yet. I've used and still do use SEMRush with a free account. I really like what they have to offer. But it is just too rich for my blood. If you want a side-by-side comparison of the two check out G2 Crowd's grid. Their credibility and honest reviews make it a frequent hotspot of mine to compare digital services. You can see that the vast majority of features (look for the greenbars) outrank SEMRush.
Creating Your First Project
Now that you're signed up, you'll need to add a website to start tracking keywords. Clicking on Add a Website at the top-right of the dashboard will allow you to do just that. You'll enter the name of the project/website, its url, and the search range (top 100 or 200 results).
Next, you'll be asked to provide the keywords you wish to track. If you have them in a list, it is simply a matter of copying and pasting them into the provided box. You can also group keywords at this point too. A prompt may appear advising you to connect your Google Analytics account. You do have one right?
Finally, you'll be able to choose which search engines you want to track these keywords in.
The current choices are:
Google
Google Mobile
Bing
Yahoo
Yandex
Yandex Mobile
Youtube
My usual setup is to add Google (you can target a specific city or make it a broad search), Google Mobile, Bing, and Yahoo. A lot of people could care less about any search engine other than Google. I look at that point of view as a missed opportunity. Sure, maybe Bing and Yahoo are just a small slice of the search engine market pie. But they can still bring visitors to your website.
When you add Google as a tracker you have the option of also tracking featured snippets, map results, and AdWords rankings. No harm in checking all of those off! You also have the ability to change your target country. Since I'm writing this post for U.S. users, I can't really comment on tracking for other countries.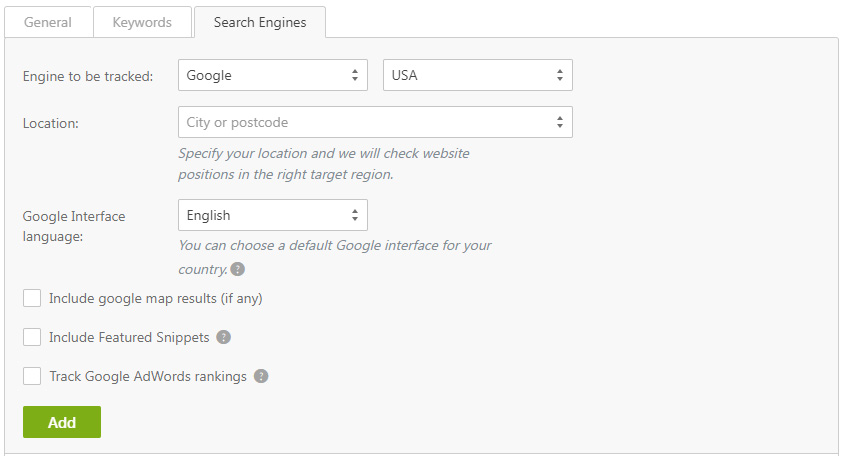 Configure multiple search engine trackers with ease
Breaking down the Project Details
There are several sections of every project that either provide you data or can be used to improve your website or marketing. The ranking section will be the most important to many users. Although the other sections may be considered a bonus, they can be quite useful too.
Rankings
Ahh rankings, that's why you're reading this right? Rankings are displayed in sections for each search engine you've chosen. You'll see your grouped (or ungrouped) keywords alongside several customizable columns in a table format. These columns include a set of dates, for which you can configure the range, with the position of the keyword.
The columns can be customized to include or remove: Search Volume, Competition, Suggested bid, KEI, Results and SERP Features. The last option, SERP Features, is a nice addition for rank tracking. What it does is track the results of your keyword that is not displayed as a traditional organic result. Examples include: rich snippets, reviews, images, videos, paid ads, etc.
Below the ranking grid is a line graph that shows the average position of your keywords on a day-to-day basis. You can adjust the range of this graph too. Instead of tracking the average position you can also view other metrics. Traffic forecast, search visibility, selected keywords, % in top 10, and SERP features to be exact.
All of this data is neatly organized and arranged in a user-friendly manner. Scrolling vertically, you can easily move from one search engine to the other. Typically, keyword scans are automatically done each day. You have the option of rechecking the rankings instantly at any time. Although your plan may limit the number of keywords that you can check on the spot.

Keyword rankings example from the SE Ranking Demo page
Analytics & Traffic
In order to take advantage of these features, you need to connect your Google Analytics account. You'll also want to add your Google Search Console account as well. Once integrated, pie charts and line graphs will populate and visualize how your keywords are ranked. Pie charts are shown for every search engine you've chosen and break down the number of keywords in a range of positions. These ranges go from top 3, 4-10, 11-30, 31-100, and out of SERPs.
A line graph combines the results of each search engine keyword tracker to review overall performance. It gives you a nice indication of what keywords hold steady in which search engines and those that fluctuate wildly.
Google search console data provides the same information that you can get from the Search Console itself. However, the added convenience of having it integrated with SE Ranking saves you the trouble of tab-switching. You can also match tracked keywords with search console queries and compare the positions across all chosen search engines. I've found this helpful to start tracking keywords that I didn't even realize I ranked for.
The last point of interest in this section is called SEO Potential. I haven't used it much myself, but the idea is to forecast traffic volume and cost. Great if you want to use this for your own strategy or to pitch a potential client.
Competitors
They say imitation is the most sincere form of flattery. In the SEO world, it is a cutthroat business. If you're not monitoring the competition, you're not taking your keyword tracking to its fullest potential.
Competitors can be viewed by selecting the main, top 10, and all tabs. Adding a main competitor is like cloning your keyword research tracking project for that competitor's domain. Easily compare your ranking history to that of your rivals. Once you've set your sights on your most dangerous competitor, you can use the Competitor SEO/PPC Research tool and backlink explorer to form an effective SEO strategy.

An example of average keyword positioning vs. competitors
Online Marketing Plan
You don't have to be an SEO guru to use SE Ranking. I probably don't give this section much credit. It's essentially a step-by-step checklist that guides SEO newcomers. Everything from keyword research and on-site & mobile optimization to social media and content strategy has tasks that you should perform.
I suspect most of you will already do these tasks on your own without guidance. I am surprised just how many people don't pay attention to website optimization though. Loading speed is a ranking factor. It's not heavily weighted, but if you focus on little factors such as this, they begin to add up.

SE Ranking's Online Marketing Checklist is great for newcomers
Website Audit
Not only is this a great tool to help you improve your own website, but you can use it to help generate website design leads. As I just mentioned, an optimized website will rank better than a poorly functioning website when disregarding all other SEO factors. Aside from the ranking benefit, you want your visitors' experience to be a smooth and speedy one. User engagement, the time spent on your website by a visitor, is also a ranking factor. If your site is slow and clunky they will go elsewhere.
Other than the various tests that are run, a domain overview provides a snapshot of important statistics. Moz's Domain Authority and Page Authority are displayed as well as domain age and several indexing metrics. Nothing that you can't find out on your own, but it is nice to have them all together.
Backlinks
Without question, backlinks are considered the number 1 ranking factor for search engines. Out of all the features of SE Ranking, this is my 3rd most favorite one. Behind the competitor research tools and keyword tracking of course.
You have the option of importing backlinks from a few different sources. No, this won't generate backlinks to your website. Wouldn't that be nice? Rather links are imported one-by-one manually or through a text file. This assumes that the links you are importing have already been created.
There is also the option of importing links from Google Search Console. This is how I import links for all of my projects. I have no idea if Google only counts the links that Search Console shows in Webmaster Tools as it relates to rankings. I'd like to believe that there are unreported links from Search Console that are having a positive impact. I think it is safe to say that the links that are listed have an impact or did so at one time.
The type of SE Ranking plan you have will determine how many backlinks you are allowed to import for your account. This number is totaled from ALL of your projects' tallied backlinks. I'm on a lower plan, so I'm constantly removing and importing links to stay under this threshold.
customizing and monitoring backlink data
Like the keyword tracker, you can adjust columns to display only the data you need. Important metrics like index status, Alexa rank, Moz DA, and anchor text are all present. The index status column is extremely helpful. Not only does it tell you if a link is found or not. It also determines whether that link is of the "no follow" variety.
I find myself using the one backlink from domain button all the time. This filters out duplicate links as most SEO experts agree no additional benefit is gained.
The other subsections of backlinks show you which anchor texts are used the most and what pages are linked to the most. There is even the ability to disavow spammy or bad website links. Although caution should be exercised with this feature. Unless you know for certain a backlink might be causing damage, it is best to leave it alone.

The ability to filter only unique domain backlinks is great
Keyword Research and then some
It's hard for me not to be impressed with the affordable price, wide range of features, and scalability that SE Ranking has to offer. I've done many trials with other SEO tools and none of them can hold a candle to the quality that is offered here. My research has shown to be that the data is accurate and current. I don't think I've come across a negative review that was warranted. Some people might expect the tool to work itself. You don't need to be an expert, but you should have an idea of your own goals.
Not to come off as a total shill, I do have some nitpicks. As a frequent user, I would love if the dashboard was optimized for mobile use. Since I've turned into a work-a-holic, I check my projects on my smartphone quite often. It's not that I can't get what I need, but it does require to zoom in and out in your mobile browser to navigate everything. The only other complaint I have is with how the backlinks are tallied. Google Search Console loves to retain multiple same-domain links. This can quickly max-out your backlink quota. If there were a way to automatically filter out non-uniques during import, I'd be in heaven.
Despite these minor issues, anything less than a solid 5-star rating would be unjust. The team behind SE Ranking are constantly making improvements and listening to their users. The value keeps going up while the price stays the same. I still may use other SEO tools as complementary pieces, but I don't ever think I'll stop using SE Ranking as my main go-to SEO tool.
RATING: