Niche Dreams – Part 11: Going Back To The Basics
My apologies for getting this up on the later side. I had a death in the family recently as well as a backlog of work I needed to get through. It's been difficult to juggle everything but I still enjoy writing these reports. Hopefully, people still find them helpful or inspirational!
I'll cut right to the chase. It feels like things are going in the opposite direction in regards to my niche website. Earlier in the year, I had a couple of earnings cross the $100 mark for certain months. This current month marks the 3rd straight decline in earnings.
The trend is as follows:
March – $100.46
April – $78.84
May – $55.76
To throw salt on the wound, I currently only have accumulated 91 cents for the month of June. Partly because of a returned item. The frustrating part is that I've poured my heart and soul into this website. Especially over the last few months.
Traffic has continued to increase and keyword rankings have been stable. I just think I've been on the low end of the law of averages. It certainly feels like shoppers have become more finicky as I've seen less and less non-promoted products included in my earnings. Then there are the international shoppers who click on products that do not have an Amazon store in their country. Those that do aren't frequent enough to make a steady stream of sales required to earn past the minimum threshold for that region.
As upsetting as all of this is, I'm absolutely not throwing in the towel. I feel like this is when others would get seriously discouraged and quit. Not me. I've invested too much time and energy. If anything, this downward trend will only make me try harder and brainstorm new ideas to boost commissions.
Current Metrics and Statistics of my Niche Website
Trust/Citation Flow and Domain/Page Authority
ROOT DOMAIN
TF: 12
CF: 24
HOME PAGE
DA: 23
PA: 25
Observations
Two points lost in DA and one point lost for TF. This is despite the site acquiring 3 valuable backlinks. It's possible that MOZ and majestic have yet to pick up these backlinks. I'm not too concerned but, obviously, I'd like to see these metrics go in the other direction too. Getting links is something I'll have to continue to work on if I expect to increase the authority of the website.
Keyword Rankings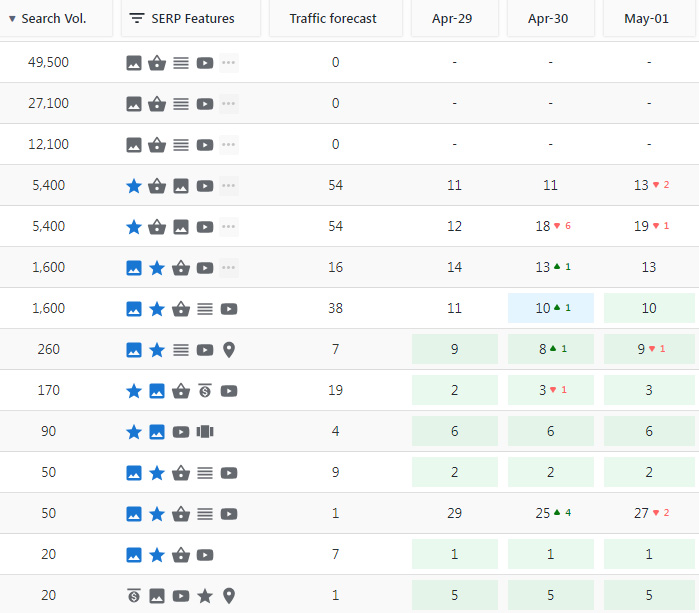 Finally on the board for the 12,100 volume keyword!
Observations
While not a true reflection of the end of the month for May (dates listed from Jun 5th to 7th), the numbers are pretty similar to those last few days. You'll notice that the 12,100 volume keyword that I've been trying to rank for from day 1 is finally showing up in the SERPs. The fact that it is in the top 100 is nice to see since I have SE Ranking monitor the top 200 results for each keyword.
The jump for this particular keyword I believe can be attributed to the 3 backlinks I acquired that I mentioned earlier. Each of them points to the page that I'm trying to rank for that keyword. Other than the homepage, I'd like for it to be the top linked to page. I certainly have my work cut out for me in order to make that happen!
I've also made a new addition to the list for a keyword with a search volume of 50. It's the one that ranks at 12 as of June 7th. I know that is a low volume but it's great to see such a high ranking right out of the gate. I'll have to monitor it closely as this might be a new strategy that I need to employ – create numerous high-quality pages for keywords that have a volume of 50 or below.
Amazon Affiliate Earnings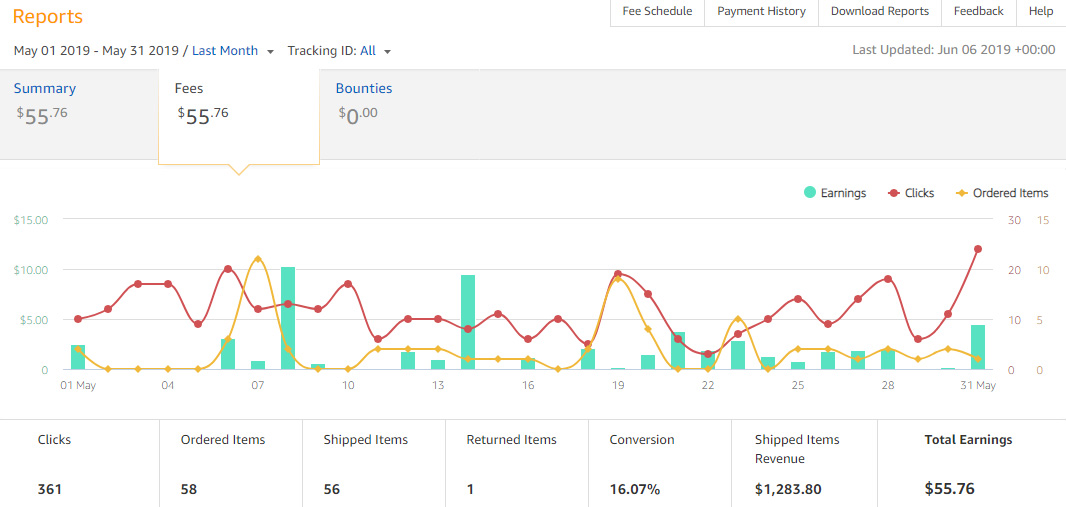 Better numbers in every column except for where it counts – $$$ money.
Observations
More clicks, ordered & shipped items, higher conversion ratio, and less returned items were made for May compared to April. Yet the money is less than what was earned in April. I know that less expensive items were ordered in total which plays a big part in that.
I have to admit, I'm a bit nervous at the rate of ordered items so far as of today (June 7th). Previously, It wasn't uncommon to have at least an item ordered per day with a sprinkling of blank days here and there. Now, there's been several days in a row without an order.
This could be a result of a major algorithm update that was rolled out by Google on June 3rd. Traffic does seem to be down slightly than the week prior. However, keyword rankings don't appear to be affected much at all. It's possible that the many keyword variations that I'm NOT monitoring have changed. There's also the chance for a bounce-back since it seems like Google isn't yet finished with the update.
Google Analytics Traffic
Over 500 new users for the month compared to the prior month.
Observations
One of the bright spots for my niche website in the month of May was the increase in traffic. Almost half of those users were located in the U.S. The next biggest increase comes from the U.K. with a net increase of 92 users. It wasn't all good news as the 3rd highest geo area, Canada, lost about 28 users in May. These numbers are still too small to really signify anything important. However, it shows the challenge of trying to monetize a website with a heavy international presence.
Speaking of international, I literally just discovered a bit of positive news. Having checked my U.K. Amazon affiliate account for the first several days of June, my first HUGE sale happened. Well, huge to me. An item was ordered for £114.99 which equates to roughly $146 USD. It hasn't shipped yet and wasn't a direct product that I linked to. Although, it should still qualify as a direct purchase as the product is in the same category as what I linked. That makes a huge difference in commission percentage. I expect to earn 8% whereas it would be a paltry 1.5% if it were something else completely.
Notable Accomplishments In May
Overall, I'm pretty pleased with the progress that has been made for the month of May. In addition to my standard informational posts that I create every few days, I also created two money posts. One is a massive 4000+ word breakdown review of a single product. There are Amazon links scattered throughout that review as well as a new alternative affiliate link to the same product. The keyword targeted has only a 1,000 monthly volume but there are plenty of opportunities for long tail combinations.
The other post targets a highly unique two-word keyword that gets only 50 searches a month. That's the one that is currently ranked at #12. I believe it debuted at #16 or so which isn't bad. I'll need to crack the top 5 most likely in order to get any clicks. Still, the products are high priced which is in contrast to the more popular lower-priced products that convert well.
Finally, there are two interviews that I wrote up and of course the 3 backlinks which I discussed in the last edition of Niche Dreams. Out of everything that was done, these last items were the most important to me. So keep reading and I'll expand on the details for each of them!
High-Value Backlinks
Two of the three backlinks were acquired from the same person via a Facebook Guest Post group. The turnaround time was pretty quick – about a week I believe. The 3rd link I ordered from SEOJet and it probably took about a month to go live. It was within the set expected timeframe so other than my being impatient, the delivery went smooth.
I'm not going to reveal what the domains are but I will provide metrics and such. One thing that was very important to me was the organic traffic and presence of each website. I didn't want a link from a mid or high DA/PA/TF/CF website with little to no organic traffic. I think that sets off a red flag of sorts and maybe Google isn't actively excluding such sites but they're still too risky for me.
Link #1: Acquired Via Facebook Group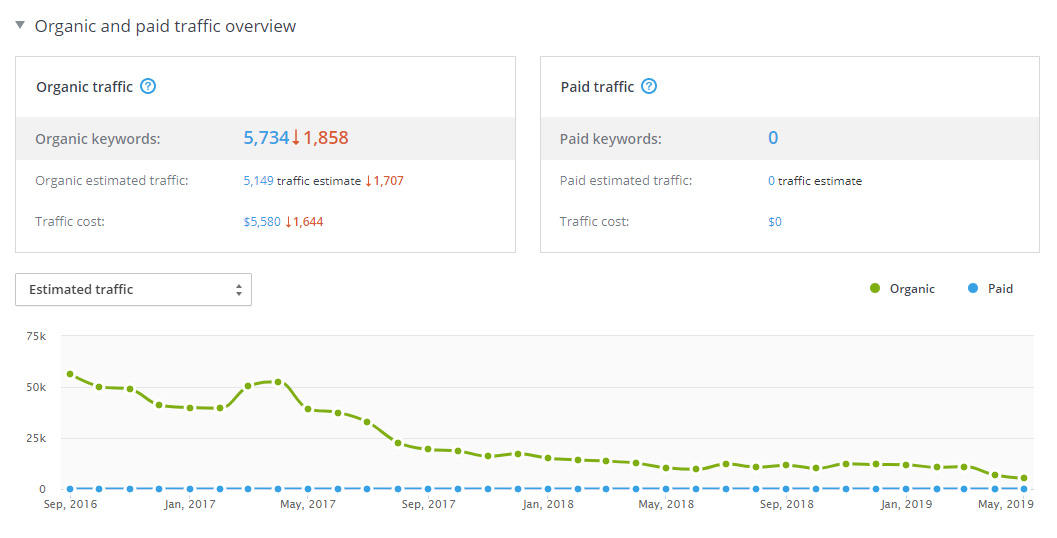 More than 5,000 organic keywords but the downward trend is a alarming.
Type: Do Follow
Organic Keywords: 5,734
SimilarWeb Traffic: 240,000/month
DA/PA: 67/53
TF/CF: 48/44
When I first got the message with the post containing my link, I was ecstatic. Everything checked out okay. It was do-follow, written well enough, and had the anchor text I requested. However, I noticed that it was a so-called orphaned page. This means that it is isolated from the rest of the website with no internal links pointing to it.
The first problem with this is that it doesn't bode well for indexing. Luckily, I have a technique that I've been using for some time that pretty much indexes any page within 2-3 days. After a couple of rounds of employing this indexing method, the page showed up on Google.
The other problem with orphaned pages is that no link "juice" is passed on. Typically, new posts will appear on a website's home page and eventually fall off into an archived page. There's literally nothing pointing to this particular post from its own website. That's not a good sign in my opinion.
I was curious to compare the TF/CF of a similarly dated post that was on the home page. Not the domain level TF/CF but rather the URL level. Unsurprisingly, the post containing my backlink has 0 TF and CF. The other post that was listed on the home and archived pages? That has a TF/CF in the mid 20's.
This post HAS NOT shown up in Google Search Console's link report.
Link #2: Acquired Via Facebook Group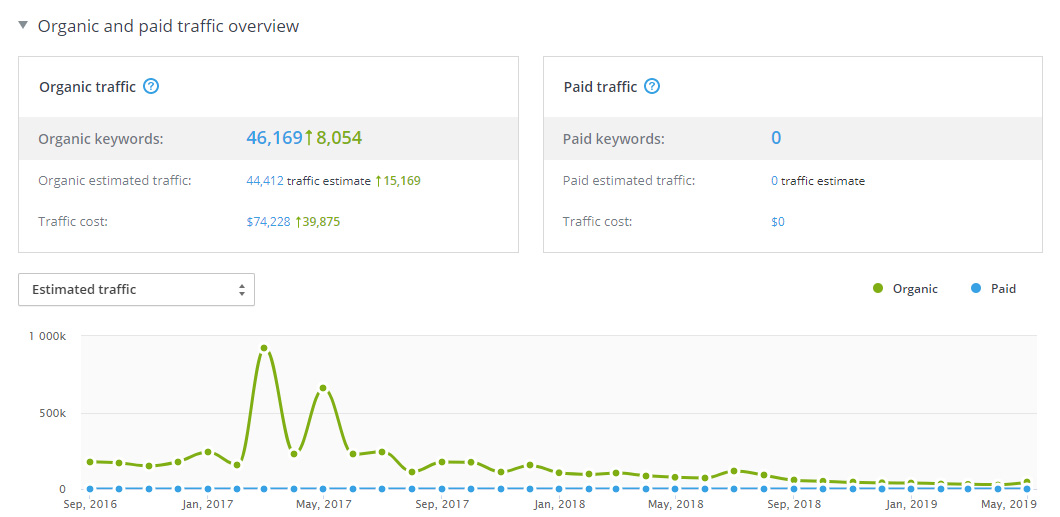 Nearly 50,000 organic keywords had given me high expectations.
Type: NoFollow
Organic Keywords: 46,169
SimilarWeb Traffic: 1,650,000/month
DA/PA: 77/60
TF/CF: 22/41
I categorize this backlink as too good to be true. The first attempt was erased before the Facebook guy even realized. He sent me a link to the article and I said, "Where's my link?". "Oh, it's there!", he replied. After pointing out that I scanned the source code for the link, he relented and suggested it was most likely removed by an admin. Mind you, the article was there but my precious backlink was nowhere to be found.
The solution, according to this gentlemen, was to point the link to an informative page rather than the homepage which I wanted. I agreed and this time an article was posted with my backlink. Hooray! Not so fast…
The same problems that I had with link #1 happened with this one. An orphaned page with no URL TF/CF. The main issue is that this link was actually a nofollow which is not what I was promised. Now, I do think that nofollow links for high trafficked websites DO have some authority. Despite what the general SEO community says that the belief is that there is zero link juice passed. I think it's significantly less, but regardless there is no authority pointing to this page so that debate is irrelevant.
This post HAS NOT shown up in Google Search Console's link report.
Link #3: Acquired Via SEOJet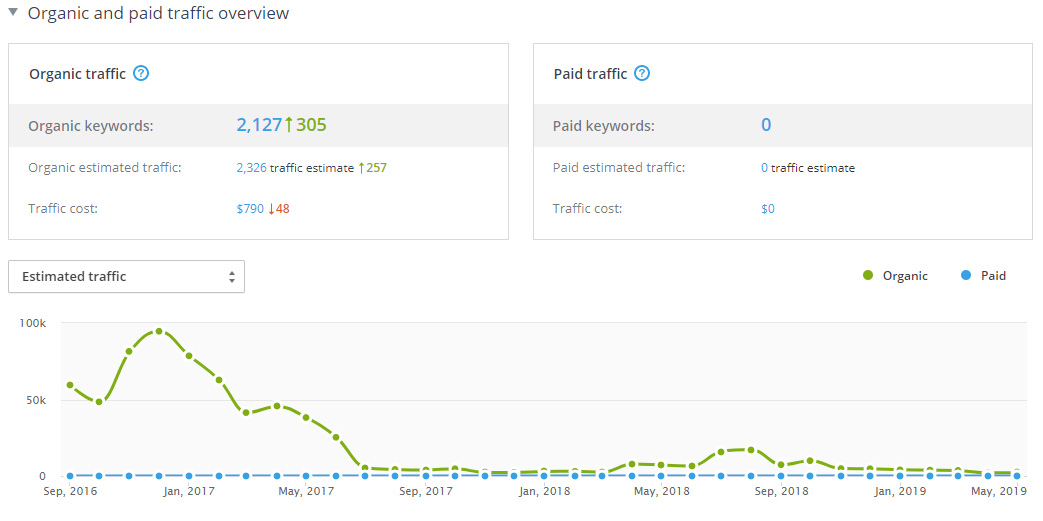 Another site with a massive dropoff in organic keywords.
Type: Do Follow
Organic Keywords: 2,127
SimilarWeb Traffic: 59,000/month
DA/PA: 40/30
TF/CF: 2/7
Ouch, these metrics aren't that impressive. Unlike the previous two links, I had no idea what domain my link would appear on. Also, the site isn't even using SSL! The only guarantee I was given is that organic traffic is more than 5,000 visitors per month according to Ahrefs. Even though SimilarWeb probably overestimates traffic, this particular domain does appear to have met that requirement.
The extremely low TF and CF surprised me. Considering I spent more than the other two posts combined I thought I'd be getting a site with stellar metrics. Am I upset? Actually, I'm not. Out of the 3 backlinks, I think this one is probably the most effective. It is not on an orphaned page and is linked from the home and archived pages. It also looks like the post was made by the website owner or an administrator. The two aforementioned links were most likely not authorized.
This post HAS shown up in Google Search Console's link report. Go figure. The last post to go live and show up relatively soon thereafter in Search Console. I know that just because a link doesn't appear there doesn't necessarily mean it isn't counted for SEO. Although, I feel much better about a link when it is listed. My guess is that this particular link put my 12,100 targeted keyword page on the map.
It just goes to show you that metrics aren't everything. Legitimate posts that are interlinked in a website are probably way more valuable than hidden posts. Going forward, I'll be certain to require that posts containing my link be visible on the home page. Stay away from orphaned pages!
Two Interviews With Promiment Figures
In my quest to establish authority within my niche, I've focused on getting interviews with industry figures. My first interview was way back in October as detailed in Part 4. Then, my 2nd interview with a kettlebell trainer was posted a few months ago. Now, I figured, why not try for two more??
Each interview consists of a word document with 10 questions as it relates to that person. These last two I wrote on the same day and emailed them to two other respected kettlebell trainers. There was some back and forth but I eventually got one of the back. I'm still waiting on the other.
The interview I did get back gave me some great content to support that trainer's affiliate product. This is a product that I've personally tested and used and can vouch for. However, I was more excited for the chance just to correspond with this person. There is some good information and history from this interview that won't be found anywhere else. Plus, it provides an excellent opportunity to tag and mention this person on Instagram. I have no proof but I think this sends more signals to Google if you can get relevant and respected people to comment on your Instagram posts.
The last interview I hope to have returned to me soon. I realize these people are extremely busy and I'm just grateful for the opportunity. Eventually, I hope to make the website a resource for all things related to kettlebell. It'll be a slow process but one I think will pay off in the long run.
Wrapping Up Part 11 Of My Niche Dreams
I wish I had better news to report. When I first launched the niche website I thought that at this point I'd be earning $500+ a month. I haven't slacked off at all. On the contrary, a lot of my focus and free time has been devoted to this website. The groundwork has been laid and now it's just a matter of building around it.
Since things are going pretty well for my web design and SEO business, I'm thinking about ordering some content for low competition long tail keywords. More pages with more products should naturally lead to more sales and earnings. The concern with this is that it also means more auditing for these products. I've been terrible at that. As much as I love AAWP, it isn't perfect. Sometimes, prices aren't accurately updated and I'm not notified of unavailable products.
This also might be the time to start expanding into sister niches. I want to bridge the gap between kettlebells and other topics. Weight loss for instance. There are probably thousands of longtail keyword variants for weight loss. I don't necessarily need to make kettlebells the focal point but rather a supporting point. Other fitness products that aren't directly related to kettlebells might be fair game too. I'm still brainstorming on this next strategy I'd like to try.
One thing I have decided is to merge two similar pages into 1 mega page. This would create a page with close to 5,000 words and by 301 redirecting the old pages to a new one, link power would be consolidated. I've been just outside the top 10 results for this 5,400 monthly volume keyword phrase. This could potentially provide a nice boost. Or maybe it'll backfire? Either way, I'll let you guys know next month!