Perhaps the title of this entry is a little bit over-dramatic. However, it accurately sums up my state of mind as it's been nearly a year since the beginning of this blog series. Countless hours of writing, designing, networking, and other various efforts have been poured into Kettlebell Krusher. Just a few short months ago things were heading in the right direction and earnings were increasing at a nice clip. However, this downward spiral continues to reach new lows and the fact is, for the month of June, a measly $22.55 was earned.
Am I feeling dejected? Yes. Is it time to throw in the towel? Hell no! It's still a numbers game. The difference between $22.55 and my all-time high earnings of $113.81 is negligible. That is, if you factor in that traffic and exposure has remained roughly the same. It's the luck of the draw and the clicks that I've been getting either haven't resulted in purchases or high-value purchases. That being said, I really need the traffic to increase and have more opportunities for clicks and ultimately conversions.
Despite the poor month in June, it's not all doom and gloom. I currently have earned $16.52 so far in July. Unless some sort of disaster occurs, there is no way I shouldn't do better this month. Also, since I've noticed a lot of traffic coming from Canada, I re-opened my Amazon affiliate account for that country. Some sales have already happened for July and have earned the equivalent of 5 U.S. dollars to this point. Plus I'm getting inquiries regarding agencies wanting to guest post on my niche website. So I'm optimistic that this is the start of a nice rebound.
Current Metrics and Statistics of my Niche Website
Trust/Citation Flow and Domain/Page Authority
ROOT DOMAIN
TF: 12
CF: 31
HOME PAGE
DA: 23
PA: 25
Observations
All the metrics for authority remained the same except for the 7 point increase in citation flow. It's an unexpected and nice jump, I just wish that the more important trust flow moved up too. The most likely cause for the jump was probably the couple of guest posts I ordered back in May. I did disavow them since I noticed they were both on orphaned pages. However, after some time went by (a few weeks) I removed them from the disavow files and one of them now shows up in the Search Console links report. Honestly, I don't think it made a difference either way for my rankings.
Keyword Rankings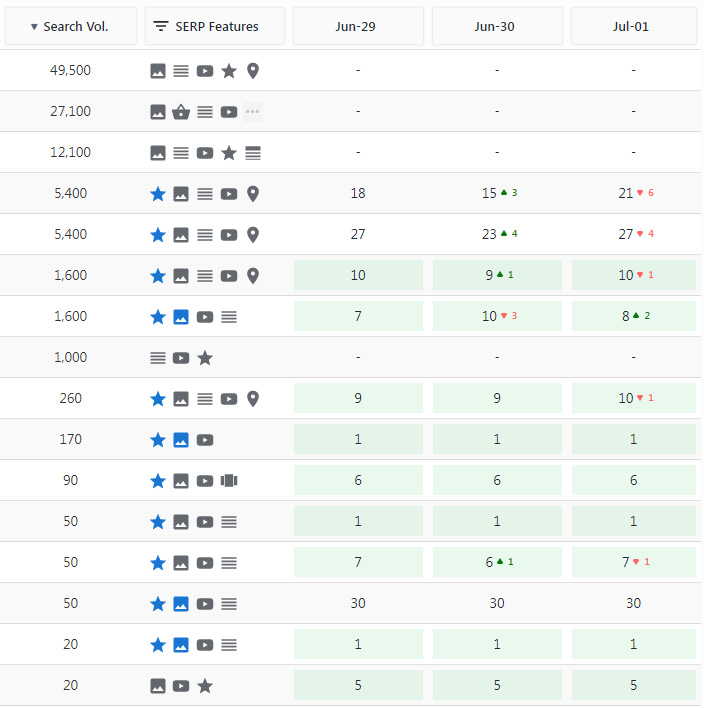 New 50 and 1,000 volume keywords were added.
Observations
Not a whole lot of movement in keyword rankings positions. The 5,400 volume keywords saw some slipping and I have yet to crack the top 10 for them. The new 50 volume keyword I added quickly climbed to the #6/#7 spot after just a couple weeks from the page being posted. Very happy about that!
Although the 1,000 volume keyword hasn't registered yet, I'm seeing some organic traffic start to come into that page. I even had my first affiliate sale from it a few days ago. This could be because of long-tail variants or even keywords that I'm not monitoring nor are even aware of. It's a beast of a page, an in-depth and detailed review that is approximately 4,000 words. If I can get it to rank for the 1,000 2-word keyword, I expect it to convert very well.
There's also a few keywords that I've targeted but haven't added to SE Ranking. I'll probably add them later, but since I'm on a limited plan I want to track only the keywords that are truly important to me. The list is getting a little long anyhow for reporting purposes. I'm still brainstorming how to share this data without it getting out of hand.
Amazon Affiliate Earnings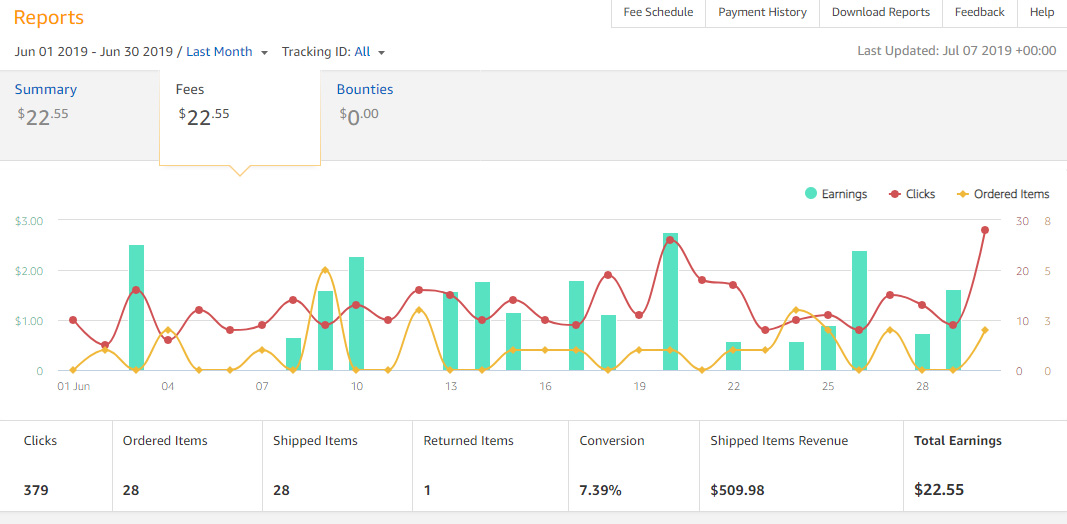 More clicks but a lower conversion rate really hurt earnings for June.
Observations
For June, I received nearly 20 more clicks to Amazon products than I did in May. Unfortunately, there were 30 fewer orders in June which effectively cut my earnings in half from the previous month. It really doesn't make any sense unless I go with my spectrum theory. Basically, with the traffic I'm getting, there is a potential to receive X amount of orders. There's a possibility for a high amount of orders and a low amount of orders given this traffic. Right now, I'm at the low end.
The other factor heavily involved is the lack of big-ticket purchases. This much is clear if you compare May's affiliate graphic with June's. The chart for May shows a graph that reaches $15 whereas the top line for June only goes up to $3. Huge difference! What this means is that there was a lot of low-value purchases AND single item purchases. No one was buying other products as they typically do on Amazon which I would get credit for. Thankfully, I'm starting to see things return to normal in that regard for the beginning of July.
Google Analytics Traffic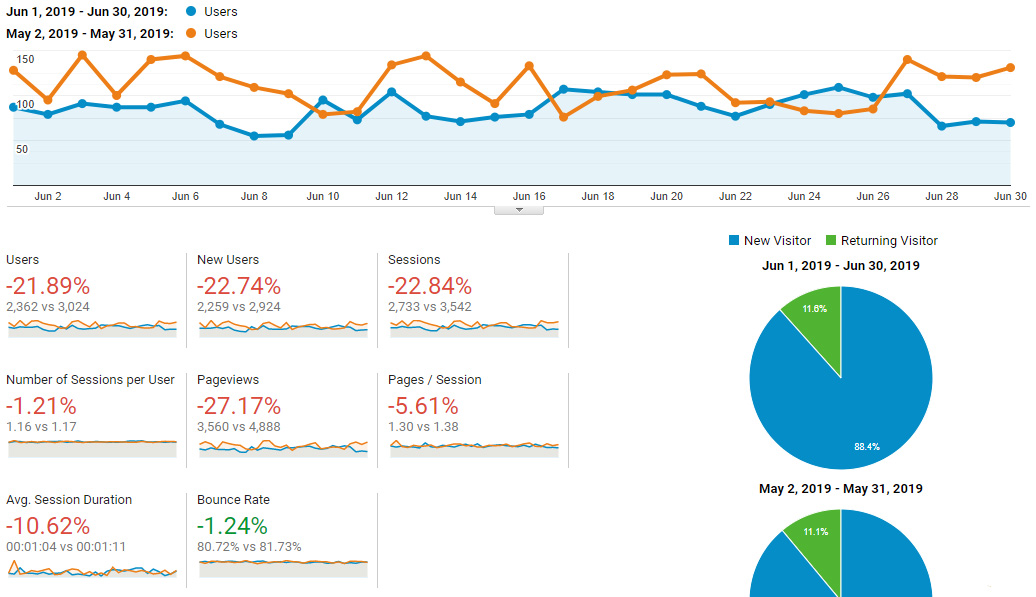 Look at all that red. 20% down vs 20% up from last month's traffic analysis.
Observations
Ouch, this hurts. After cracking the 3,000 users per month mark in May, I lost about 500 visitors for June. I think that Google's algorithm update had a severe impact that my site is finally starting to recover from. Since 80% of my traffic comes from organic search, I'm pretty dependant on Google for getting visitors. I'm working hard to spread that out a bit, especially through social media. However, I don't expect any source to come even close to what Google brings in.
Again, this is not the end of the world. The amount of traffic is still relatively small. If it were a 50% or greater drop then there would be cause for concern. Still, I always like to see a steady increase in visitors from month to month. I'm hoping that the site will get a little bit of extra love soon since it is over a year old at this point.
Notable Accomplishments In June
In regards to content, I've created several high-quality posts and also merged two of my medium keyword volume pages into one mega page. Each of these blog posts I made, I also referenced in its own Instagram post. Granted, I have less than 100 followers, but my hope is that Google is starting to pay attention and getting all these social signals. I do believe that maintaining a consistent social presence is a positive thing in the eyes of Google. It shows that you care about your brand and want to communicate with your audience.
I just counted the number of posts I made for June and was surprised it was only 6. Then again, it was a pretty busy month for me both personally and professionally. If you take a look at the blog roll for this website you'll see that the last post was for Niche Dreams Part 11. Obviously, I haven't quit on this website. Rather, all of my free time and energy is devoted to bettering Kettlebell Krusher. Outside of working with my clients, I'm more interested and dedicated to building my affiliate website than promoting my services. I'm actually doing okay for work and I have other sources for generating leads and clients than this site.
Below are a few of things I mentioned for accomplishments that I give my thoughts and insights on. I'm hoping that all of this hard work in June will eventually pay off and start to give my niche website some recognition as an authority site for kettlebells. I can't expect to come off as such in just 1 year. Although, perhaps in year 2 is when people will start naturally linking to and discussing the site.
Another Interview With an Industry Figure

Michael Skogg, as seen in his DVD Program
One of the beauties of promoting your content on Instagram is the ability to tag other businesses or individuals that are relevant. In this particular case, I wrote a detailed review on the Skogg System. This program is a kettlebell DVD workout that took me almost two months to complete. I was very impressed with it and said as much in my review. After publishing my review, I linked to it in an Instagram post and tagged the creator, Michael Skogg. I casually thanked him and asked if he would be up for an interview. Guess what? He said yes!
It's a little bit of a surreal feeling to be communicating with the guy you've been working out with for so long. While I wanted to produce some great content for my site, I was also genuinely interested in the questions I asked. After some back and forth, he returned the interview questionnaire to me and provided some valuable information. It was really a win-win as I got some stellar content with a chance to earn commissions. For his benefit, it helped give some exposure to his product and get some more sales.
The truth is, I enjoyed the entire experience. Don't get me wrong, the workouts were tough and grueling but his presentation and instruction helped me along the way. Getting to know the man, even slightly, was a nice bonus. Furthermore, it provides a connection between myself and an authority figure. This should lend some credibility with my audience and even more so with Google.
Two Pages Merged Into One Mega Page
Looking at my Best Of pages, you can see that each one focus on 5 individual products. Recently, I merged two of these pages that were similar into one 5,000 word mega page. The only difference other than the products listed was that one page targeted men and the other women. I've been on the cusp of ranking on page 1 for a medium volume keyword that was the focus of both pages. I thought that by combining them, all of that authority would be condensed into one powerful page and give a nice boost.
Unfortunately, when the Google algorithm update happened any sort of positive jump was negated. This mega page is being outranked by higher authority general fitness websites. There is traffic to this page in the form of long-tail keywords, however, I really want to break out for that medium volume 2-word keyword. Currently, I can't compete with them. Although I know what I must do, link build directly to that page. I'm confident that having patience and a good backlink campaign will eventually yield some great results. File this one under to be continued…
My Attempt at Creating a Link Magnet Page
On Pinterest, I see a lot of pins that start off with something like "Top 10" or "Best 10" whatever. That gave me an idea to create an experimental page that was heavy on embedding Instagram posts. From a performance perspective, it's always best to avoid too many embeds. The more you have, the longer the page takes to load. Although, I was only concerned with content loading immediately above the fold.
So what did I do? I used my experience with following impressive Instagram users who use kettlebells and created a Top 10 Kettlebell Users You Should Follow on Instagram post. My hope was that by tagging all of these people that it would be reshared amongst their friends while also giving other visitors a guide. It's a page that I hope others will link to and say, "Hey, check out this list of people!".
I did get some comments from general Instagram users as well as the people I tagged. Although, I really thought it would have more of an immediate impact. I'll need to give it some more time to see if it can attract some organic and social traffic. To my surprise, Pinterest has really given the pin ZERO love. Honestly, my pins have been underperforming for some months now. It makes me wonder if using Tailwind's re-pin program has had a negative effect. Perhaps Pinterest is just becoming more difficult to market on as they seem to be gearing towards a more pay-to-play system.
Take a look for yourself at this Instagram post and feel free to give me your comments and feedback:
Documenting My Weight Loss Challenge
Back in December, I posted a 5-day weight loss challenge where I wanted to lose 10 pounds in that span. My plan was to eat healthily and exercise like a madman. Well, I ended up losing a more realistic 6 pounds. Since that time, my weight loss has been up and down and I've remained stuck. My solution? Do a 30-day challenge where my goal is to lose 20 pounds.
As far as content, I've only created an introduction post. In a few days, when the challenge is over, I'll make an update on the results. These results will get added in a snippet to the about me page. More importantly, I'll write an extensive post detailing everything that I did throughout this challenge. This should further improve my standing as a kettlebell enthusiast and not just some guy looking to make a buck. I want to inspire people in their own weight loss journey and have a resource for them to follow. If I can do it, anyone can.
Since I've started getting heavily involved in Quora again (answer 2 questions every week day), my about me page has been a link to relevant answers I've written. I don't classify myself as an expert, just a person that I hope others can identify with. I've really embraced the role as a kettlebell enthusiast. I'm hoping this will win over the crowd who wants to change themselves but might be too shy or intimidated to seek out a professional.
Comparing My Niche Site to Spencer's
If you've been reading this blog for a while, you'll surely remember my references to Niche Pursuits founder Spencer Haws. He's been crushing it with his niche website and has made some very impressive earnings. It's hard for me not to look at his success and my recent failures and wonder what went wrong.
Now, he's spent a considerable amount of money investing in content, links, and other assets for building his website. I've been dying to know what his website is and a few days ago he finally revealed it, owntheyard.com. His main concern, and rightfully so, was to avoid any copycats. My main interest in learning his website is not to go after the niche, but rather dissect the site and look for patterns and clues as to how he has made it a success.
There's no doubt that he has more informative content than my website. Although, I still think I've built up a respectable amount of content that should earn me more than I've been making. Maybe not $1,000+ a month, however, I expect at least a couple hundred at this point. So let's dig in and see how his niche website compares to mine in various regards.
Organic Keyword Mountain
The Organic Keyword Mountain is a term I made up to describe the rapid increase in organic keyword presence of a given website in a short period. As you'll see, there is quite a difference between my site and Spencer's. Keyword rich content is the main factor, of course, but content alone will only go so far. There are many more variables at play to rank for a particular keyword.
Kettlebell Krusher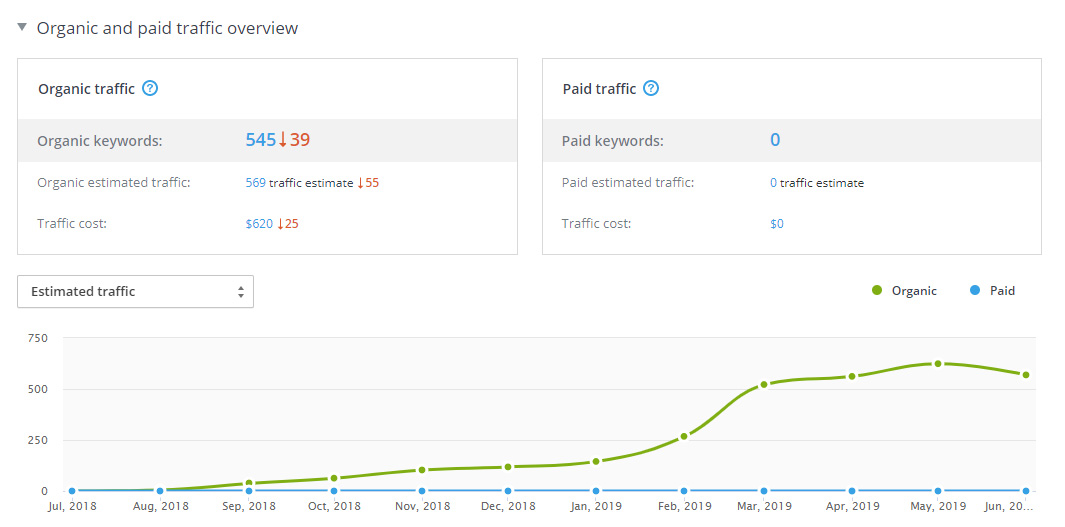 My site's OKM has levelled off over the last few months
Own The Yard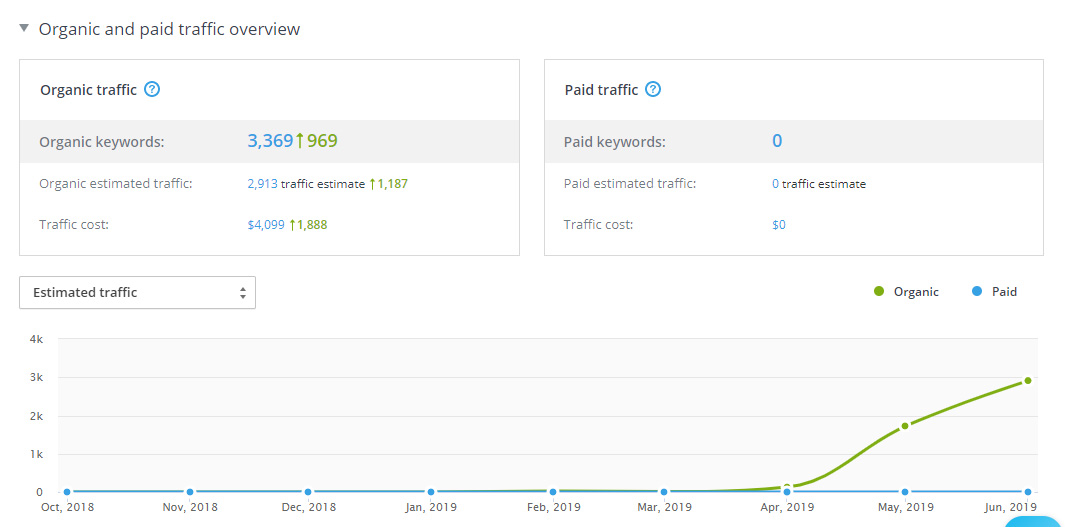 Up up, and away! Extremely impressive jump in keyword presence.
Own The Yard has almost 3,000 more organic keywords listed in Google. Looking at the chart for OTY, it looks like it went from zero to 3,000 in just 3 months. That's an incredible surge, especially given that Spencer has been regularly adding articles to his website since September.
Looking at some pages on Own The Yard, I noticed that a lot of attention has been made placing internal and external links. So not only is the site passing authority between its own internal pages, but credit is also given to websites that support the topic of that page. That's textbook linking building and it's obviously paying off.
I was curious to find out how many pages were indexed in Google for OTY vs. KK. It's pretty even at 200 to 197 respectively. However, this is hardly a fair comparison as I'm willing to bet Spencer has many more high-quality pages whereas I probably have category and minor blog post pages indexed. It's like apples to oranges in my opinion.
So where do I think the magic is coming from? As much as Google says don't worry about link building, I think the rapid rise in organic keyword presence is due to the link building in previous months.
Backlink Profile
I used the free backlink checker tool valuable backlinks checker to compare the two websites. In my experience, it does a good job of listing high value links and sorting them according to authority. I believe that this tool most likely uses an API to pull data from AHREFS, MOZ or some other trusted source.
Kettlebell Krusher

77 referring domains and a 84% follow percentage. I have to wonder if the follow to no-follow ratio is a bit too high.
Own The Yard

291 referring domains and a 44% follow percentage. For a site that is less than a year old, that's damn good!
Over 200 more domains with backlinks are pointing to Own The Yard vs. Kettlebell Krusher. I think that the lack of high-quality links is what's really holding my website back. In his latest monthly report, Spencer was very upfront with his link building to date. He states that approximately 35 guest posts were done between various agencies, swapping, and manual outreach. The backlink checker tool lists many of those linking sites, and although I have yet to analyze them, I'm guessing they have decent metrics of their own.
I've said it in the past and I'll say it again, link building has been my weak spot. I probably have a small handful of legitimate guest posts with a link pointing back to my site. As much as I want to save money and do manual outreach, I might need to invest wisely to reap the rewards. Outreach is time-consuming and frustrating. There is no guarantee with getting your post accepted and website owners are savvy enough these days to charge a fee anyhow.
Ironically, I've been getting emails asking about guest posting on my website. I suppose I'm on the radar for up and coming websites so that has to count for something, right? Also, post comments are starting to trickle in meaning people actually care enough to respond. I take great pride in this fact and always try to respond back to comments.
Wrapping Up Part 12 Of My Niche Dreams
Where do I go from here? It's quite clear that I need to make more of an impact on external content pointing to my website. At the same time, I don't want to just stop blogging or creating pages on the site itself. There has to be a balance between my time and the money spent. I can't just sit back and hope for links to come in naturally. That might be feasible once I get some authority but in the meantime, the site needs a little boost.
I almost forgot to mention an important change. I completely removed pricing from all the affiliate products linked to AAWP. For one, as great as the plugin is, it's not perfect at updating prices. I don't want to get dinged for having an invalid price listed. Secondly, I've changed my mind on the curiosity factor. I'd rather get a click and have the shopper find out what the price is on Amazon then be dismayed at something deemed too high. There's always the possibility that a different unrelated item is purchased within the 24-hour cookie. It's hard to say, but I think there has been an increase in clicks since I've made this adjustment. I'll know for sure next month.
I'm also wondering what effect Amazon's Prime Day will have on clicks and earnings. Will there be a spike on July 15th and 16th as people look to spend money on various deals? That's my hope, at least. Honestly, I don't even know if it is a global thing or a just for the U.S. as I still get a lot of clicks from international visitors and it would be nice to finally get a payout from a non-U.S. Amazon site.