Niche Dreams – Part 4: Establishing a Presence Through Branding
A couple of weeks ago I wrote another Niche Dreams post titled Climbing the Organic Keyword Mountain. Since many of you are following my monthly updates from Niche Pursuits, you've probably missed it. As the title suggests, it details my process of discovering and emulating other affiliate websites that drastically increase their organic keyword count between a 1-2 year period. I theorize that while domain metrics play a part in keyword ranking for backlinks, the linking website's overall traffic is extremely important as well. Check it out if you're interested in finding websites with these qualities and statistics.
This month has been huge as far as building a brand in my niche. I've really integrated myself and who I am into promoting my website. It's getting to the point where I feel revealing the site should happen very soon. It's not top secret or anything. In fact, it shouldn't take much detective work if you wanted to find it. That's fine. I just ask that you keep that to yourself and not comment or ask questions about it. I'm not necessarily afraid of copycats, it's just that I'd like to get another month or two in before getting tainted traffic.
As usual, I'll go over the earnings and domain metrics for this previous month. I had set a goal of earning at least $50 but fell a little bit short of that. However, looking at the growth rate and percentages, I earned nearly double from the previous month. I even earned my first international commission from the U.K.! It's not enough to qualify for the payment threshold, but still exciting to see these geo-targeted links paying off.
Current Metrics and Statistics of my Niche Website
Trust/Citation Flow and Domain/Page Authority
ROOT DOMAIN
TF: 12
CF: 22
HOME PAGE
DA: 18
PA: 24
Observations
I lost a point in CF but gained a point for both DA and PA. Go figure. I really focused on creating content both externally and on the website. So again, not much active linking building and planning. As much as I would love to complete link maps for specific pages, it is just way too time-consuming. For now, I'm hoping for some natural links to start appearing. The end of this last month I made a significant accomplishment which probably won't see any impact until later this current month. I'll touch on this later on.
Keyword Rankings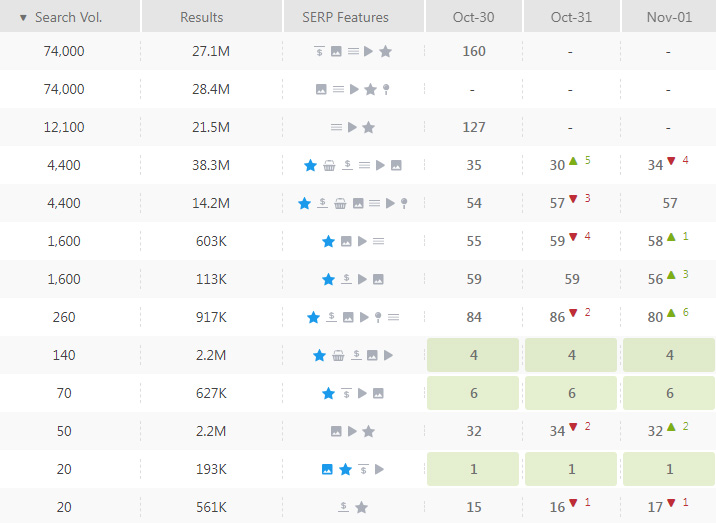 A few new additional keywords have been added. Low volume keywords seem to be locked in.
Observations
At some point, I'm going to have to restructure the presentation of these tracked keywords in SE Ranking. The list keeps growing and, as a result, creates a large graphic for displaying. Several of those listed are just plural or singular versions of the same phrase. In one case, 3 terms are closely related with how an abbreviation is placed. I may just focus on the best performing variations in the next updates.
Those 4,400 keywords have climbed up an average of 5+ (#33 Avg.) and 18+ (#56 Avg.) spots from where they were a month ago. Google's logarithmic scale is clearly in effect, showing the difficulty of increasing rank the closer those keywords get to the top position. Those top ranked keywords with the green background seem to be firmly cemented in their spots. I don't think there is much room for improvement without getting a nice overall boost from the authority of the website.
Amazon Affiliate Earnings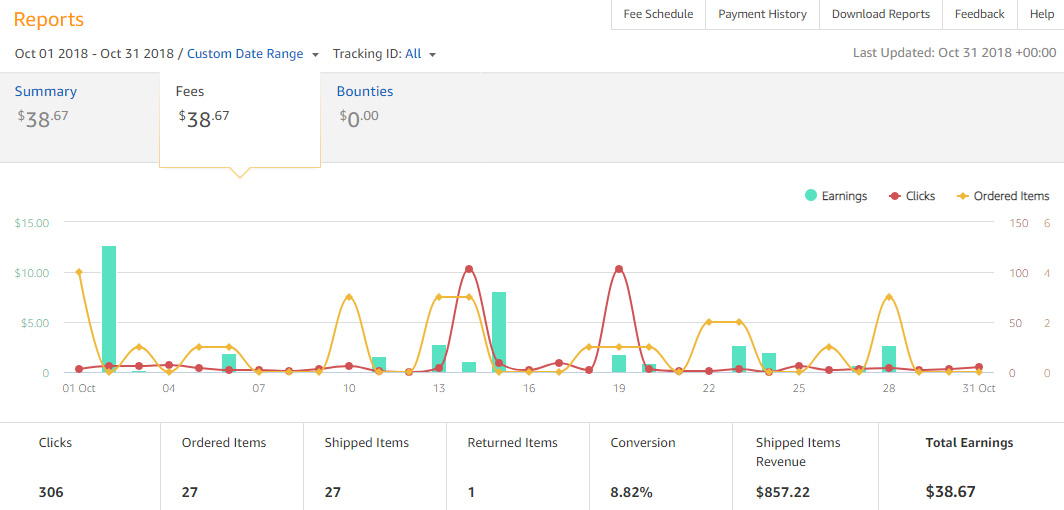 A nice steady increase in earnings bolstered by that huge comission early on.
Observations
I wanted so badly to cross $40 in earnings from Amazon for October. I came really close in the final days and at one point had $39 and some change. Unfortunately, I discovered exactly why Amazon doesn't pay out the month after earnings. It's because of the dreaded returned item! It wasn't a huge hit (under $1). Still, it's not how I wanted to end the month.
You'll notice two dates with large spikes in clicks. I did not do any product auditing this month so I can only assume this was due to bots. Perhaps even Amazon making sure everything is in order. Also, out of the 27 items shipped 15 were not promoted products. That's 3 more than the promoted products total.
Another interesting note is that the shipped items revenue more than doubled from last month. I believe there were 8 more items shipped in October than in September. What this tells me is that some of the more pricier products listed are starting to sell. That's good news!
The final observation concerns that international commission I mentioned earlier that was earned from Amazon U.K. Although I won't be seeing it deposited anytime soon, I earned a cool £2.54 ($3.30) from one customer who ordered several different Frozen items. Get it? Cool… Frozen… Disney?! Hey, I'll take it!
Google Analytics Traffic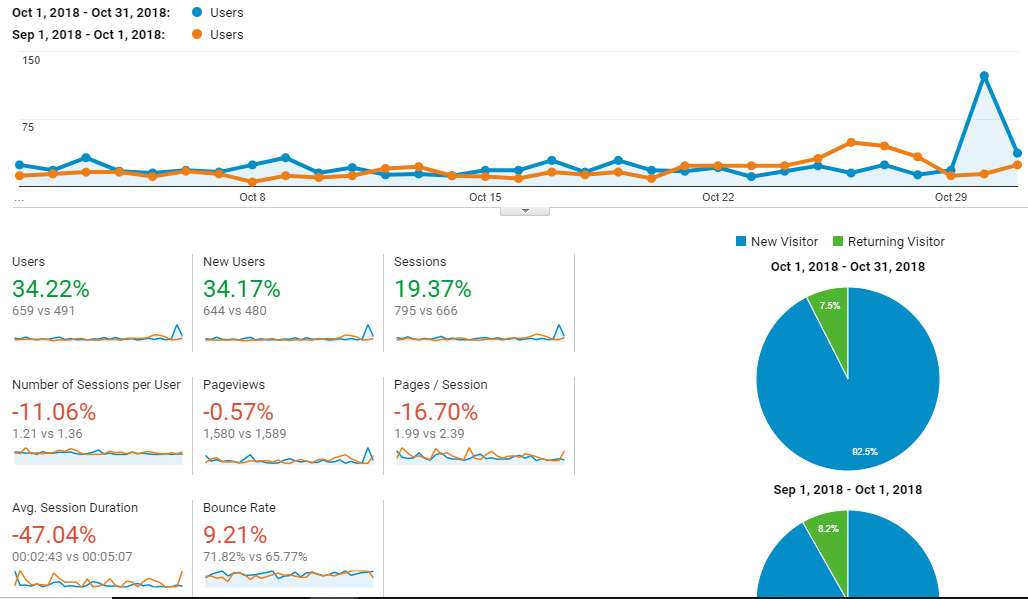 Traffic is comparable until that late surge at the end!
Observations
So where is that massive spike in traffic coming from at the end of October? It's not bot traffic. Aside from the usual daily traffic, it is completely attributed to Social traffic. Specifically, visitors being directed from Facebook.
As you might expect, this traffic was directed to one page in particular. Undoubtedly, my most prized piece of content to date. Although this wasn't monetized traffic, I consider it a huge win in establishing credibility within my niche. I'll get into more specific details later on in this post. However, to say I'm very proud of not only this accomplishment but the who and what it is about, would be an understatement.
Link Type Performance
Last month I explained how I implemented Google Analytic Events to track whether an outbound Amazon affiliate link is visited by clicking on a text, button, or AAWP type of link. With a full month of data, the results are in and they are staggering! Take a look.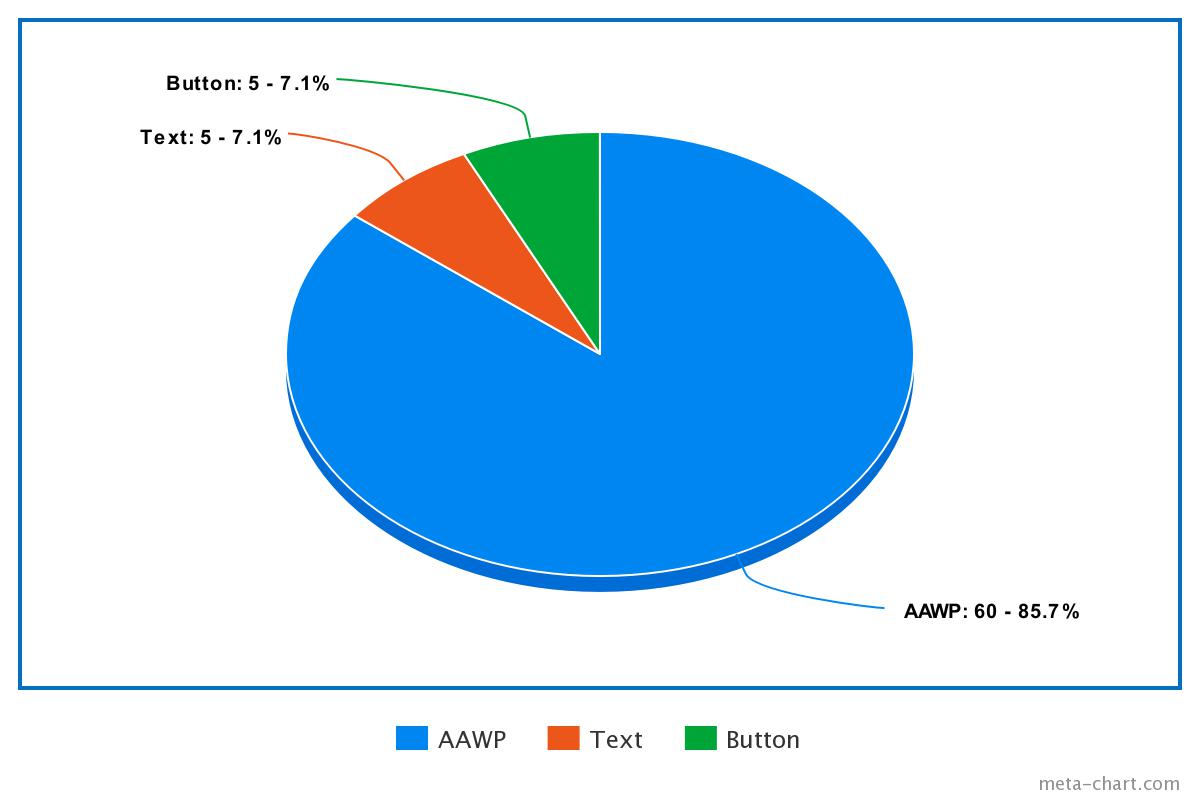 A whopping 85% of the clicks are via AAWP.
I knew purchasing AAWP would be a good investment, but I never expected such fantastic results! While it's possible that some of these clicks might have gone to other link types in the absence of AAWP callout boxes, I think there would certainly be some that were lost. Out of a total of 70 clicks, 60 came from AAWP while both the button and text links had 5 a piece.
I do have image links on these product pages that remain untracked. Also, there are other text links outside of the product pages that aren't tracked. Doing my daily research indicates that this small amount of clicks doesn't translate over to products ordered. I really wish I could track further on Amazon to see which of those links convert to sales.
Given this data, I'm wondering if I should just outright remove any text, image, or button links. Would the potential loss of commissions outweigh the benefits of increased user engagement? I have no idea. It's something to monitor over the next few months as I gather more data.
October Milestones and Accomplishments
Now that the data and statistics are all sorted out, it's time to cover what I did for my niche website in October. There are 4 specific events of significance that occurred. 3 of them were planned. Out of those 3, 2 I would classify as really being special to me.
Starting with the least important to the most, this first plan of action I have low expectations for. Granted, I haven't invested a lot of time in it and it is fairly simple to maintain. There is the potential to further my international reach, but I'm really focused on growing my brand here in the U.S.
Vkontakte – The Facebook of Russia

The interface looks an awful like Faceook, right?
My niche has heavy ties to Russia. While there is no Russian Amazon store, I think that getting some exposure of my website through Vkontakte, or VK for short, would be beneficial to establishing international authority. VK is not exclusive to Russia. There is an English version of the platform to which I signed up an account for.
My idea was to have this VK page indexed by google and check another box off in the social media market. Unfortunately, looking at the source code of this page reveals that it is set to noindex/nofollow. Search engines will not index it!
Confused, I contacted the support team and they seem bewildered. I pointed out the exact issue and even provided the line # in the source code. After some back and forth with Support Agent #69 I received this response:
"Oh, I see. That is because your community is almost empty and has no subscribers."
And that's that… It doesn't make much sense since I might be able to attract an audience if my page was found through Google. I suppose they want me to promote it internally on their platform. I'm not going to spend too much time on it, but I do have it set up in a sort of auto pilot mode.
How I'm Currently Using VK
Fortunately, there's an option to import RSS feeds and post to your page. So I've done just that. An eyeball icon presumably displays the number of views under each post. I've noticed this indicator show anywhere from a few views all the way to 190 views on my most recent post (which was a very important one).
I'm unsure how these views are earned. It's definitely not from any members of my page since I account for the only one. I also haven't noticed any referral traffic coming from VK other than myself. Perhaps at a later time, when things settle down, I can concentrate more effort into this platform. For now, I'm fine with the auto-published RSS feed.
My First Quora Answer
If you'll recall in Part 3, I had a goal of posting to 3 different social media platforms in various capacities. Those being Pinterest, Disqus, and of course Quora. Well, I'm happy to say that I have posted on Quora.
This particular topic states that it is followed by 7,500 people. It appears to be several years old and has dozens of well-written, articulated, and lengthy answers. I knew I had to offer an answer with a different perspective as it relates to my niche. This post of mine needed to be informative and offer something of value while still sneaking in that no-follow link to my website.
I ended up writing a very personal story about myself, how it relates to my niche, and the journey therein. The answer was structured similarly to how I would a post on this blog. Multiple headings, sub-topics, and pictures told my story. It wasn't an easy thing to reveal, but if I was ever going to get anything from it, my post had to be real.
It has been a couple weeks now since I posted the answer. Was it successful? Did I gain an audience? Will it stand the test of time and be a source of traffic? I don't know, but Quora's analytics dashboard is very handy.
Statistics for My Quora Answer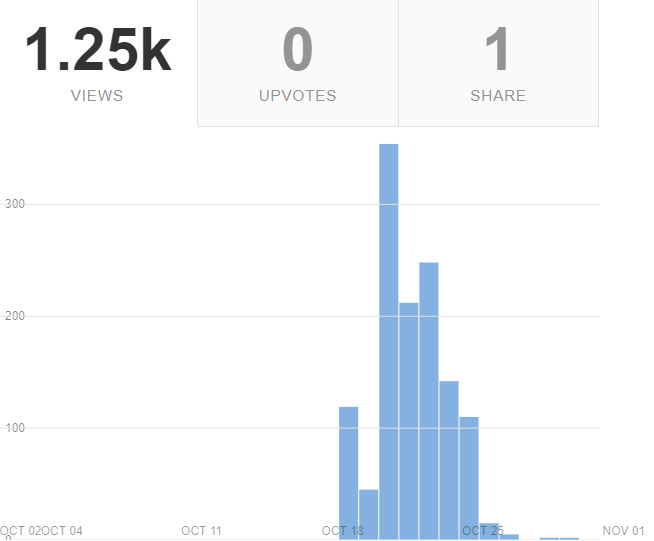 After some great initial visibility, it seems to have dropped off the map.
Roughly 1,250 people have viewed my answer according to Quora. In reality, that probably means that it was in the browser viewport of visitors to this topic. I doubt that many people actually read my answer in its entirety. It would be nice to have gotten some upvotes, although there was 1 share.
Like a candle that once burned brightly, this answer seems to have faded and reached its end. I don't know enough about Quora to speculate if views will spike in the future. I assume that I will need to answer many questions on this platform to reach some sort of authority status on relevant topics. Honestly, I haven't done much research on the matter.
Much like as was the case with VK, I didn't notice any referral traffic from Quora listed in Google Analytics. I'm okay with that. These things are experiments for me. It was a positive experience sharing a personal story of mine. When I have more time, I'll look into finding the sweet spot of the popular topics to answers ratio.
Catching Lightning in a Bottle With Pinterest
I've been pretty consistent with creating pins every time I make a post or page on my niche website. I just wish I had more content to pin. Since it is just myself writing for the website, I usually am only able to write 3 or 4 posts a week. Most of this content is curated with my input listed below a snippet. Doing the math that's only 15 or so pins a month.
That being said, I've been seeing some impressions, close-ups, and clicks for some of these pins at a modest level. Those 3 statistics are Pinterest's way of gauging user interest. When I say modest, I'm talking about pins having anywhere from 10-150 impressions since they were created. However, one pin went off the charts hitting several hundred impressions a day!

This pin gained hundreds of impressions a day before fizzling out.
Trying to Make Sense of This Pin Explosion
I've analyzed every detail about this pin, trying to recapture that magic. Everything from using the same hashtags and a similar description for newer pins proved unsuccessful in getting the same level of exposure. The frustrating part was seeing a massive drop off in impressions after 4-5 days of high visibility. Whatever was influencing it seems to be gone for good.
25 Clicks out of 3,000+ impressions isn't that astounding from a click-thru ratio. The way I looked at it, however, was in regards to daily visitor traffic. My website might get anywhere from 15-25 visitors a day and for several days in a row, a quarter of those visitors were coming from that pin.
Obviously, I would love to have a pin stay hot for as long as possible. Although, I would be perfectly fine creating pins of the moment with a short lifespan if they could be produced at will. For now, all I can do is keep pinning and hoping for the best.
My Proudest Moment – Landing an Interview
I know I've teased this part a couple of times above. I'm sorry, but I wanted to save all the details for this section! The social traffic I referenced earlier was solely from Facebook shares and views from posting an interview with a person who had an amazing experience related to my niche.
After going live and notifying the other party where the interview was posted, it was shared on Facebook by them and then, consequently, shared by their friends and family. I hit an all-time high in daily visitors reaching over 100 on that day. There was a level of excitement I've never felt when I watched as Google analytics showed 5-7 active visitors throughout the entire day.
Even though these visitors were pretty much exiting the website after visiting this page, I still was extremely happy. The main goal of any website should be to provide something of value and THEN see how that can be capitalized on. It's better to be known as a trusted source of content than some spammy click-bait website.
Why It Matters So Much To Me
I was extremely grateful for the opportunity. Having found this person in another brief news article, I wanted to expand on the story. My nerves were very shakey and I never really felt comfortable reaching out and asking for permission. After all, when I googled their name, I came across their Facebook profile and messaged them directly. That's not how I imagined a formal interview request to begin. Although it seems like a lot of major news outlets use this tactic without hesitation.
After some back and forth, there was an agreement to proceed with the interview. For my part, I needed to create 10 really good questions, put them in a word document, and have it returned with the answers filled out. This involved some studying and research to prepare these questions as it related to their experience.
When I got the document back, it was simply a matter of adding photos (with their permission) and a video along with a few introductory paragraphs. My anxiety was high as I wanted this to be very professional. After publishing, it was shared among their friends and family. The comments were very positive on both the article and what they accomplished!
What I will say is that my feelings throughout this process were genuine. I was and still am very impressed with what they had achieved. It deserved more recognition than the article I came across. I would know because my experience in this niche pales in comparison to theirs. However, I have a firm grasp of the difficulty that was involved and couldn't fathom performing the feat that they did.
Getting Interview Fever
I think this is something I can continue to do going forward. Reaching out to other industry figures, asking the important questions, and producing great content from it.
The wheels are already spinning in my mind. In this case, I have a connection with someone that I could potentially come back and do another future interview if it makes sense. If this niche website takes off and becomes extremely profitable, there's also the possibility of having them become a contributor. They would be offered fair compensation in exchange for their perspective and input.
I'm firm in my belief that pages like these should remain focused on the content and not trying to cram affiliate products inside. There are other ways to benefit from this traffic other than trying to convert it into sales directly. For example, adding appropriate internal links to relevant product pages. Surely, link juice will be passed on to those pages thus increasing their rankings.
Wrapping Up Part 4 Of My Niche Dreams
This month's report was all about getting out of my comfort zone. When I first created my niche website I never intended to integrate my own experiences and brand it in such a matter. Things change, new ideas pop up, and you just kinda go with the flow.
In order to become successful, there has to be some level of risk. For me, that was sharing information that was very personal but would aid others in my niche. I've gained some confidence and it is getting easier to do so after every progression.
Of course, this is just my method and certainly not the only way to build a presence online. Just don't be afraid to go out of your own comfort zone! Ask yourself, is it worth it to potentially have a website that can dramatically change your life and living situation? I would say in most cases it is!
For those of you who have read all of the Niche Dreams posts, I want to make you aware that next month's report will most likely be very light. Meaning, it may just be statistics and nothing else (the most important stuff anyways right?!?). I'll be getting married on November 23rd and then going on honeymoon :D!
From now to that point I'll be slammed with work trying to earn as much as possible, quickly! I still want to do the little things on my niche website, but there will be no time for any major accomplishments. I'm hoping that the hard work put in will result in increased traffic and conversions anyhow! Best of luck to you all!