Getting links to your website is extremely important if you want to rank for mid-to-high volume keywords. Google has said that they are shifting away from using backlinks as the #1 metric in gauging popularity for a web page as it relates to a keyword. Truthfully, there has been no evidence that the power of high-quality backlinks has diminished even slightly.
As Google sees it, a backlink is a vote of confidence in that website and/or page. The more quality backlinks that point to your site, the better chance of ranking for a particular keyword. I say quality because years ago having thousands of spammy backlinks was an effective way to boost rankings. That doesn't apply today, and accruing a massive amount of links in a short period can actually have a negative effect on your website. In the real world, Google would like to see each website acquire links naturally. Good content would be linked to because it provides value to readers. Unfortunately, in order to succeed, you need to work on building relationships and do some outreach to get any meaningful backlinks.
Different methods for acquiring backlinks
Guest posting is an effective way to get a link to your website. You write a nice piece of content for a reputable website which helps satisfy their readers with a link crediting the author (you). In some cases, you may even be allowed to place a link inside the content of the post. Having done several guest posts myself, I've found websites that will either pay you, allow you to post for free, or even require payment! It's definitely a lengthy process.
Other methods for building backlinks include forum posts, profile biographies, web 2.0's (wiki's, social media, website builders) and directories. The popularity of these websites has a huge role in determining the weight of the link pointing to your site. SEO industry leaders MOZ and Majestic have their own metrics that help determine such popularity. I'll get more into that later.
There is a lot of debate in regards to the morality of getting said backlinks. White hat methods, or the natural method, is considered to be safe from Google penalties. Good content promotion through one's own brand or partners should entice people to share that content. Which of course will increase the ranking of that website. On the other side of the spectrum is the black hat method. Morals get tossed aside and the main objective is to manipulate the search engine algorithm to rank quickly. There is a huge risk/reward with black hat SEO and it is generally frowned upon. I'm not here to debate which is "right" or "wrong". That is something you need to consider and what your ultimate goal is.
Why it's necessary to spy on your competitors
When vying for the top spot in Google, you must determine both the on-page and off-page SEO of your website and its competitors. Speed and optimization of a website is one example of on-page SEO. A slow website should not be treated equally in the rankings with a fast website that has the same quality and number of backlinks. HTML structure, heading tags, and metadata are also key on-page SEO factors that must be implemented.
Off-page SEO is much more difficult to develop. As I've said before, the primary metric for measuring off-page SEO is backlinks. Knowing what websites link to your competitors will allow you to try and get them to link to your site also. More importantly, using a backlink checker, you can get an overall idea of the power these linking websites have.
I mentioned MOZ and Majestic earlier. Two of the most recognized leaders in the SEO industry. MOZ uses their metric DA (Domain Authority) and PA (Page Authority) on a scale of 0-100. The higher the score on a website the more value the links will have. Majestic uses what they call, CF (Citation Flow) and TF (Trust Flow), to similarly gauge the level of importance of a web page and domain. Your main goal should be to get links from websites with a mid-to-high range score.
So without any further delay, let's review 3 tools that will assist in spying on your competitors. Two of them are free while the last one is part of a premium SEO toolset.
1. SEO Review Tools – Link Checker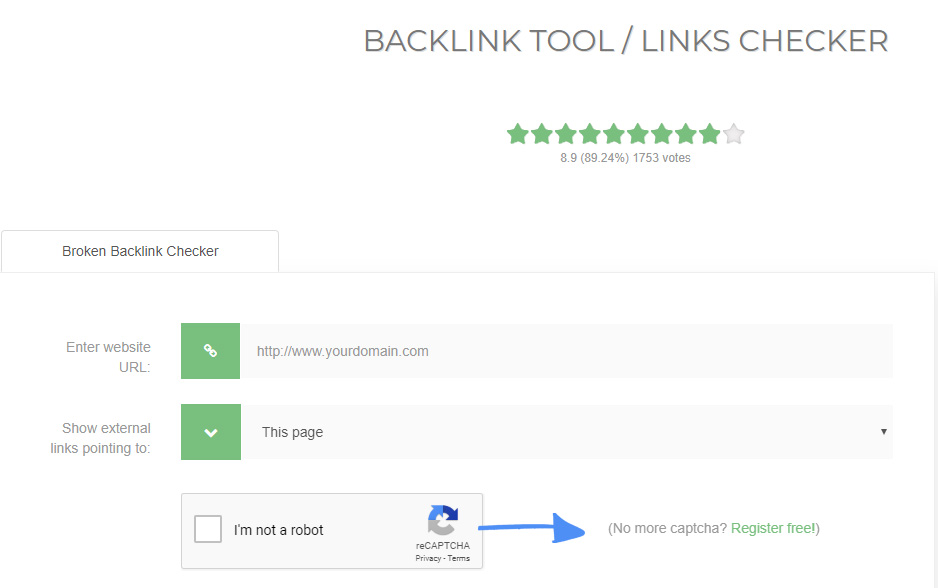 Shows the Top 100 Links Pointing to a Domain or URL
This is perhaps the backlink checker I use the most. You can get the top 100 backlinks for any given domain or URL for free. This should be more than enough to get valuable backlink information on a competitor. Domains are sorted by yet another highly regarded metric, AHREFS Domain Rating. In addition, you can see which of those links are No-Follow or Do-Follow. You'll want to have a certain percentage of No-follow links in your backlink profile, but for general purposes, the Do-Follow links are the ones you should try and get.
Link Checker Features
What's nice about this tool is you can get some good generalized statistics to take into consideration. The number of backlinks shouldn't be the most important thing. Rather, how many referring domains and IP addresses are discovered should take precedent. This gives you an idea of the number of truly unique backlinks. Directory websites like yellowpages.com are constantly being indexed with many duplicate links being reported. It is widely considered that multiple backlinks on the same domain have little to no value in SEO.
Another great feature are the Most popular anchor text and Most popular URLs tabs. This will aid in finding competitor pages that are heavily linked to for research purposes. Things like how many words are on those pages and how it is structured will allow you to develop a strategy to build your own competing page.
Get Backlinks from Multiple Domains Quickly
Perhaps the best thing about this tool is just how quick and frustration-free it is. I've been able to check domains in rapid succession without any limitation. Simply copy and paste the URL into the designated box, select whether you want to view backlinks on the domain or URL level and hit the captcha checkbox. A few seconds later the results will appear.
2. MOZ – Link Explorer
Link Explorer Offers tons of Data, Although Free Accounts are Limited
Link Explorer is the successor to MOZ's Open Site Explorer. Although it is still in Beta, I consider it to be vastly superior to their previous tool. You're shown statistics for the given domain such as the Domain Authority, Linking Domain, Inbound Links, and Ranking Keywords. There is also the option of exporting links and other data into spreadsheets. The downside? You have to register with only 10 free queries per month.
Link Explorer Features
Despite the 10 query limit, the amount of data you can obtain is significant. You're only given the first 50 backlinks for free. That might not seem like a lot, but you are allowed to sort these backlinks by DA, PA, number of linking domains, and Spam Score. That last category, Spam Score, is a unique feature of Link Explorer.
Spam Score is a percentage from 0 to 100 that determines similar characteristics of websites that have been penalized by Google. A low spam score indicates that the website is generally safe to get a link from. A high spam score, such as 30% or more, may pose a great risk to your website if it is linked to. This is something you'll want to consider heavily. Building links blindly based on DA or PA alone is not recommended. It's always wise to see if the domain in question is in good standing.
Viewing Backlink Data Through Timelines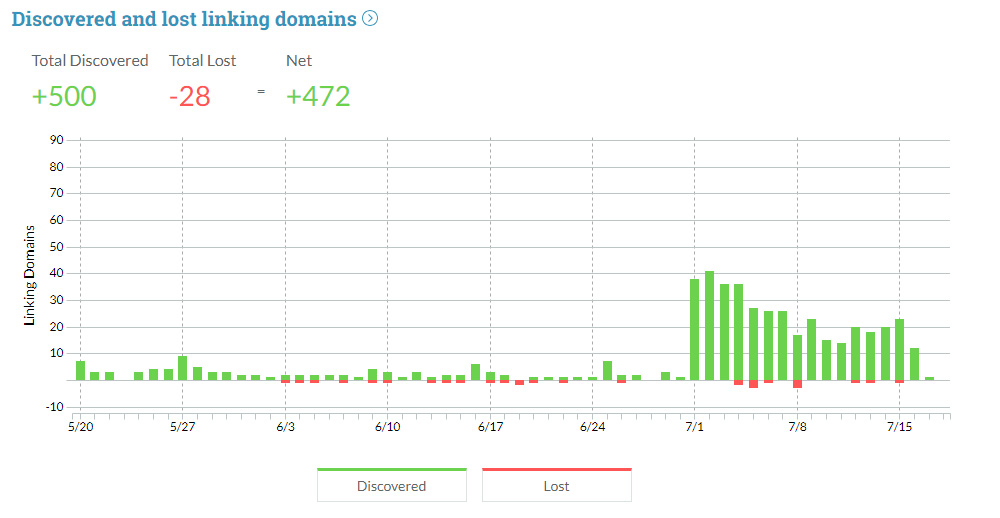 View Backlink History of a Domain Over the Last 2 Months
MOZ's indexer is constantly adding and removing links from backlink profiles of domains. That doesn't necessarily mean that those links were added on that particular date, rather they were discovered by MOZ. Still, you could probably look at the spikes in data and see if a competitor is ramping up their link building efforts.
The metrics over time section shows a line graph of various information over the past year. Selecting from DA, PA and linking domains can help see if a competitor is on the rise or decline. In most cases, trending will be going up as you'll be looking at 1st-page competitors in the search results.
Since you only get 10 queries per month, I like to use this as a complementary backlink checker tool. For instance, if you find a competitor with many backlinks through SEO Review Tools – Link Checker, use Link Explorer to dig a little deeper. Some of the results will be the same, but I'm willing to bet you'll get additional useful information.
3. SE Ranking – Backlinks Explorer

Premium Backlink Checker Tool
SE Ranking's Backlinks Explorer is a tool available in all of their SEO Subscription Plans. You can read about all of their features in my detail SE Ranking review. Depending on the plan you have, you can generate a backlink report anywhere from 1 to 50 times a month. While not free, it does have its advantages over the other two tools.
Backlinks Explorer Features
When you first begin to generate a report for a particular domain, you have the option of only loading unique backlinks. Earlier, I discussed these unique links as described in overall statistics of linking domains. Backlinks Explorer allows you to choose all links discovered or only 1 link per domain. Instead of having to sort through links through a spreadsheet to find these unique domains, this tool does it for you.
If you decide to import all links, there is a button you can toggle between filtering between unique and overall. Speaking of filtering, there are dropdowns you can choose from to zero in on specific attributes. You can filter by anchor text, date added, No-Follow status and even whether it is an image link!
Sorting is a breeze too. Clicking on a column header will sort by that attribute. By default, links are sorted by Domain Trust. It is probably the only option you'll need to sort by. However, I can see the benefit to organizing by domain name if you want a nice clean report.
Get Real-Time Analysis and Visualizations
When you generate a report, the statistics are locked in for that time period. If you like to keep tabs on your competitors on a weekly or monthly basis, an update report button is available in the history portion of the tool. It does count against your monthly limit, but it is a nice feature none-the-less.
The real impressive feature is the ability to get a complete analysis for every backlink. For a small additional fee (57 cents for me currently) you can get in-depth details of every backlink. What does this include? As described: Google index, follow/nofollow, Alexa rank, MOZ DA rank, Ahrefs rank, external links, anchor texts, date added, social popularity and more. That's a lot of data, and it begins to refresh as soon as you order the analysis! I love the ability to check whether a link is indexed in Google or not. Social popularity lets you see how many times a page has been shared. If you get a backlink on that page, the visibility of your website is sure to go up.
Even if you don't opt for the complete backlink analysis, the general report still does a good job of visualizing data. Take a look at what they call the "Anchor Cloud" below. It allows you to quickly see what anchor text is used the most.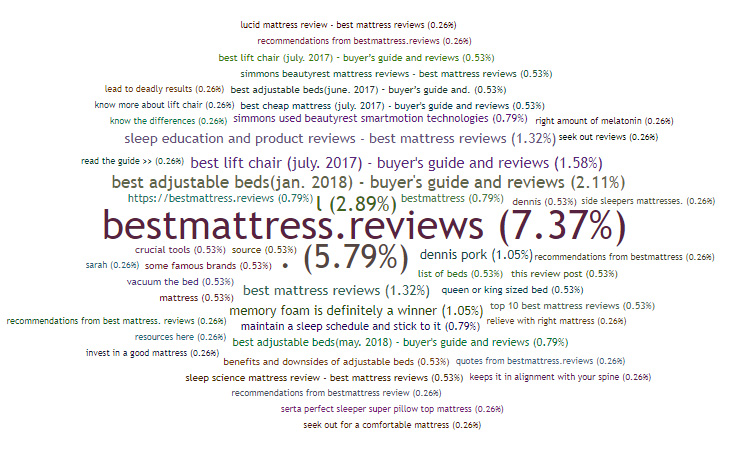 A Visual Representation of Frequently Used Anchor Text
Backlink Checker Tools Conclusion
Any one of these tools would be adequate for spying on your competitors' backlinks. In fact, I still use all 3 them to paint an overall picture and formulate a backlink strategy of my own. I may be a little biased at this point, but the combined features of SE Ranking make it an excellent choice for running SEO campaigns. The backlink analysis is already included for your own domain at no extra cost in your subscription plan. For just a little bit extra you can get the same level details on a competitors' domain. You can always sign up for a free trial and test drive some of the features yourself.