Niche Dreams – Part 13: Rebounding Nicely with a Solid Month
One year ago I started detailing my efforts for building a niche website in Part 1. I thought I would be in for a challenge but never expected it to be this difficult. My dreams of earning $1,000 a month in affiliate commissions at this point have yet to be realized. It's not because of a lack of effort. Instead, it most likely has more to do with that fact that I believed I could rank keywords primarily with on-site SEO.
The truth is, you need to build trust in order to rank well in Google. Even by writing the most informative piece of content backed up with external links to sources and references, that still isn't enough. If you build it, they will come is only a catchphrase from a movie. Signals coming into a website are needed to build that trust. That's typically in the form of social media, comments, and guest post/article links. Each of those things can be as daunting as creating the content itself.
If I could start over and do things differently, I certainly would. While I'd still prioritize the website content above everything else, I'd definitely start working on building a backlink profile the right way from the get-go. This month, I really went after getting quality backlinks with proper anchor text. Some of the links just started to appear in Search Console so their effects have yet to be felt. However, earnings have returned to their expected average and I truly think I'll start to see them climb in the months to come.
Current Metrics and Statistics of my Niche Website
Trust/Citation Flow and Domain/Page Authority
ROOT DOMAIN
TF: 12
CF: 50
HOME PAGE
DA: 26
PA: 27
Observations
Wow, this is the first time I'm looking at these metrics. While trust flow remained at 12, citation flow took a huge jump by 19 points! It looks like Majestic is quickly picking up those links that I've built. While the increase in DA (3 points) and PA (2 points) isn't as dramatic, it's still nice to see a little bit of a bump after months of remaining stagnant. Later on, I'll get into the various links that I've built and the method behind each of them.
Keyword Rankings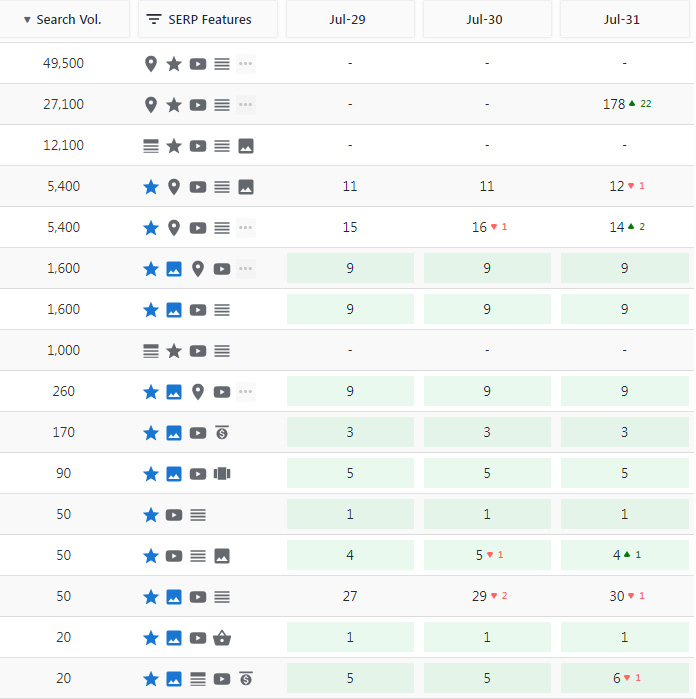 Not too much of a change except for some increases in the 5,400 keywords. Those should improve further as I've targeted them with backlinks.
Observations
For the most part, keyword rankings didn't budge much in either direction. The two 5,400 volume keywords (singular and plural) jumped up a bit and I expect they should break the top 10 at some point in August. That's my hope anyway. These two keywords have great potential to convert into sales. The volume isn't high enough to make much of the impact outside of the top 10. However, If I can bring them in the top 5, I think traffic will take off and start generating a ton of clicks.
Previously, most of my link building efforts were concentrated into one page. This page is informational by nature but has internal links to my product promoting pages to help pass authority. It wasn't until I started to analyze Spencer Haws niche website, owntheyard.com, that I figured I should perhaps target some of these product pages directly. Currently, I'm in a wait and see approach to gauge the effectiveness of this tactic. Should I pass authority to one informational page in the hopes of slight boosts to every internally linked page? Or should I go all out and keep targeting these high volume keyword pages for backlinks? That's the question!
Amazon Affiliate Earnings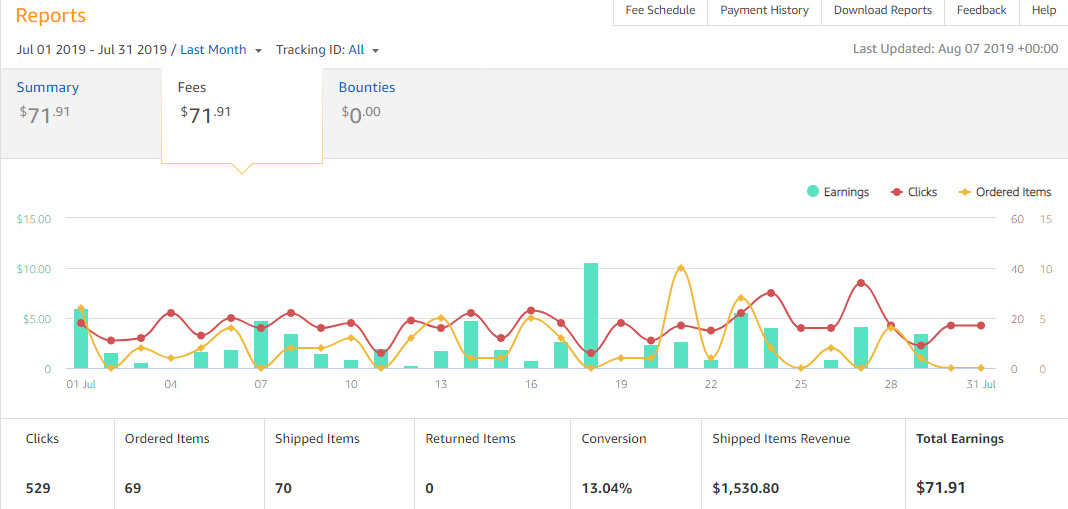 That's more like it! Better conversion percentage and zero returns too!
Observations
Phew! I really didn't want another demoralizing month after earning so much before the decline in commissions started. Looking at the numbers, I received 150 more clicks, 41 more ordered items, and ZERO returned items. In fact, I believe there was a streak of 25 days where either an item was shipped or ordered. The end result was a cool $71.91 in earnings.
Perhaps the most apparent difference between this month's and last month's graphics are the commission intervals displayed. For June, the top line maxed out at $3. July saw some more pricier purchases which pushed that top line to $15. I think one of the reasons for the large jump in clicks has to do with my removal of the prices from the AAWP plugin. This might be the smartest move I've made yet as not having to worry about price changes and compliance versus consumer interest appears to be paying off.
Google Analytics Traffic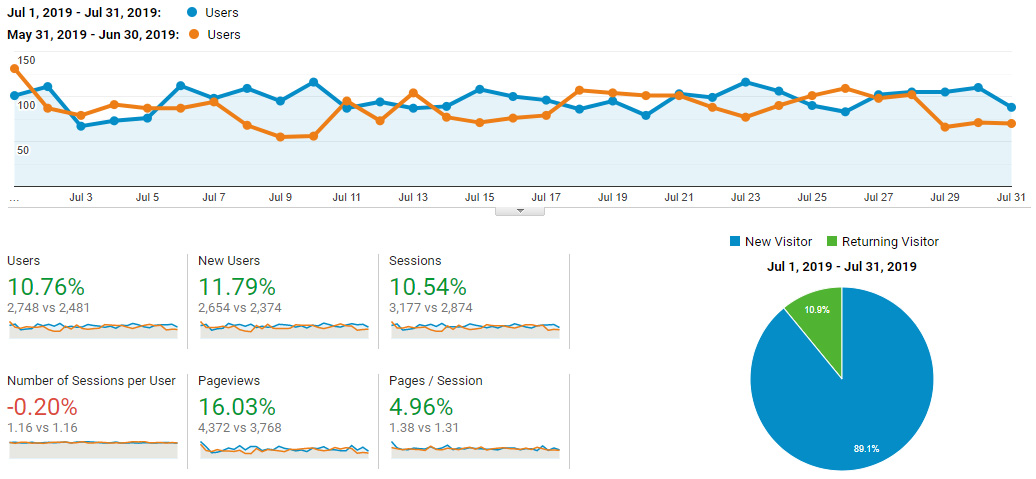 Back in the green, small gains in organic traffic are helping to recover from June's massive drop.
Observations
Approximately 10% increase in users and sessions was observed in July, up from the prior month of June. Nothing to get too excited about but I'm hoping this is a sign of great things ahead. Out of the 4 acquisition segments – organic, direct, social, and referral – it was only referral traffic that saw a loss. I'd love to think that the direct traffic is actual visitors coming back. Although, all the data suggests that it is amazon or other bot traffic just doing their regular rounds.
I probably won't start to see the results of increased traffic from my backlink efforts until next month. It's a slow process from getting a link posted, to indexed, to feeling the ranking effects. Thinking of it logically, it's still the best way to get long-term results for a very little amount of money invested.
Notable Accomplishments In July
It was another busy month for me both personally and professionally. Anyone who has been following this blog series knows how personally invested I am with my niche site, Kettlebell Krusher. I've so engrained myself with the content matter of the site that there is no turning back now. Eventually, I plan to be the face of the website with my own fitness and weight loss experiences supporting the products I use.
My latest fitness endeavor involved a self-imposed challenge where I had to follow some strict dietary and exercise requirements as a means to lose as much weight as possible in 30 days. Doing this not only gave me a personal goal to reach, but also some great content to produce for the site. It wasn't easy, but I believe completing the challenge has further established myself as a kettlebell enthusiast. Ideally, I want to come off as the everyday man, someone that others can look to for inspiration.
I also wrote some other great pieces of content which included products not directly related to kettlebells but still in the fitness niche. One of these pages already got a sale from a non-kettlebell product! I think that will be the key to having a successful website – not limiting myself in such a narrow field but not going too broad as to dilute the site.
Of course, as I already mentioned, link building was a huge part of July. Not just backlinks but also working on internal links. I have Link Whisper to thank for that. So far it's proving to be a worthy purchase and is the first thing I'll expand on.
Creating Internal Links with Link Whisper


Link Whisper – The tool that aims to revolutionize internal linking.
What is Link Whisper? It's a plugin created by Niche Pursuits founder Spencer Haws that automatically suggests relevant internal posts for linking. How does it work? First, you'll want to have a website that has a decent amount of content on it already. If you're building a site from scratch, you won't have any content to link to yet. Makes sense, right?
Assuming you have plenty of well-written posts and pages, once the plugin is installed, you simply need to activate and register it. Then, you're ready to get to work! There's an option to run a report or site audit which will detail every article on your site in regards to inbound & outbound internal links as well as outbound external links. That's a nice feature for sure, but not the main appeal of the plugin.
What you'll want to do is pull up an existing article and scroll towards the bottom of the editor. At some point, you'll see the Link Whisper section in all its glory. It's hard to miss as there will be fragmented sentences with suggested anchor texts pointing to relevant internal pages. The more pages on your website and words on that particular article you're editing, the more suggestions that are given. It looks something like this: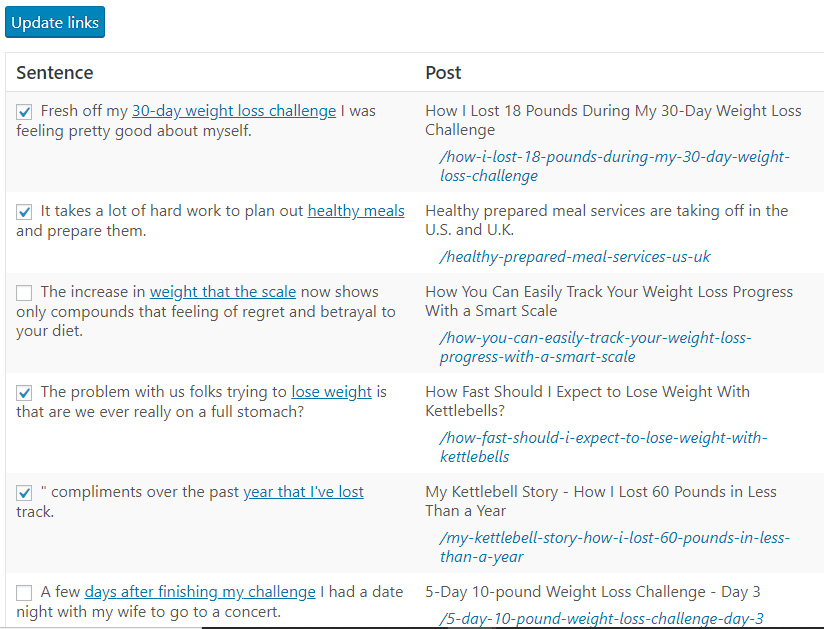 What you see is around half of the suggestions given!
How Link Whisper Works
As best as I understand it, the tool uses fuzzy logic to determine what phrases to pull from an article and a related post to link to. In my experience, I've found that Link Whisper has a good success rate of finding content that I had otherwise forgotten about. The suggested anchor text is already highlighted but can be changed by clicking on the surrounding text to include or deselect as desired. I'm not sure if it is a bug or intended effect, but when I click the update button that feature no longer works and instead results in opening a new tab when the anchor text is clicked.
One of my concerns before purchasing was the compatibility with visual builders. I pretty much exclusively use WPBakery for all of the websites I create, my niche site is no exception. Thankfully, I haven't had any issues with the functionality of Link Whisper when used in conjunction with WPBakery. I was happy to see that a special class (wpil_internal_link) is applied to these links on the frontend too. Since I style my links differently depending on their location on the website by using a custom class, I can apply a similar style to this class.
Link Whisper Support
I haven't felt the need to reach out to support to discuss any major problems. Other than the "bug" I mentioned previously, everything is running smooth. I have seen Spencer respond to comments via Facebook and I'm aware there is also a support ticket system.
What I can tell you is that the updates to Link Whisper are coming in fast and furious. Currently, I count 13 changelog entries from version 0.4.0 (released July 8th) to 0.4.12 (released August 5th). It's apparent that a lot of fixes for bugs others are experiencing are being addressed quickly. Clearly, Spencer supports this product and cares about how others are affected.
Why Bother With Internal Linking?
It's simple. Internal links help Google and other search bots effectively crawl your website. They also help to pass authority to those pages and direct interested visitors to relevant content. Having a website with a great internal linking structure WILL improve your rankings. Aside from keyword optimization, I believe it to be the best thing you can do for on-site SEO. Just take a look at any other established affiliate site and you'll notice how they all nail down internal linking.
If you're asking me if this plugin is worth the price, yes it is! I'm not an affiliate of Spencer's and have no vested interest in how many sales he gets. However, when I speak to others in the SEO industry I let them know of my appreciation for Link Whisper. I think it's a game-changer. Even if you're already good with building links internally, this will save you time for sure!
Going After Those Backlinks!
For the month of July, I acquired 4 backlinks to my website. While that might not seem like a lot, I value quality over quantity. Two of the links were from a private Facebook group, another from an inreach (yes inreach!) link exchange, and the last from Authority Builders. As I did in part 11, I'll get briefly into the metrics of each as well as my thoughts.
Link #1: Acquired Via Facebook Group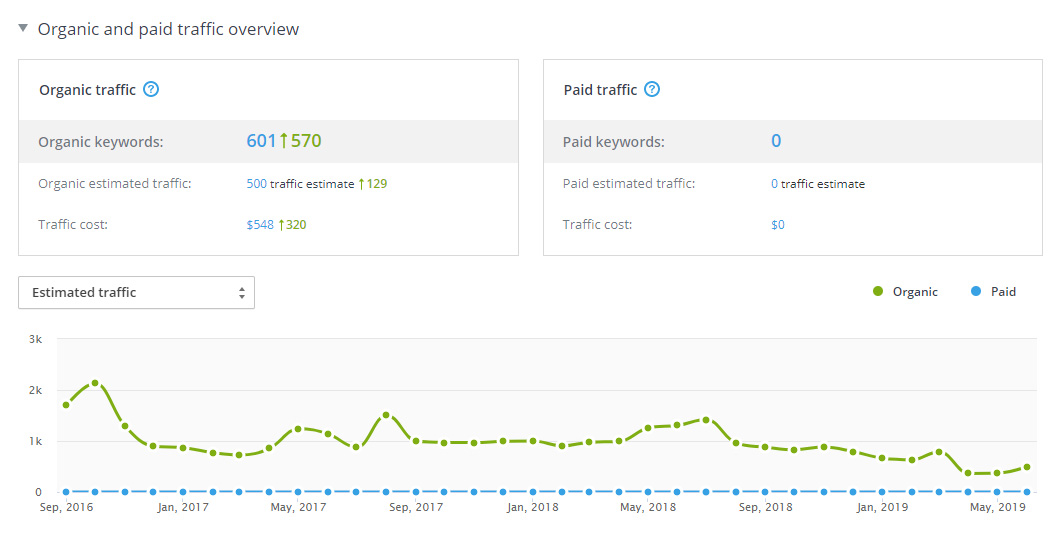 The organic keywords amount is comparable to my niche website.
Type: Do Follow
Organic Keywords: 601
SimilarWeb Traffic: Unknown
DA/PA: 33/34
TF/CF: 17/26
This is probably the least impressive of the bunch, but also the least expensive. The thing I like about getting links via Facebook is that I can scan the domains and investigate before making a commitment. Other guest post services won't give you the domain names until after the order for obvious reasons.
Unlike my previous go-round with Facebook backlinks, I made certain that the people in the group were aware of my requirement that the post is featured on the home or blog roll page. I did not want any orphaned page fiascos again! I had this backlink target my page focusing on the 5,400 keyword volume.
Link #2: Acquired Via Facebook Group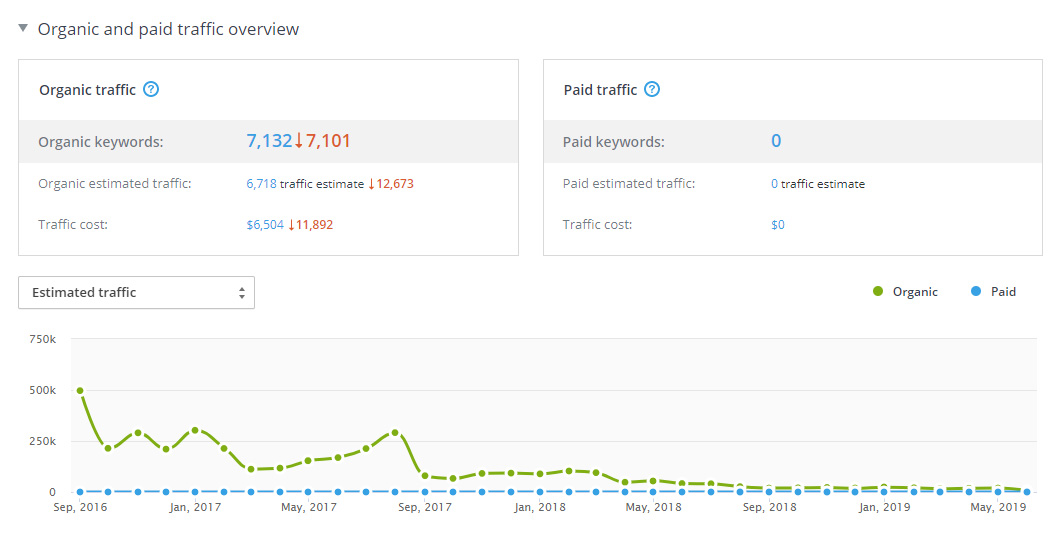 The drop is a little worrisome, but ignoring history, it's a solid acquisition.
Type: Do Follow
Organic Keywords: 7,132
SimilarWeb Traffic: 222,560/month
DA/PA: 52/45
TF/CF: 15/38
Once a mighty behemoth with nearly 500,000 organic keywords, this website has had quite the fall from grace. Still, all of the current metrics are very good and make for a great backlink candidate. Unfortunately, the person I requested the link from failed to adhere to my requirement that the post not be orphaned. He said he would fix that issue and I haven't heard from him since.
The link is still live and actually got picked up by Search Console. I suppose the whole ordeal ended up working in my favor as I didn't submit payment. I'd rather it have some link juice pointing to it but I don't think it will do any damage per say.
Link #3: Acquired Via Inreach Link Exchange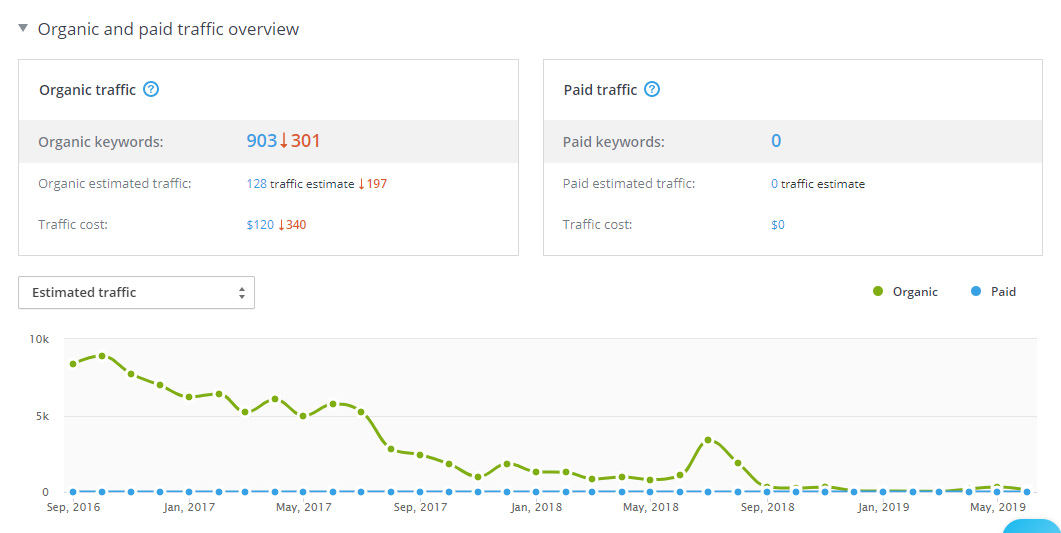 Another site on the decline, still has slightly better metrics than my site.
Type: Do Follow
Organic Keywords: 903
SimilarWeb Traffic: 11,370/month
DA/PA: 49/26
TF/CF: 30/30
This particular link I received is different from the other 3. Instead of a unique guest post article, a link to a non-targeted page of mine was placed within an existing article on the linking site. I think this is becoming a more popular trend, although I'm not sure how long it will remain effective. In fact, I've seen it referred to quite frequently as "Niche Edits".
The idea behind these types of links is that these quality aged posts already have an impact and you're basically adding a backlink to it. It sounds good in theory but it really seems like an obvious tactic. Can't Google compare the previously cached version of a page to the updated version and see that nothing major was added? A correction is one thing but just adding a backlink with some anchor text, wouldn't that set off some sort of flag? I think this tactic has worked in the past and may still even work. I'm just not sure how long it will last.
Link #3: Acquired Via Authority Builders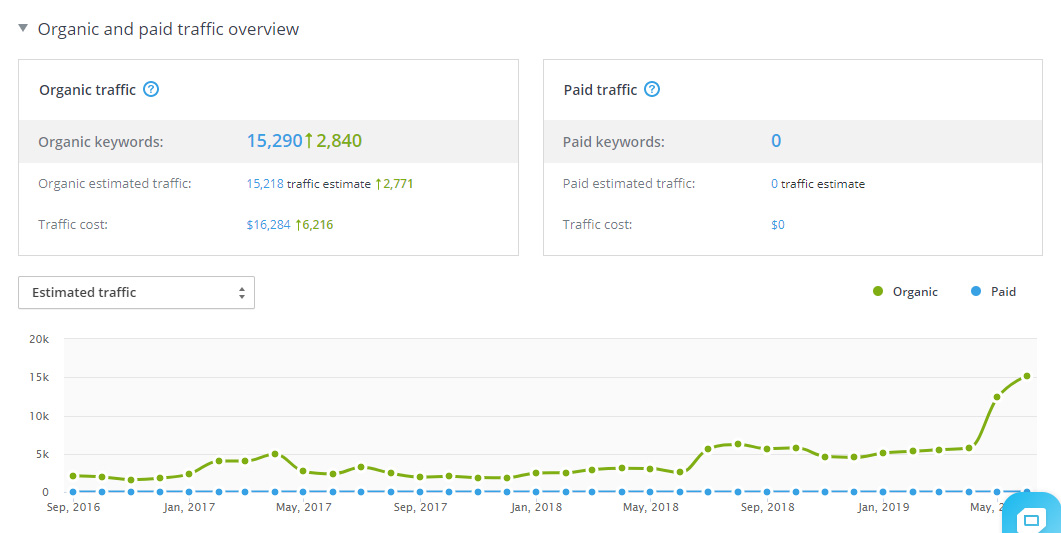 Very happy with the quality of the domain metrics from this link!
Type: Do Follow
Organic Keywords: 15,290
SimilarWeb Traffic: 56,780/month
DA/PA: 42/41
TF/CF: 18/37
The best metrics of the bunch by far! Authority Builders really over-delivered with this guest post. As you can see, this website is on the rise and was a steal for the price I paid. This one hasn't been picked up by Search Console yet but it was also the last to go live. That was the most difficult part; the waiting period.
I can't complain though as the guest post was delivered in the time frame given. The downside was I had no idea what to expect other than the bare minimum metrics that Authority Builders laid out. This was for another link where I targeted my 5,400 volume keywords page. I really hope this is the link that really pushes my rankings significantly.
Wrapping Up Part 13 Of My Niche Dreams
I know I touched on all of the content and personal achievements I've made in July, but I don't think there is anything significant to report on from an affiliate's perspective. If you're interested go ahead and take a look at the Kettlebell Krusher blog. Otherwise, I'd feel like I'm just pandering to myself on here. 🙂
So it seems like this year-long journey of reporting in for Niche Site Project 4 is reaching an end. Spencer has said that next month's report will be the last one and since a significant number of participants has dropped, that makes perfect sense. It's been fun and great reading about his progress as well as others. Although, in all likelihood, next month will probably be the last entry for Niche Dreams too.
I think as significant milestones are made, I'll update accordingly. I've enjoyed writing these entries not only for myself but for others too. Over the past few months, it's been more difficult to spend the time writing Niche Dreams as most of my free time is spent improving Kettlebell Krusher. I truly appreciate everyone who has commented and given feedback. I wish I had better earnings to report, but on the flip side, I know some of you have put a lot of effort into your own niche sites and have gotten little in return. Hopefully, my experiences have helped you learn what works and what doesn't.