I had high expectations of having another stellar month for commission earnings from Amazon. In last month's report, The Turning Point, I thought I had made a breakthrough. A couple of months in a row of earning $100+ and the increase in traffic had me believe that April would set a new high in earnings. Unfortunately, my niche website ended up earning much less than anticipated.
Am I disappointed? Sure. It's a bit of a bummer when you work so hard only to take a step back. However, that's life. There are ups and downs and building an affiliate website is no different. I can't help but feel a little jealous of Niche Pursuits founder Spencer Haws and the recent growth of his niche website. I'm sure there are many other Niche Site Project 4 participants who would still like to earn their first sale. Trust me, I am grateful for everything that has been accomplished. Although the earnings aren't near where I'd like them to be at this point, it's important to keep things in perspective.
Spencer's done a great job of providing other hopeful affiliates with a wealth of knowledge on the matter. The success that he's seeing is definitely not a fluke.
Consider that:
He's an affiliate veteran – Having built many other niche websites over the years, he has a lot of experience and knows which tactics work and the ones that aren't worth pursuing. Since this is my first attempt at affiliate marketing, there's a lot of growing pains I must go through. There are certain things I would do differently when first starting out. However, that's all part of the learning process and sometimes positives can be had from making mistakes.
He's invested a lot of money – According to the expense report, he's spent nearly $15,000 since the launch of his niche site. That's a lot of money! It's great to see that he is starting to earn that back. I'd be a nervous wreck having invested that much. I've only spent very little money on building Kettlebell Krusher. The trade-off is that nearly every aspect of growing the website has been personally done by me. That's taken a lot of time but has allowed me to ensure content is written exactly as I want it. I'm not churning out as much as I'd like on a consistent basis, but there are great strides made every month.
So if I'm observing my progress by its own merits and not comparing with others, I'd say things are going okay. It's a matter of keeping the faith. Opportunities will present themselves and If keep working hard, I absolutely believe the payoff will be worth it.
Current Metrics and Statistics of my Niche Website
Trust/Citation Flow and Domain/Page Authority
ROOT DOMAIN
TF: 13
CF: 24
HOME PAGE
DA: 25
PA: 25
Observations
Trust Flow and Citation Flow each dropped a point from last month. I suspect that this was caused by a loss of a few links. It's not a huge jump, but obviously, I'd like to see the authority of my niche site increase. I'm finally acting on my desire to acquire more prominent backlinks through guest posting. This was done towards the latter half of April, and probably won't be reflected until 3-4 weeks from now (or perhaps longer).
Further down this report, I'm going to walk you through exactly what I'm looking for in domain metrics for guest post opportunities. Call it a hunch, but I think that Google is looking at several variables as it concerns backlinks. The quality over quantity of links is very much a part of my strategy which I'll detail shortly.
Keyword Rankings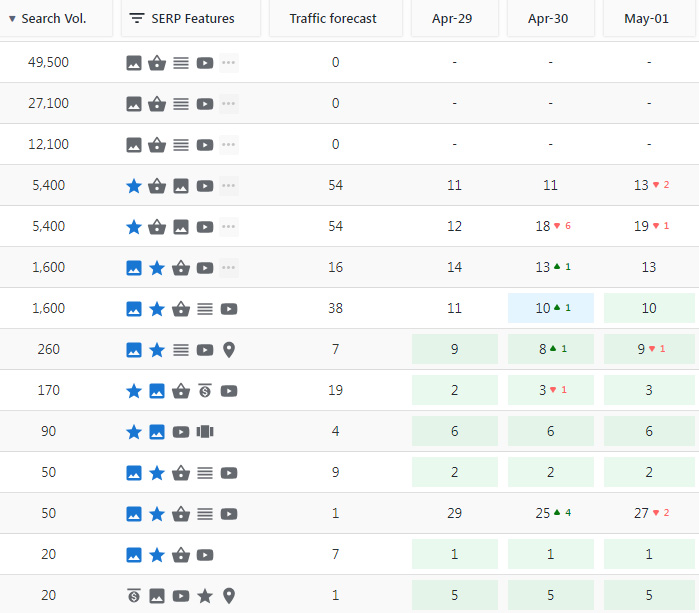 Some minor movements in both postive and negative directions of keyword rankings from last month's report.
Observations
It's getting a lot tougher to move up in the rankings for medium volume keywords. Interestingly, the search volumes of the large keywords have drastically changed. Both the 49,500 and 27,100 were each listed as having a 74,000 search volume a month before. One is the plural while the other is the single variation of the same word. I'm surprised that it dropped so much and that they aren't equal to one another. However, I'm not even on the map yet so it's not too big of a concern.
What I am happy with is that from the 5,400 search volume and below, every keyword is in the top 20. Well except for a 50 search volume 3-word keyword. The only thing I can think of is that it's not my typical comparison article and doesn't have as high of a word count. The product featured on that page is inexpensive anyhow and not really worth chasing after.
Amazon Affiliate Earnings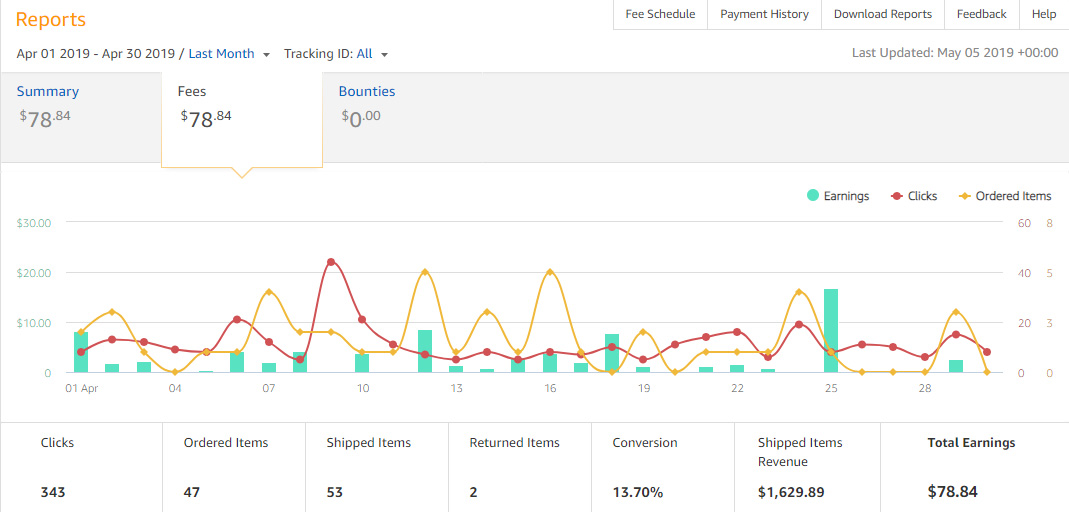 Fewer clicks and orders than the month before led to less earnings.
Observations
Almost 100 fewer clicks than what I received in March. This obviously affects how many orders were placed. Unless the conversion rate shot up, there was no way I was going to earn more than last month. I'm a little confused as traffic hasn't really changed that much. My niche also isn't a seasonal one. Months like this make it hard to predict what the future holds. Just have to keep working on building traffic I suppose!
My hope for exponential growth still hasn't diminished. I guess it's unrealistic to expect every month to be better than the last. The key is to make sure that this isn't a downward trend. I've looked at many different affiliate websites that have seen their organic keyword mountain steeply decline. Possibly due to penalties or just lack of updating and posting new content. I'm not gonna let that happen to my site!
Google Analytics Traffic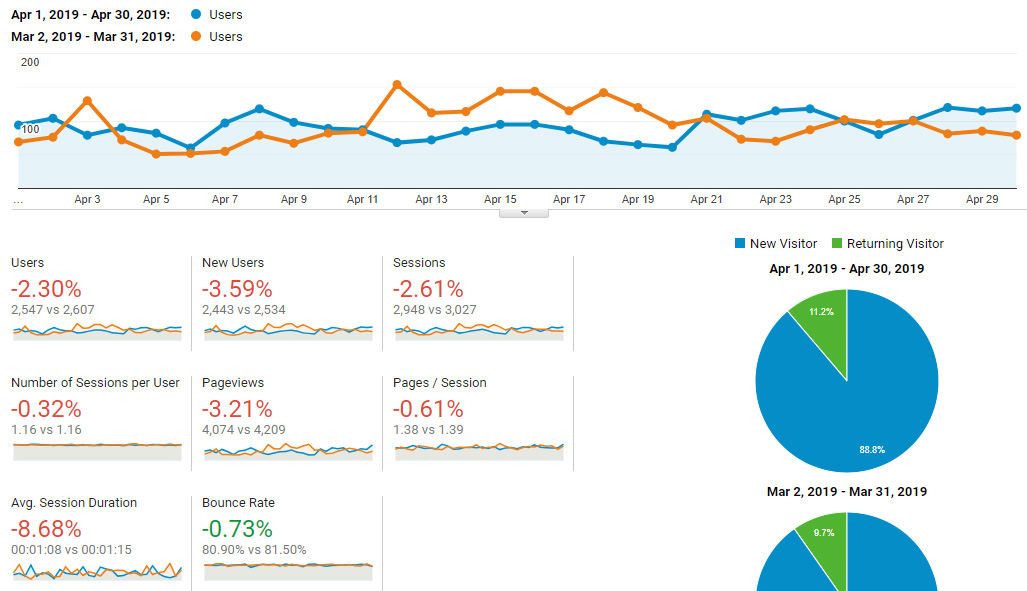 Traffic was slightly less than the month before. A bit surprising after months of steady growth.
Observations
Aside from the earnings, this has to be the most disappointing statistic. I put a lot of effort into Kettlebell Krusher in April, so it's not for a lack of trying. Yes, it could be worse. There's no growth but not much loss either. It feels like the site is in a holding pattern of sorts.
Over the last couple of weeks, the site has been averaging around 100 new users per day. I believe this should push me over the 3,000 visitor mark for the month coming up. When I think of the many clients that I build websites for but don't do any SEO, I realize that I'm not just wasting my time. On a good day, these clients might get 20 visitors. Unless they are actively blogging, their websites most likely will be buried in the search results. However, if I can continue adding more content and keep up with social media, there's no reason the traffic to my website won't grow.
Accomplishments and Strategies for April
Nothing out of the ordinary as far as content creation is concerned. There were some articles created for informational purposes as well as some for monetization. I did make a change to the permalink structure of the website. Previously I had the date (year/month/day) as part of each post's URL. Honestly, I should've never set it up this way. Even though this blog is structured as so, I realized that the posts on Kettlebell Krusher weren't all on the subject of news. Not wanting to risk "dating" these posts, I removed the dates and added a redirect code in the site's .htaccess file. Eventually, all of the permalinks in Google will reflect these dateless URLs. Hopefully, this results in more clicks!
The other topics of focus for April were mentioned in the title. Guest posting hunting, Tailwind, and user targeting. I expect that by committing to each of these will greatly help in building the brand of my niche website. I think sharing my experiences with each of these topics will help other aspiring affiliates in growing their sites too!
Guest Post Hunting
There are 3 methods that I'm employing to hopefully get good quality backlinks from guest posting. The hardest one, manual outreach, is the last that I'll cover. I believe it is the best way to go but also the most difficult and time-consuming. The other two methods rely on trusting other people.
Method #1: SEOJet JetRank Guest Post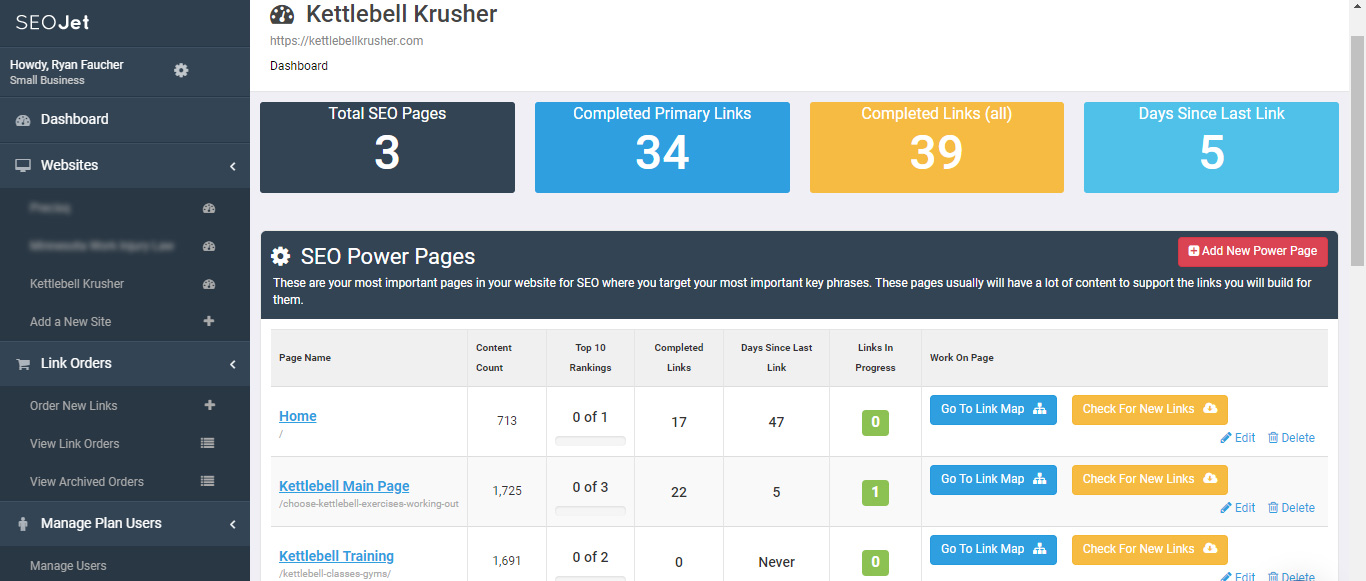 The SEOJet dashboard targeting my power pages
I've talked about SEO Jet since way back in part 2 of Niche Dreams. Founded by SEO guru Adam White, the primary purpose is to help build link maps to get the #1 ranking for any keyword phrase. When you enter a phrase, the competition is analyzed and the map is created. This map tells you exactly what type of anchor text should be used and includes link stacking (a link to a link). The goal is to help you find a balance between natural, page title, keyword, branded, and so forth type of anchors.
While you can try to find suitable websites to get these links from, SEOJet does offer a premium guest posting service. The main difference from other services is that they take traffic into consideration. So for instance, a website that gets 1,000-5,000 monthly visitors is listed as JetRank 1000+. 5,000-10,000 comes in at JetRank 5000+ and so forth. It's all detailed on the SEOJet website here.
They do offer a standard guest posting service that focuses on DA/PA. However, I truly believe it is a waste of time to focus on just domain and page authority metrics with no consideration for traffic. Based on the pricing, Adam seems to feel that way too. These JetRank posts cost a lot more which can quickly add up. I placed an order on 4/23 for a JetRank 5000+ post. The turn around time is anywhere from 5/13 to 6/12. Much longer than I'd like! Hopefully, by next report, I'll be able to provide an update on this.
Method #2: Facebook Guest Post Groups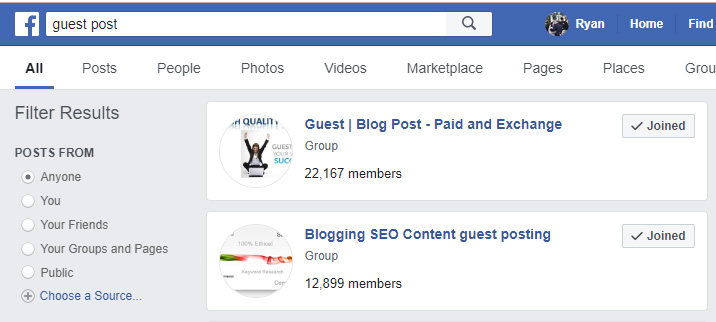 A mixed bag between crappy and quality websites for guest posting.
I relate to these guest posting groups on Facebook as having a sort of Wild West atmosphere. There's no structure or order and you never know what you're going to get. There's some risk but also the potential for high reward. At first, I was passively looking for guest posting opportunities. Just doing some research on URL's that other members posted. After not seeing anything I liked, I decided to go on the offensive.
What ensued was an onslaught of private messages. Hey, I asked for it! I probably got close to 30 messages in the span of a few hours. The majority of them boasting about DA/PA. I really wanted to say… I don't give a damn about those metrics by themselves. In fact, I did advise that I was looking for websites WITH traffic.
After sorting, researching, and logging all of these messages and the domains advertised, I found one that was promising. Everything that I was looking for checked out. Those being, traffic statistics from SimilarWeb and the organic keyword presence as indicated by SE Ranking. I was pretty optimistic and made an agreement with the gentlemen for 2 guest posts.
The Results
The first one I got back was a domain with an estimated 1.6 million visitors a month!. He sent me a link to the article and everything looked great except one thing. My link was nowhere to be found. I told him this and he advised me again. Sorry, but it isn't there! He said the link must've been removed which indicated to me that he did not have permission to post on this website.
The second post on a domain with an average of 400k visitors a month did contain my link. Awesome, I thought! The article is still up however I also noticed something. This post is what's called an orphaned page. That means it is not linked internally anywhere else on the website! Not even in the sitemap! That's not cool in my book. For one, how the hell is Google suppose to index it? Luckily, I used my super secret indexing trick to get the page listed in Google. Although, I wonder how long the page will remain active and if Google will even pass any authority to it. I'm sure this sends a red flag when it's not linked at all. Makes me think that this guy also didn't have permission to create this post.
So I can only attest to dealing with 1 person from Facebook for Guest Posting. I think there can be some good value if you do some research. Just remember that you can easily get burned too!
UPDATE: He ended up getting another article with a nofollow link on the first domain. Although, it looks like this might be an orphaned page too. Also, the link points to an informational page and not the home page as I had wanted. It remains to be seen what, if any, effect this might have on my keyword rankings.
Method #3: Manual Outreach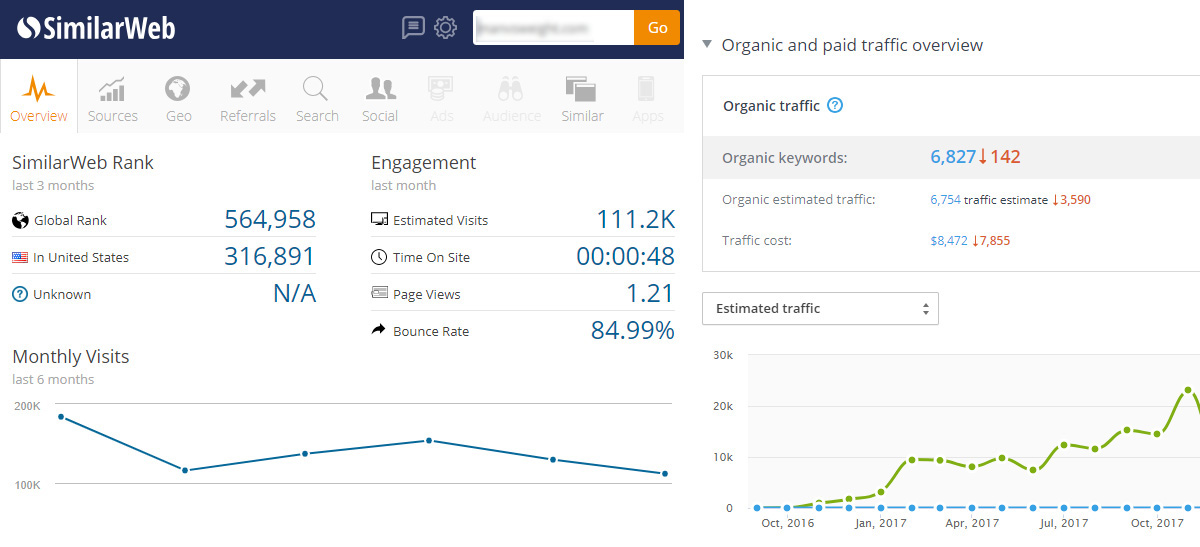 On the left: SimilarWeb traffic stats | On the right: SE Ranking organic keywords listed.
The above screenshot shows statistics from SimilarWeb and SE Ranking. These are the two tools I rely on the most when searching for good domains to guest post on. As you can see, this particular website has over 100k monthly unique visitors according to SimilarWeb. I can easily get this information from the SimilarWeb chrome extension. If you don't have it installed already, I recommend you get it asap. It's free!
There's also a section in the extension that lists the sources of traffic. One of my criteria is that the source traffic should be mostly from search. In this case, 75% of the traffic is from searchers! This, combined the with organic keyword presence from SE Ranking lets me know that it is an established website. I'm pretty picky when it comes to the requirements for organic keywords. I don't really bother with any site that has less than 1,000 organic keywords. For the record, Kettlebell Krusher currently registers at over 400 organic keywords.
The great thing about this example website? The author is just asking for amazing content. Here's an opportunity to post for free. These statistics blow away even the highest priced JetRank posts. The difficulty is in finding gems like these. It's not easy! If you have the time and patience to do your own guest post researching, it could save you a lot of money. On the flip side, it's easy to understand why outreach companies charge so much.
Tailwind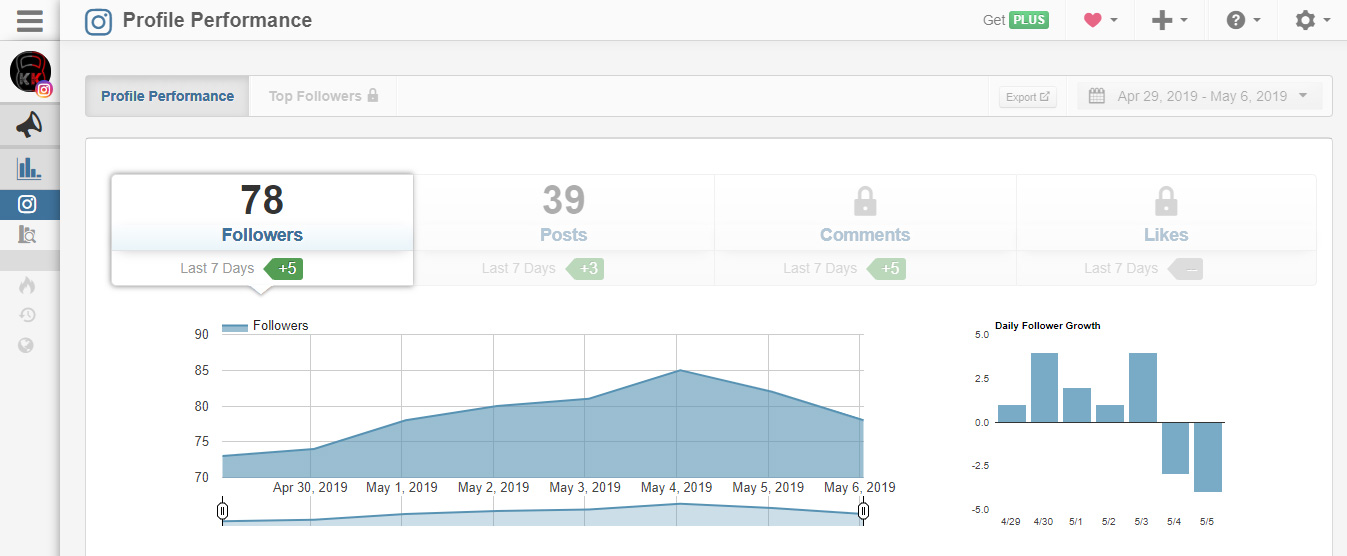 Tailwind automates the process of posting on Instagram and Pinterest.
For months I've heard great things about Tailwind. It makes life easier by allowing you to queue and schedule posts for both Instagram and Pinterest. I already had been using Pinterest for business since September. However, it's only been a couple of months that I began posting on Instagram. Since Tailwind offers a free trial I figured I had nothing to lose.
There's a lot to love here. First, the support is awesome. You get plenty of tutorials and tips via emails and videos. I can tell that they really care about their customers. Then, of course, there is the main appeal of automated scheduling. You can lay out a whole week's worth of posts for both services. It can be multiple posts per day too! Apparently, the random times selected for posting is determined by Tailwind's algorithm to get the highest probability of exposure of each post. I'm not sure how much of that is true, but you can also customize the time for each post if you'd like.
A dashboard with statistics gives insight into top performing pins and grams. You can use this information to schedule repins and reposts for your most popular content. I feel like I haven't even really scratched the surface when it comes to all the little details and features within Tailwind.
More Than Just an Auto-Poster
The two prominent features that come to mind are Tailwind Tribes and the Hashtag finder. With Tribes, you can join groups with other Tailwind members within your niche. This is useful for sharing your own content on Pinterest to get more exposure or finding other content that you can schedule and post to your Pinterest boards. I've been terrible about adding other people's content to my boards. I'm still in the mindset that I want to drive traffic from Pinterest and that is accomplished through my own pins. Although, if you're frequently pinning I'd wager that your follower count would begin to increase dramatically.
The hashtag finder automatically starts to create hashtags related to your Instagram description. These hashtags are labeled as competitive, niche, best, and good. It also counts the number of hashtags that are in the post up to the allowed 30. This has helped me to really brainstorm some good hashtags to get to an average of around 20 a post.
At less than $15 a month (or $10 if billed annually) for Tailwind, there is tremendous value. Once my free trial is up I'll most likely sign up. I'd still like to get some more time with it. I think my biggest problem is just creating the content to post!
User Targeting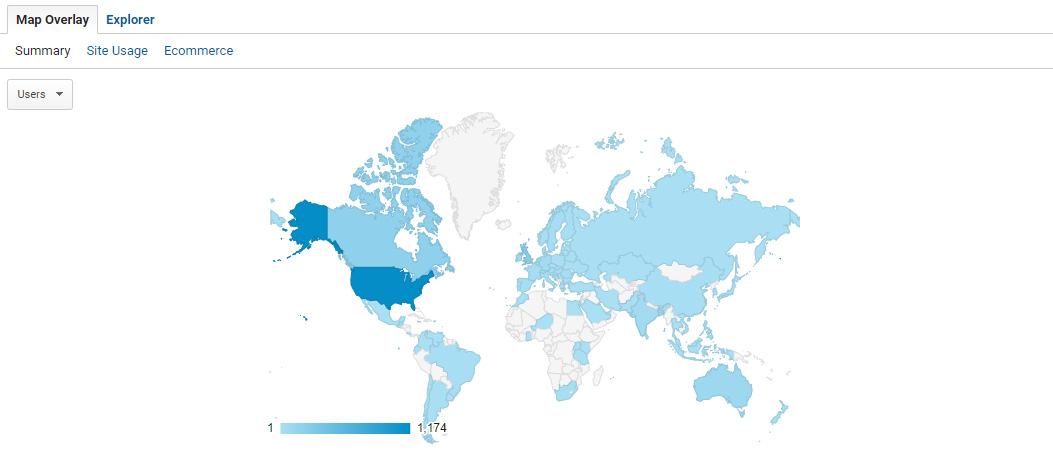 This map denotes which regions of the world have visited my niche website in April. The more intense the color, the higher number of visitors.
The niche that I've chosen is one that isn't region specific. On the one hand, this is good because it provides traffic from all over the world. The problem is that I'm relying on sales from Amazon's U.S. store. The image below shows the breakdown of users by location for the month of April.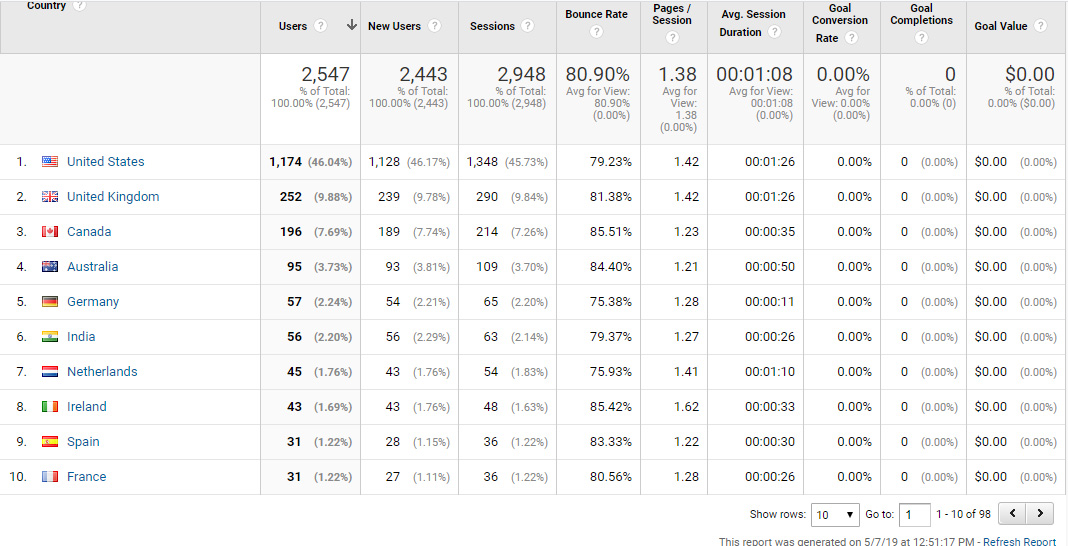 The U.S. is by far the #1 location for traffic. That's great, but it's a bit deceptive. The truth is that it is still less than half of the traffic from other sources (46%). Yes, the other top 3 are all English speaking countries and have Amazon stores as well. The problem is that, there isn't enough traffic to generate sales from these countries to keep those affiliate accounts open.
I've made some sales in the U.K. but not enough to have a payout. Previously, I had opened up accounts for Canada and Australia too. Unfortunately, they were deactivated due to no sales happening within the mandated time frame. Once I get enough traffic I plan to reopen them. Although, I'm currently left with the issue of how to monetize the international traffic that outnumbers U.S. traffic. I don't have the answer to that yet, but I do have a solution on how I can implement it.
Using Popup Maker to Target Users
Popup Maker is a highly customizable WordPress plugin that allows you to create banners. The core features offer a lot of functionality such as selecting which pages to include (or exclude) the banner on. There are also different templates to choose from that change the style and method that the banner appears.
One of the most popular pages on Kettlebell Krusher is an informational page. I've added some Amazon widgets to the sidebar of this page in the hopes of getting some sales. Even so, it doesn't really convert well. The product advertised isn't one that is directly related to the discussed content. So I opted to create a banner that is harder to ignore than some widget to the side.
This banner only appears on that page and is set to open 25 seconds after loading the page. I don't think that is so intrusive as to affect the user experience. However, it still provides an opportunity to entice users to click. Although the product I've chosen hasn't yielded any sales yet, I feel like I just need to find the right affiliate program that can cater to a global audience.

The banner slides up from the bottom getting the attention of the visitor while not being overly obnoxious.
Using the Banner On International Visitors
Popup Maker has a lot of paid extensions to choose from. There's one called Advanced User Targeting that I think is one I can use to really zero in on international visitors. I'll have to contact the developer to confirm, but my plan would be to create a condition where if the visitor is not from the U.S., the banner will appear. This would allow my U.S. visitors to remain focused on the content (and affiliate links) while redirecting international traffic to another affiliate offer. What that might be, I have no idea.
There are a lot of things to consider when targeting users outside of the U.S. Of course, kettlebells aren't readily available in every country. Then there is the cost factor. U.S. workers earn a median monthly salary of $3700 per month. Compare that to a worker in Malaysia earning just shy of $500 a month in U.S. equivalent dollars. They aren't likely to spend $50, $100, or more on these products. Still, I'd like to find a reasonable alternative that isn't so hard on the wallet.
My priority is still providing a resource that people all over the world can use to improve their health. However, I believe all this hard work has earned me the right to make a little extra income on the side too. I'd be fine with making only a dollar or two on commissions for international visitors if it means they can afford the product or service. I just have to really dig deep and find out what that might be!
Wrapping Up Part 10 Of My Niche Dreams
By this time next month, I hope to have some data to back up the aforementioned strategies. I probably sound like a broken record but I do feel like I'm on the cusp of great things to come. I didn't think this journey would be easy but now I'm understanding just how difficult it is to keep up with maintaining a niche site. Finding a balance between that, my business, and my personal life is a challenge. Although, I'm still very much as optimistic as when I first launched Kettlebell Krusher.
Currently, I'm starting to get a trickle of emails for links, and guest posts on the site. I'm very particular about the content that appears on the site. I WILL NOT sacrifice the integrity of the site by accepting money for posts that have nothing to do with the niche. I say this because just this morning someone contacted me to inquire about putting a link to a pet niche website. Sorry, that's not gonna happen and I think that if they aren't already, Google is going to be paying attention to those sort of shenanigans.
That reminds me of my philosophy on followers and Instagram. There's a certain yo-yo effect with the follower count that I've noticed. People will like a post and follow my account. One day I'll have gained several followers only to lose several more than next day. That's the follow back crowd that expect you to follow them because they have done so for you. I don't believe in that either. I'll only follow accounts that I'm genuinely interested in. I think that if people like what I post that is good enough. You don't see any semi-popular Instagram users with a 1:1 follower/following ratio. It just doesn't make any sense.