Niche Dreams – Part 2: Networking, Tools, Link Building, and Content Creation
Welcome to part 2 of my planned year-long monthly updates reflecting on the progress of my Amazon affiliate niche website. If you haven't done so already, please read part 1 to understand why I decided to become an affiliate. There's also some good information on researching other Amazon affiliate websites which will help you build a strategy of your own.
In part 2, I'll go over some tools and people that I trust for guidance on this quest for success. You'll learn some link building tactics I've implemented as well as my content creation strategy. It can be difficult to balance time for external content and blog posts or pages hosted on your niche website. However, I believe that if you put an equal amount of time for both, you'll reach your goal that much quicker.
Before I get into the details of these strategies, I'll share some statistics on the current performance of my website. This will be a feature of future Niche Dreams blog posts to gauge progress and possibly predict what lies ahead. Perhaps a year from now I'll be able to look back and appreciate just how far things have come. At least I hope so!
Current Metrics and Statistics of my Niche Website
Trust/Citation Flow and Domain/Page Authority
ROOT DOMAIN
TF: 12
CF: 21
HOME PAGE
DA: 15
PA: 20
Observations
Both Majestic and Moz's metrics for my niche website have already surpassed the metrics for this website, precisiondigital-llc.com. While I do regularly post on this site (mostly commentary articles), I've pretty much abandoned any sort of link building. That just goes to show how important building a great backlink profile is.
I do find it interesting that the home page URL scores for both trust flow and citation flow are each 10 points higher than the root domain scores. I'm guessing that is because there are a lot more links pointing to the home page than any other page. That should be the case in any scenario of a successful website. It'll help strengthen your overall brand and trust with Google.
Keyword Rankings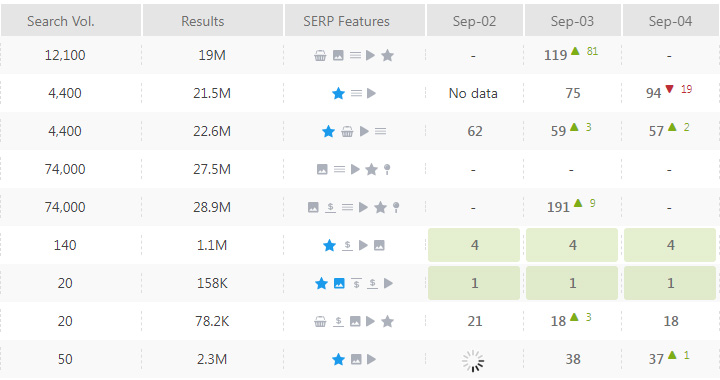 Nothing too impressive, but there has been some nice gains
Observations
Sorry, I'm not posting my specific keywords. However, you can see the search volume, number of results and the position. The duplicate numbers of 4,400 and 74,000 are just singular and plural versions of the same keyword. You might be wondering what's going on Sep. 3rd for one of the 74,000 and the 12,100 keywords. It's the result of a phenomenon I've dubbed keyword flashing. It's basically a boost in the SERPS for fresh content within a 12-hour timeframe. I'll get more into that later.
A month ago I wasn't even in the top 200 for the 4,400 keywords. Now they're in the 60's and 70's range. They get a lot of impressions but it is still too far out to get any clicks. The #1 ranked 20 volume keyword was at the same position last month. It does get some clicks, more than I expected. However, the best performing keyword is currently at #4 which was previously ranked at #13. It has resulted in many clicks and several sales! The 140 search volume might seem minuscule but it features the only set of on-site products that converted into sales thus far.
Amazon Affiliate Earnings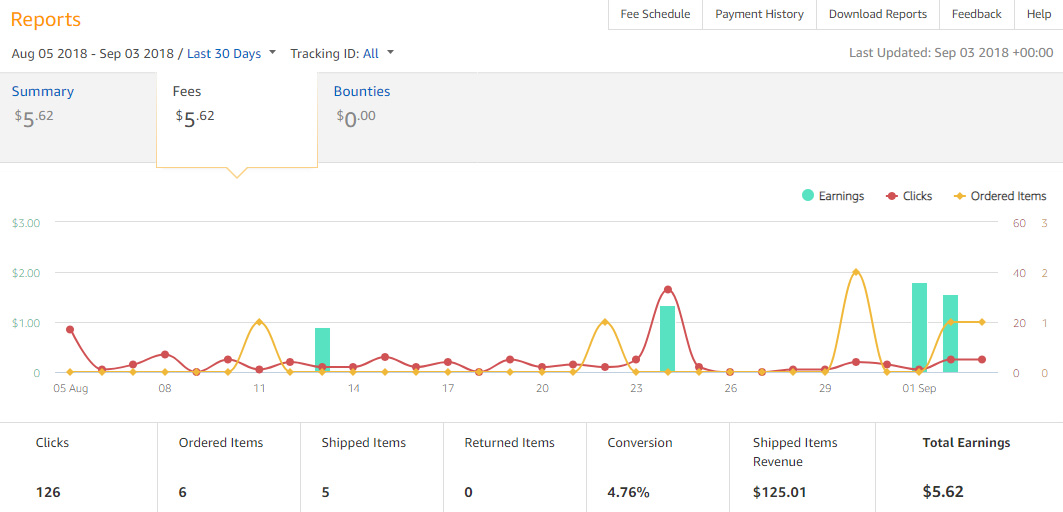 Things have started to pick up over the last several days
Observations
Remember from part 1 how I mentioned only getting 1 sale for 90 cents? Well, in the past 30 days there has been 6 orders placed (5 shipped). Again, it doesn't look like much but when you look at the growth rate it's certainly a nice boost. Of those 6 ordered products, only 2 were directly advertised on my website, 3 were in the same category but not linked, and the last product was in a completely different category but in the same industry (just on a broader level).
I'm now starting to see the benefits of getting credit for Amazon purchases outside of the products I advertise. Something I will need to consider is if it is worth it to target similar categories outside of my niche. I could potentially leverage my website's increasing rank to gobble up long tail keywords I wouldn't normally target. The downfall is that I risk de-valuing my niche as an authority in that field. For the time being, I plan on staying laser-focused within my niche.
Google Analytics Traffic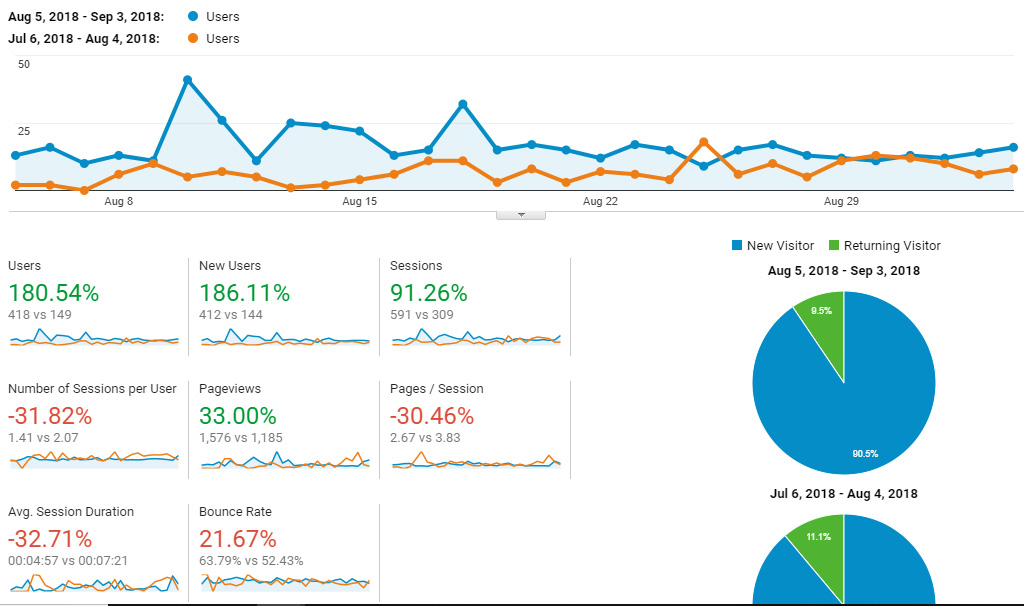 Traffic is starting to pick up!
Observations
Almost a 200% increase in new users for this current period compared to last. These statistics do include traffic from me. However, I don't believe it taints the overall picture. I did create a filter to exclude my IP (which only works from this point forward). Although this filter still doesn't seem to eliminate my presence completely. I think I'll continue using the default view in Analytics.
There are some decreases in other categories, but I think this is to be expected with the surge in volume from users. Honestly, that is really the only statistic I care about. Bounce rate and sessions don't matter as much since I'm directing visitors to Amazon anyway.
Looking at the current (blue) and previous (orange) periods for users reminds me a little bit of an ocean floor. The orange being the sand and the blue is water. Looking at it from this perspective my goal is to keep the water above the sand from month to month. I want to limit the amount of sand bars if you will. For the most part of this period, it's smooth sailing!
People, Tools, and Products I Trust
Anyone who has read my previous blog posts knows how much I love SE Ranking. It's the tool I use exclusively for keyword and competitor research. I've talked so much about them in the past that I almost feel like a spokesperson. That being said, the following information will focus on other tools and people that I find extremely helpful.
I'm always skeptical when first researching these things. I know there are a lot of scammers out there who don't care about their service or product. It's only natural to keep your guard up and be cautious. However, after being involved for some time now with each of them, I feel confident in my recommendations for their service.
Niche Pursuits

Founded by Spencer Haws
When I originally stumbled on the Niche Pursuits website I immediately went into defensive mode. I thought why would someone offer so much valuable information for free? There has to be a catch. Is this guy going to hook me in and try to sell me some Warrior Forum pdf guide to affiliate marketing? Well, I've signed up for several freebies and am still waiting for a pitch!
Yes, Spencer has created tools for purchase. However, you'd be hard-pressed to find any sort of promotional campaign for them. All of the informational resources available are free of charge. Case studies, podcasts, even a free webinar which I'll be joining tonight cost nothing. I believe he truly wants to see people succeed. But why?
It doesn't make sense to be giving out tips and advice to others looking to start their own niche website. I'm sure some of you are wondering this very same question about me. Just remember content is king. Give people a reason to visit your website and then you open up a whole world of monetization avenues. Even still, I have my own theories.
The Niche Pursuits Community
The Facebook Group for Niche Pursuits has over 17,000 followers. It's a community of hopeful entrepreneurs like myself eager to make a splash in the affiliate marketing world. I've found it to be a great resource with a friendly atmosphere. Everyone that posts is enthusiastic about starting their niche website.
17,000 followers is a lot. But put it into context. It is estimated that there are 644 million active websites. This means that even if all 17,000 created a successful website it would only account for .003% of all the total websites.
Now which do you think is more valuable. Keeping secrets and information you've learned to yourself? OR… sharing information collectively with a group for everyone's benefit? I say, strength in numbers. Learn strategies that work or don't work. In fact, Spencer is launching Niche Site Project 4, which last I checked, has over 700 applicants. Each one of those people will report their progress on their niche website on a monthly basis. This will be the ultimate case study and I'm happy to be a part of it.
For those on the fence, you have absolutely nothing to lose. Check out the website and group and you'll see just how passionate this community is.
UPDATE 9/5/18: Okay so the pitch did come last night through a webinar. However, I still stand by my opinion. They're offering blueprints on how to build a successful niche website. The price seems reasonable and it is a one-time fee that includes regular updates. From what was shown there is a tremendous value. Unfortunately, money is super tight for me right now so I'll be sticking to my own plan. But if you're new to affiliate marketing and are serious, I think it's worth the investment.
SEOJet

Founded by Adam White
SEOJet is a premium link building guidance tool that actually generates link maps for you to follow. Simply add a website and any additional "Power Pages" (pages at least 1500 words) you wish to target building links for. The tool will create a map that tells you exactly what you need to do in order to achieve a top ranking for your selected keyword.
The map is laid out in such a manner that it describes what anchor text you should use; Brand, Natural, Website.com, Page Title, etc. It also stacks links in tiers (creating links to another page that links to your website). Adam suggests building these links through guest posting. He even offers a service right on the SEOJet dashboard for this.
For the most part, I've used these link maps to build some of the satellite websites I mentioned in part 1. I have dabbled with some Fiverr gigs that after heavy research, I've added to the link map too. Look at the screenshot below for an idea of what percentage anchor text you should be targeting.

The goal is to get the percentages within the blue line.
Who is Adam White?
It's a valid question. As a seasoned veteran in the SEO industry since the early 2000's, he's helped hundreds of businesses rise in the SERPS over the course of his career. In fact, he was a consultant for billionaire Marcus Lemonis which you can read about here.
So why do I think he cares about his customers? The plan I pay for is roughly $50 a month. Initially, this plan only allowed for 3 websites to be tracked. Since then he has upped that to 5 websites free of charge. He's also added a few features to the maps themselves such as link status (404 or live) that makes my job a lot easier. I continually get emails asking if I need help or how the service is. It's updates like these that make me appreciate the extra mile Adam takes for his users.
AAWP
Created by Florian Daugalies
I haven't had any interaction with Florian. What I know is that he is a very talented German web developer. I expected there would be some translation issues for his AAWP plugin into English. However, I would've never guessed this was developed outside of the U.S. by using this product alone. I will say that the support has been amazing. Whenever I've had an issue, I received a welcoming response within 24 hours via email. I didn't get the feeling that I was trying to be "pushed off" since I already made the purchase.
AAWP, in my opinion, is the ultimate Amazon affiliate plugin. You need to be approved for using Amazon's Product API to use it. This isn't difficult so long as you have a nice looking website with content OTHER than Amazon advertisements. If you get rejected, as I did at first, work on your website and try again at a later date.
Probably the best thing about this plugin is the design and presentation. It looks really professional! This will help entice people to click on your affiliate links more so than a standard text or image link. A typical product box might look something like this:
AAWP Product Box in Action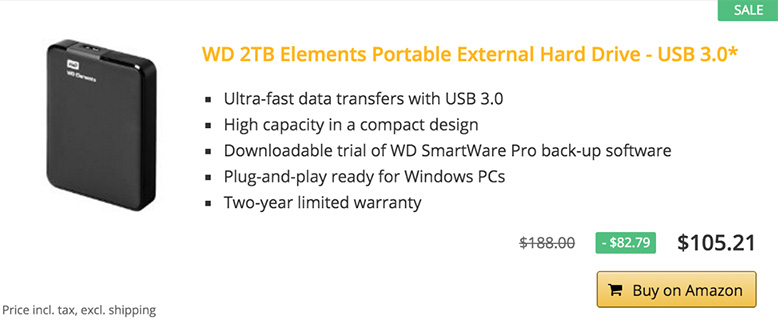 Click on the image to view more screenshots.
You can see it pulls the description, title, image thumbnail and price for the product. Each of these attributes has customization options. Want to change the title or description to a custom message? Check. Want to hide the price? Check. You can even build beautiful comparison tables with other products that can have custom fields added. There is so much that can be done.
I was a little afraid of advertising the price because of Amazon's strict terms of service. Prices need to be updated accordingly and if you're caught with a wrong price it could mean termination of your affiliate account. I'm happy to report that you can set the cache regeneration time anywhere from 60 minutes to 1 week. I have it set to 60 minutes and can see in log files when product data is renewed.
I did encounter an issue that was more so related to Amazon's API. Whenever a product became unavailable (not out of stock). The API was not updated accordingly. This was not the fault of the developer rather Amazon sending out data that was no longer relevant. If you're worried about this than you should be checking the status of your advertised products on a regular basis anyway.
A Couple of Underrated Features That Warrant Mention
Geo-targeting: Amazon has 13 stores/websites to serve customers. They include the US, UK, Canada, Germany, Japan, China, Australia, Italy, Mexico, France, Spain, India, and Brazil. When you enable geo-targeting you're sending visitors in those countries to their respective Amazon store. I know Amazon has their own OneLink service that can be used. However, being able to tie it into these product boxes makes it much more appealing than standard affiliate links.
You will need to sign up as an affiliate for each Amazon store. Once you do you'll be given a tracking id which you can input into the AAWP settings. I've tested this feature and it works as expected. I haven't received any international commissions yet, but most of my traffic comes from the U.S. at this time. Still, the possibilities of being able to optimize pages for different Google region search engines is something that has me salivating.
Google Analytics Event Tracking: When someone clicks on one of the product boxes from AAWP, that product is registered in Analytics. You'll know exactly what items are hot sellers and can optimize accordingly. Now when I see clicks in the Amazon affiliate dashboard but no orders, I know what products are being looked at. Well.. mostly.
I still have standard text links and image links integrated on my website. They work just fine, but I haven't attempted to set up any event tracking manually via Google Tag Manager. I'll probably reach out to the AAWP team again in the future for any suggestions. There is a text link shortcode available for use but I prefer the good old <a> tag style. This shouldn't be a concern for most people. As regular affiliate links and AAWP work just fine together. It's only slightly problematic for event tracking and geo-targeting nuts like myself.
Link Building Tactics and Methodology
If you want to rank in Google you need backlinks pointing to your website. It's that simple. You can create the best content on a topic ever, index it, and have it buried in the search results. It's crucial that you have links pointing to content-rich pages. How you go about this can be considered white hat, grey hat, and black hat.
When it comes to other businesses I do SEO work for, I always use white hat techniques. I would never risk damaging the reputation of any of my clients. However, when we're talking about my own affiliate website, it's a different ball game.
I still think black-hat techniques are way too spammy and not worth the risk. Imagine putting in a lot of effort into your niche website and then have it fall off the map because it was blacklisted by Google. Grey hat SEO blurs the line a little bit. It's an effective strategy, with some risk of course, but the payoff can be huge. That being said, here are a few tactics I've employed to build backlinks
Profile, Comments and Forum Links

Love them or hate them, profile links can be effective
Admittingly, these are some of the most controversial links you can acquire. Using one of the backlink checker tools that I've mentioned in part 1, you can create backlinks that you discover from other niche websites. If possible, try to post on websites relevant to your niche. This will most likely help you more than if you post on a website completely unrelated to your niche.
I've found .edu, .org and other high profile domain extension links by spying on affiliate peers. I wouldn't get too crazy with this method. It shouldn't be a huge part of your overall backlinking strategy. However, you'll see many high-ranking websites still using this tactic.
Satellite Websites/Web 2.0's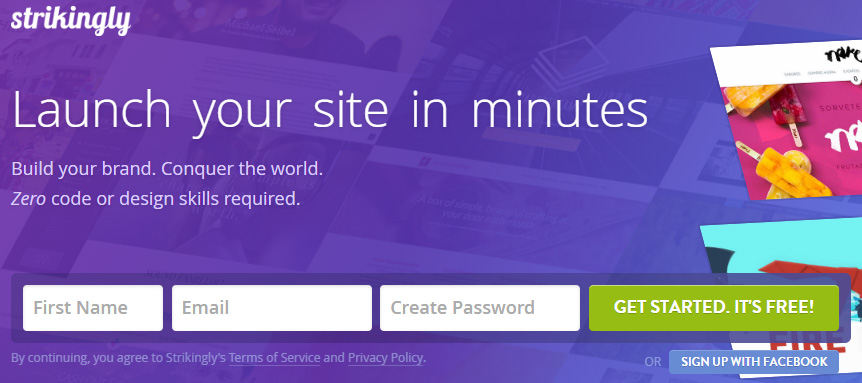 Strinkingly is just one example of a satellite website you can build.
This was also discussed briefly in part 1. There are many free services for which you can build your satellite websites from. Most of them allow you to design a fully functional website complete with a blogroll. Put some effort into it and write or outsource at least 500 words on topics relevant to your niche. I've gone so far as to add images and links to authoritative sources to give them a legitimate look and feel.
If you want to take it a step further, don't limit yourself to free website/blog builders in your own country. Think globally. I went so far as to solving Japanese captcha codes to sign up for blog creations. If the metrics for a domain are good, Google doesn't really care where that link is coming from. All of these posts I've written are in English. I think because of this it has lead to some of them being removed. Maybe if I had them written in the blogs' native language there would be a higher "sticky" rate.
Guest Posting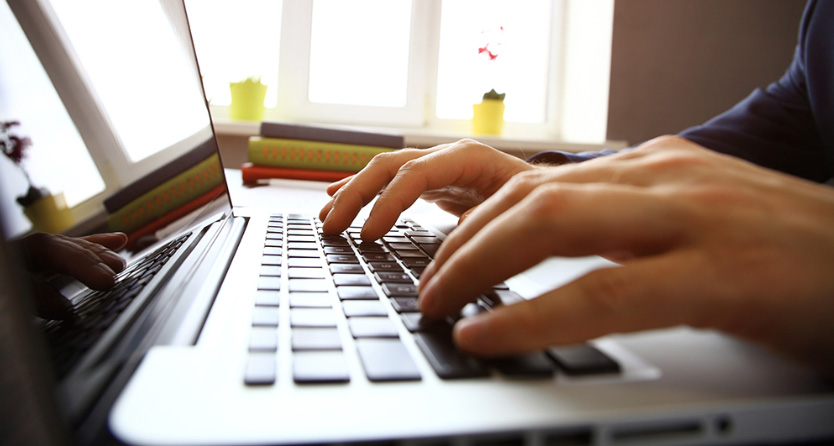 Guest posting can be done yourself or through an agency.
This might just be the most difficult or expensive way to build backlinks. Technically you shouldn't be paying for backlinks. At least according to Google. You can search for industry-related websites by searching your keywords alongside "Write for Us". Some websites charge you to write for them, others will allow you to contribute for free, and even some websites will pay you!
There are a few different services which will write content on your behalf and do the outreaching. So, in essence, you're more or less paying this company to do the hard work for you than paying the website where your article is hosted. These websites should have a least a decent amount of traffic. If it's popular enough, the referral traffic might outweigh the benefit of the backlink's effect on your keyword rankings.
I don't have the time or money to focus on good quality guest posting outreach. So my solution? Fiverr. Some of you are probably shaking your head in disbelief. I know, I know. I wouldn't recommend using Fiverr for backlinks. However, I have found one user and gig that so far looks like a steal. She's been a pleasure to work with, wrote the articles and posted them in the expected time frame. They're not in perfect English, but good enough and better than spun content. I'll be monitoring these links to see how long they remain active.
Scholarship Links

E.K.U. has dozens of scholarships listed..but didn't accept mine!
After reading about the success others have had with scholarship backlinks I decided to try my hand at it. I created a very detailed and professional looking scholarship page. Now, I've seen a lot of abuse with this method. Some scholarship pages from affiliate peers simply redirect to that website's home page. I really think this ruins it for the rest of us. If you go this route you should have every intention of paying out the scholarship.
It's almost like a form of gambling. While I will certainly pay out the award to winning applicant, the deadline I've set is for next year. This gives me time to build backlinks from colleges and universities and hopefully make that money back in affiliate sales.
I was encouraged by seeing several universities post just about any type of scholarship imaginable. Take for example, this page here. Dozens upon dozens of scholarship links posted. Some of them ridiculous too! (Big Ass Scholars?) Ironically enough, I didn't get a response from this particular college. I guess they've gotten too overwhelmed.
Managing Your Scholarship Outreach Effort

Sorry no freebies here. Just a way to keep organized.
What you should do is create a spreadsheet. Make columns for where the links are hosted, the college name, contact email address, and approval/pending/rejection. You can then create a template and use these fields to paste into the template. It's a lot of work and depends on how motivated you are, but you should have some luck.
So far, out of 53 colleges I've emailed, there has been 10 approvals, 2 rejections and the rest were no responses. You should be prepared to not get many responses. I've only emailed each once and I suggest you do the same. Some of them have web forms you can fill out to have your scholarship posted. In most cases though, you'll want to email the financial aid department of that university.
So you might be wondering, did I see a jump in rankings from these links? All the approved links have been indexed by Google. Some as far back as a few weeks ago. Unfortunately, I didn't see a huge gain in a short period like I was hoping for. While my keyword rankings have increased, it is hard to tell if it is the scholarship links or other links and factors that I have to thank for this. What gives me pause is that none of these scholarship links have appeared in Google Webmaster Tools. That doesn't mean they aren't being counted, but it is strange. Especially since I have a several .edu comment links listed.
Creating Content for Your Audience and Google
When I first launched my niche website, I only had a couple of articles posted. I wanted to get a jump-start with Google and building authority. In the span of about a month, I was able to crank out several additional articles for a total of 8. These articles are in the form of comparing related products with the appropriate affiliate links embedded. The total word count of each is at least 1500 words.
Since then, I haven't created any more of these articles. My focus has been on link building and creating content that emphasizes these posts. The idea is to expand upon these 8 pages with 300-word posts and pages that link to them. Internal linking lets Google know which pages are the most important on your website. Obviously, you need this to look natural and authentic. If done correctly, it should help rank these "Power Pages" over time.
I've listed a couple of my tactics below that I believe will help build trust with Google while providing something useful to visitors. It's also important to keep posting on a regular basis. Keeping your website fresh will boost your organic keyword count while also giving the potential of developing followers.
Informational, Instructional, and How-to Posts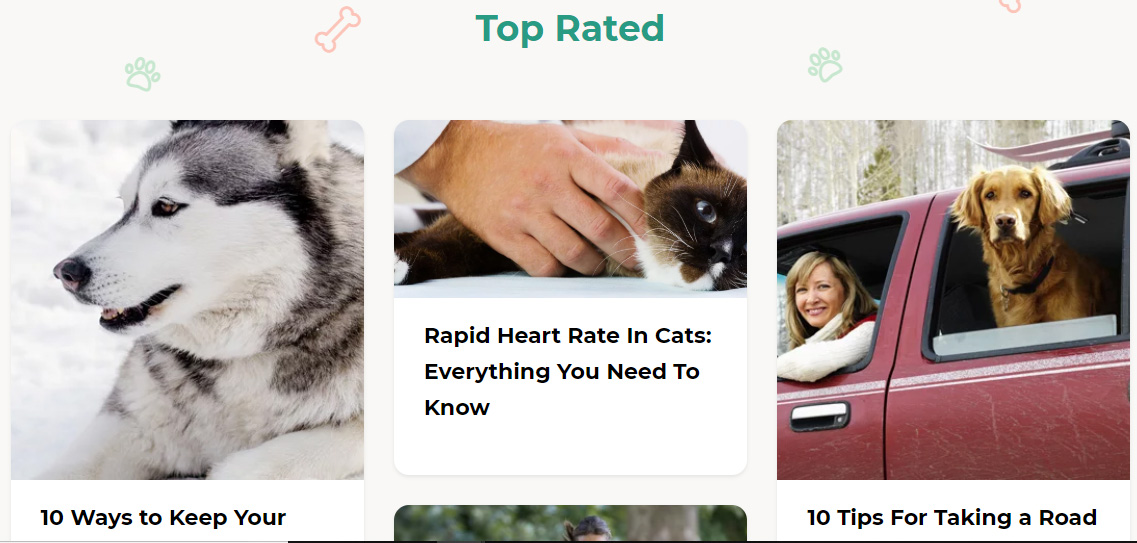 Mypetneedsthat.com churns out excellent content at a fast pace.
As tempting as it might be, you should have pages that don't contain any affiliate links. Create content that tells your visitors some useful information they weren't aware of before. Mypetneedsthat.com, the poster child of my niche dreams, uses internal link stacking to support their affiliate product pages. You could navigate articles several pages deep before finding any product advertisements. Based on their statistics from part 1, I'd say it's an effective strategy.
Such a strategy requires either a lot of money or time to spend on writing. Neither which most of us newbie affiliates can afford. For my website, I combined publically available youtube "how-to" clips. I didn't create these clips, but they were made by a company that I promote through one of my Amazon affiliate links. These videos are accompanied by descriptions which I personalized and wrote. In total, I have 14 of these pages that sometimes link to my product pages and one another. The descriptions range anywhere from 300 to 500 words.
Looking at the Analytics during this period, I see that they are getting a decent percentage of hits. Furthermore, it has helped to reduce my bounce rate slightly as visitors will check out these other video pages. I do have an AAWP widget linking to the Amazon product page of the aforementioned company. In this case, it makes sense to do so. Although, I would suggest only doing so if it does on your pages too.
Keeping Things Fresh with Content Curation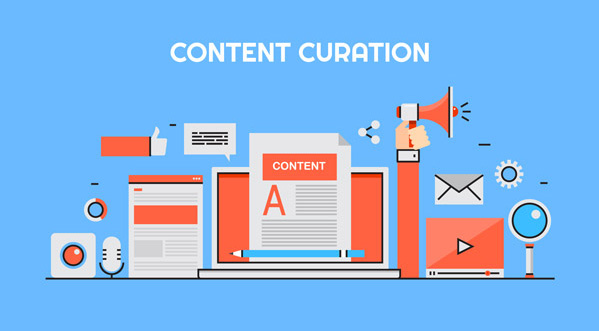 Content curation is a great way to fill the gaps between original content.
It's hard to create great quality content. Like.. really hard. I view affiliate niche website building similar to a baseball season. There are many games that need to be played. Sometimes teams only have an off-day once every week or two. That's not to say you have to blog every day, but try your best to be frequent about it.
You should always strive to post the best content possible. However, that isn't always feasible. Sometimes it's better to keep your foot on the gas pedal. You won't always have a great game, but if you show up to play, Google will take notice.
Content curation doesn't necessarily have the most valuable information. I use it to add commentary to relevant stories that have been recently posted. When I say stories, I mean just about anything. News articles, social media posts, even other people's blog posts. The key is to take only a snippet from the source, around 100-250 words, and then expand upon it with at a minimum the same number of words. Ideally, you should double the number of words in your commentary.
If you can turn that commentary into a mini blog post with header tags and such you'll attract more visitors. Always link back to the source and give credit to them. I personally don't bother adding no-follow tags because of 1). I want to properly credit them 2). if they discover you've linked to them they might actually appreciate your input.
How to Find Content for Curating
There are various plugins you can use to pull RSS feeds and configure the set up for your curated posts. For both this website and my niche website I use RSS Autopilot. It will import posts from RSS feeds into a template you create. At that point, you can trim to an appropriate length and add your own take.
A lot of websites with blogs have RSS feeds. You can either add a bunch of these feeds to create a pool of content to choose from or use another method. This other method is sometimes hit or miss, but you can find some gems. I'm referring to alerts. Alerts from Google will allow you to set up an RSS feed for key phrases you target. It monitors the web for mentions of this phrase. You'll also have the option of receiving emails of these mentions instead.
While I used Google Alerts in the past, I've since moved on to a better alternative, Talkwalker. The alerts from Talkwalker come from all corners of the web. Instagram is one form that comes to mind. I've discovered celebrities using products related to my niche and used their posts or videos to comment on. Talkwalker's alert monitoring is free and is a great way to find content to talk about.
Wrapping Up Part 2 Of My Niche Dreams
I was able to put a lot of effort into my niche website this period. While I didn't have a lot of work coming in from clients, this lull gave me a great opportunity to do everything you've just read about. I was also able to begin developing several strategies that should be ready for discussion in part 3.
What might you expect to read in part 3? Well, I had the logo recreated which I believe will greatly improve my overall brand image. I should have a new feature launched on the website that will be a resource for visitors and searchers in my niche. This goes back to my belief that giving something of value will produce traffic. The page won't have any Amazon affiliate links but might open the door for partnerships with other businesses at a future date.
Oh. I almost forgot! I mentioned a certain phenomenon earlier that deserves some explaining. It's not earth-shattering, but it is something that I plan to keep an eye on.
Keyword Flashing
Keyword flashing is a term I came up for fresh content with high volume keywords that briefly enters the lower rung of the SERPs. I'm talking about past the 100 results mark. I think most people limit their keyword monitoring to the first 100 results, so something like this might not get much attention.
SE Ranking can track a range within 100 or 200 results. I chose 200 initially because I wanted to see an impact right away, no matter how little it was. To my amazement, I noticed that when I published a new blog post, indexed it via Google Webmaster Tools, and re-ran my keyword checker, these blog posts would show up in the SERPs.
These pages would appear within the 200 results range not just for the 12,100 keyword but also the 74,000 keywords! I wonder if these brief rankings will increase as my authority increases. Of course, hardly anyone is going that deep into the results pages, but I think it shows how important Google treats fresh content. Take a look.
Keyword Flashing Before and After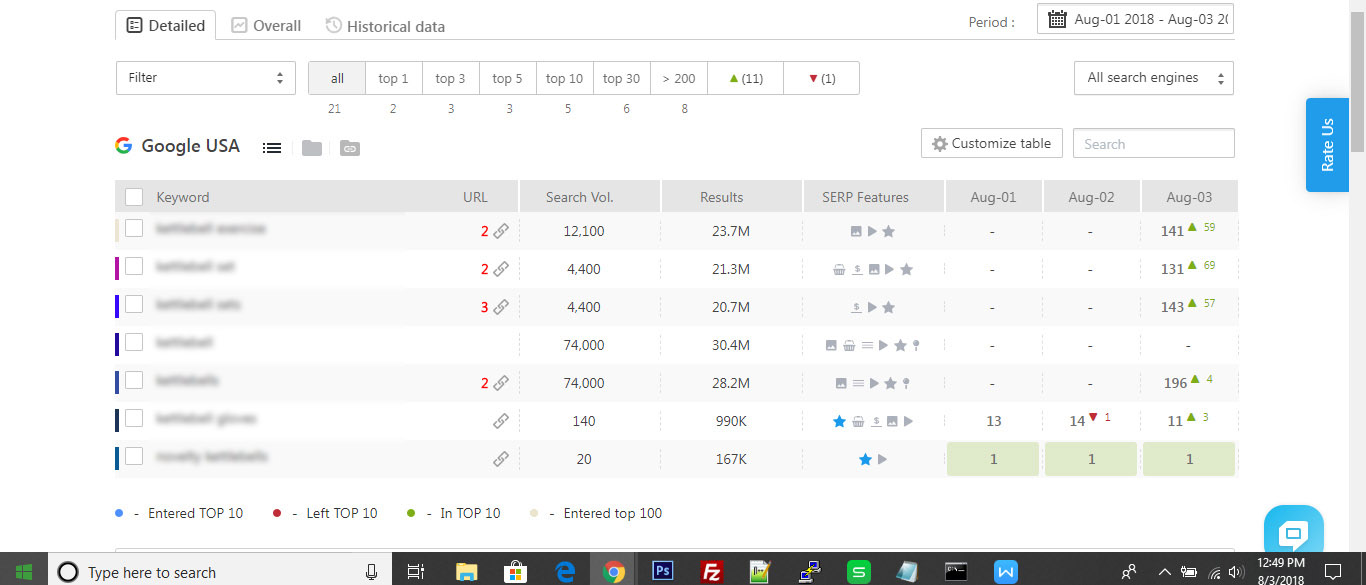 Before I started to rank, the keyword flashing effect was very apparent.
As you can see, only the last two low volume keywords ranked on August 1st and 2nd. August 3rd shows the impact that fresh content had for my targeted keywords.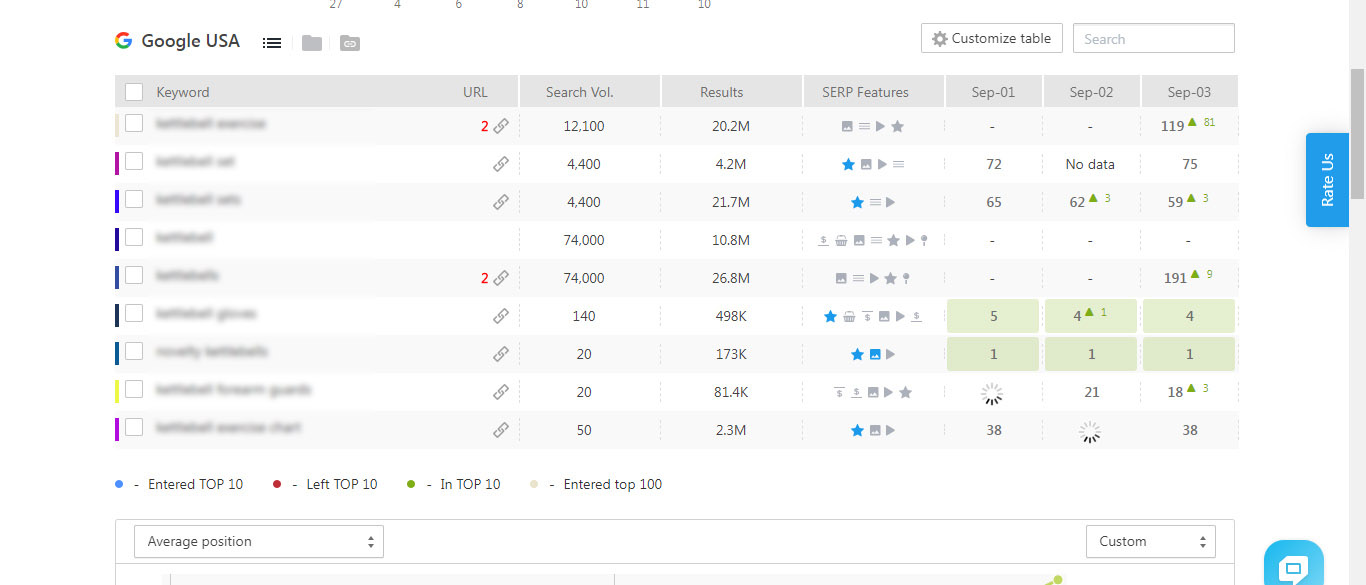 A month later it is still having an effect on high volume keywords.
You'll notice I added two new keywords for tracking at the end of the list. September 1st and 2nd are the normal and expected results. September 3rd shows the keyword flashing effect. Some of the data was still processing but you can clearly see the difference. The 4,400 keywords have started to rank normally. However, the 12,100 and 74,000 are only visible during this experiment. Interestingly, there is a slight increase for the 12,100 from a month ago. Is this random or expected behavior? We'll find out in the next post!