Can Fiverr Really Provide Your Business with Quality Results? Yes it Can!
Searching Google for Fiverr Reviews will immediately leave a bad impression for those wondering about the quality of that service. The highly respected aggregate review websites Trustpilot and Sitejabber each have around 1000 total user reviews that average below 3 stars. The #1 result in Google, thefreelanceeffect.com, has a damning meta description that states you should never use them! Only fools would hire someone for their business needs off Fiverr, right? Not so fast.
Yes, I would agree, that the majority of gigs on Fiverr are garbage quality. A lot of them promise substantial value yet severely under deliver. However, it's all about finding that diamond in the rough. There are sellers who can provide your business with quality work for little money, giving you the best bang for your buck. You just need to do a little research on your end to find these people. Although, you should certainly have a general idea of how Fiverr works before you go ordering services.
What is Fiverr?
Quite simply, it's the poor man's marketplace for buying all kinds of digital services for your business or interests. The craigslist of marketing services. I don't mean for this assessment to sound negative. Rather, it's a matter of fact.
Anything from writing, SEO, artwork, and other computer-related tasks are available for as little as $5. These services, called gigs, typically have upgrade options for an additional fee with extra perks or to speed up delivery time. Because of the low starting price you may equate Fiverr as being cheap. It's hard to argue this point. However, just because something is cheap doesn't mean that the quality of work necessarily is.
Fiverr Sellers Consist of People All Around the World
Fiverr sellers are a diverse group
Fiverr is a melting pot when it comes to the nationality of its sellers. You have freelancers from well-established countries such as the U.S., Australia, France, England, etc. There are also people who provide services from Pakistan, Estonia, Algeria, Bangladesh, and the likes. My initial reaction to the latter used to be one of disdain. As a person who has been privileged enough to grow up in the U.S., I've been conditioned to think that the former countries listed will always have the superior individuals that offer services. Not only is that not true, but also ignorant on my part.
Since starting this blog, I've witnessed the traffic that comes from all corners of the earth. I appreciate anyone who takes the time to read my posts and insights. Statistics aside, I've discovered that there are many individuals outside of the U.S. who excel in areas I can only dream of. PHP, Javascript, Linux to name a few. Chances are these people had to work very hard to develop those skills.
Just because they provide those skills for a lower fee than what I'm accustomed to shouldn't put them in the bottom rung of their peers. The U.S. dollar could go a lot further for them in their country than it does where I'm from. It's with this mindset that I've realized you CAN get great value if you know where to find it.
What to look for in a Gig and a Seller
The first thing you should look at when considering the purchase of a gig is the star rating and the number of reviews. Not just of the gig itself, but also the seller's overall rating which combines reviews from all of their gigs.
You'll really want to do your due diligence here. Take the time to read as many reviews as possible. This shouldn't take too long as they are mostly between 1 and 4 sentences long. Take note of the frequency of reviews. The less time between reviews usually indicates that the seller is very active and responsive. In some cases, a picture of the finished product is displayed alongside a review.
Also, you should pay attention to the negative reviews. While I'm sometimes skeptical of overly positive reviews, all of the negative ones seem authentic to me. That isn't necessarily true about other platforms, like Yelp, where competitors will leave scathing reviews to hurt their rival.
Don't Be Afraid to Message a Seller With a Question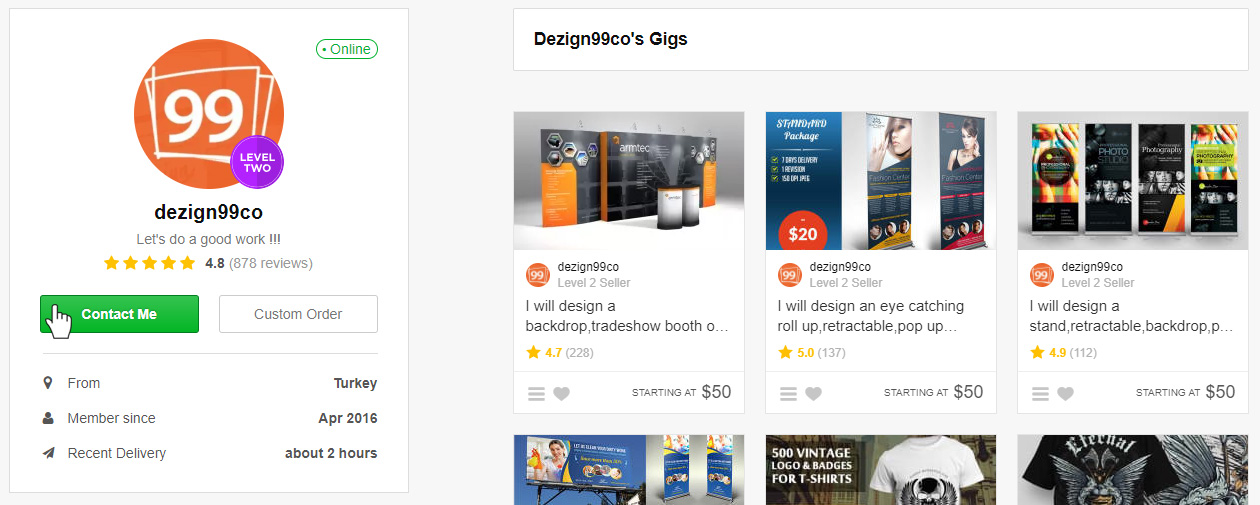 Asking a question is as simple as hitting the contact button
Sellers are eager for business. If you're not sure about a specific service being offered, ask them. More times than not, they'll be happy to answer any questions you have. This should help eliminate any assumptions you might make.
Being a very particular person, I have high expectations and standards. I always evaluate my needs and break down every necessary detail. You should do the same. I've made the mistake in the past where I wasn't explicitly clear in what I was looking for. It's not fair to blame the seller based on my lack of information. However, if a miscommunication or mistake does occur, there is a safety net.
Revisions
Most, if not all gigs, allow for at least 1 revision. In order to successfully complete a transaction, you must review and accept the work that you receive. If you're happy with the results, then you can leave a review (and tip) and receive artwork files that aren't watermarked. Congratulations, you can now use that work as you see fit for your business!
If you do need revisions, state them clearly. Try not to come off as too disgruntled. It won't help your cause. I find that if you calmly revise your instructions or provide additional information, the 2nd go-round should be your last. Remember that there might be some language barriers and as a result, misunderstandings.
There have been a couple of instances where I didn't get what I had envisioned or asked for but ended up liking the final result! It's funny how my thought process can change when presented with a different option. Try to keep an open mind and you might have the same opinion!
Gigs That I've Found to Be Incredibly Valuable
As I mentioned earlier, there are many gigs to choose from. While I won't reveal sellers that I've personally used, I will offer some advice on a couple of gig categories. The first category might shock some of you. In most cases, many industry elites will advise that you steer clear of these gigs on Fiverr.
SEO Gigs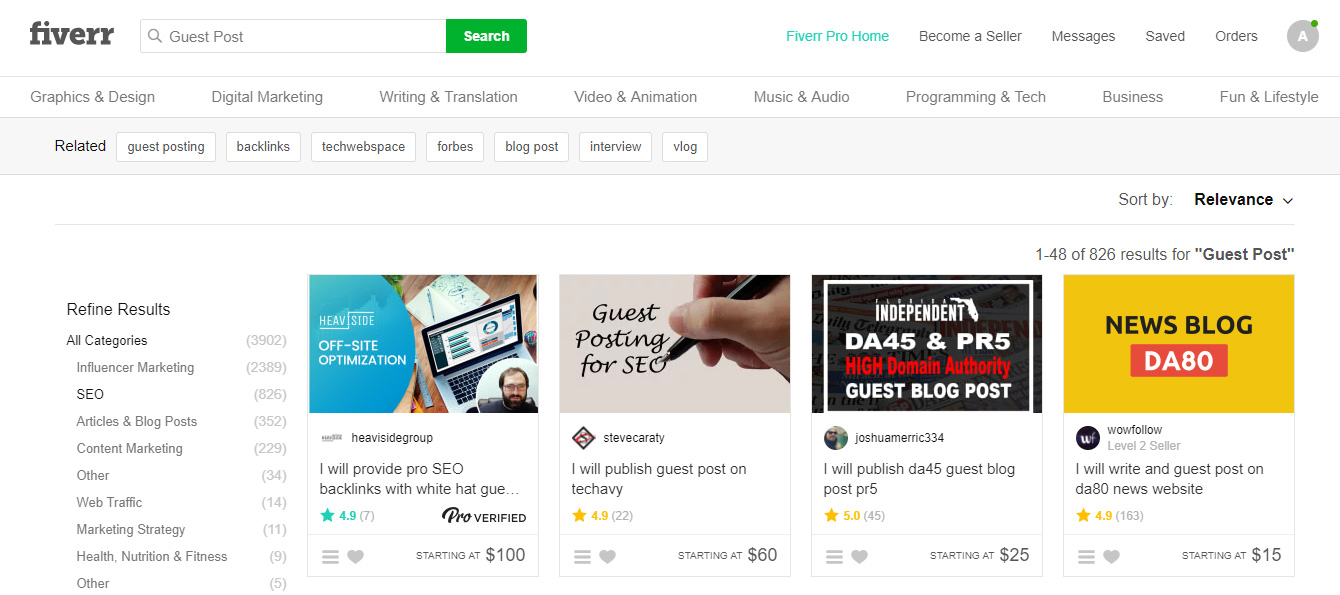 SEO gigs on Fiverr are a very mixed bag
There, I said it! Any SEO professional will tell you that these Fiverr gigs are a waste of money. Even worse, they could negatively impact your website. I, on the other hand, don't entirely agree with that. It depends on what type of SEO gig you purchase.
Any gig that offers hundreds or thousands of backlinks on the cheap, just forget about it. Don't fall for the allure of advertised metrics (100 backlinks on DA 40-50 domains!). When it comes to SEO, you want quality over quantity. While blog comments, profile links, and forum links might offer some value, those are things you can do yourself for free. They shouldn't be the overall strategy or makeup of your backlinking profile either. So what do I recommend for SEO gigs?
Guest Posting Backlinks
If you search guest posts on Fiverr you'll see there are a ton of gigs. Most have the option of writing the guest post for you or will allow you to supply your own text. Since I'm usually crunched for time, I typically opt for writing included in the gig.
It's important to temper your expectations when having a guest post written for you. If hiring someone out of the U.S., it's not uncommon to see some unusual choice of words. However, the quality should be much better than any spun text.
I've ordered multiple gigs from the same seller for guest posting on different domains for the same niche. I made certain that each of those domains pointed to a different IP address and that they had some age. You can use the Wayback Machine to determine the length of a website's history.
This seller doesn't have the best English, but the presentation of each article (including pictures) is top-notch. The domain's Trust Flow/Citation Flow and Domain Authority/Page Authority all matched the description in their service. Communication has been great, and I plan on using them for future guest post gigs.
Use caution and good judgment for guest post gigs
Now, these websites are, no doubt, part of a Private Blog Network. PBN's are considered to have a high risk/great reward potential. If possible, you'll want to get a guest post gig on a website with some decent traffic. This might be difficult since sellers won't always provide the domain until after purchasing the gig.
A little trick I like to use is to look at reviews/comments for a gig and spy on that reviewer's profile. Sometimes you'll see reviews from users with the same name as their business. Plugging that user's business domain in a backlink checker has lead me to discover the domain of the guest post gig.

Follow the steps to spy on potential Fiverr backlinks
I would suggest that lower-priced guest post gigs would be better suited for your own website and not a client's. Those that are more expensive and explicitly mention what domain the post will appear on should be fine for general purposes. However, you might not find much value as compared to other non-Fiverr guest posting opportunities.
Artwork & Design Gigs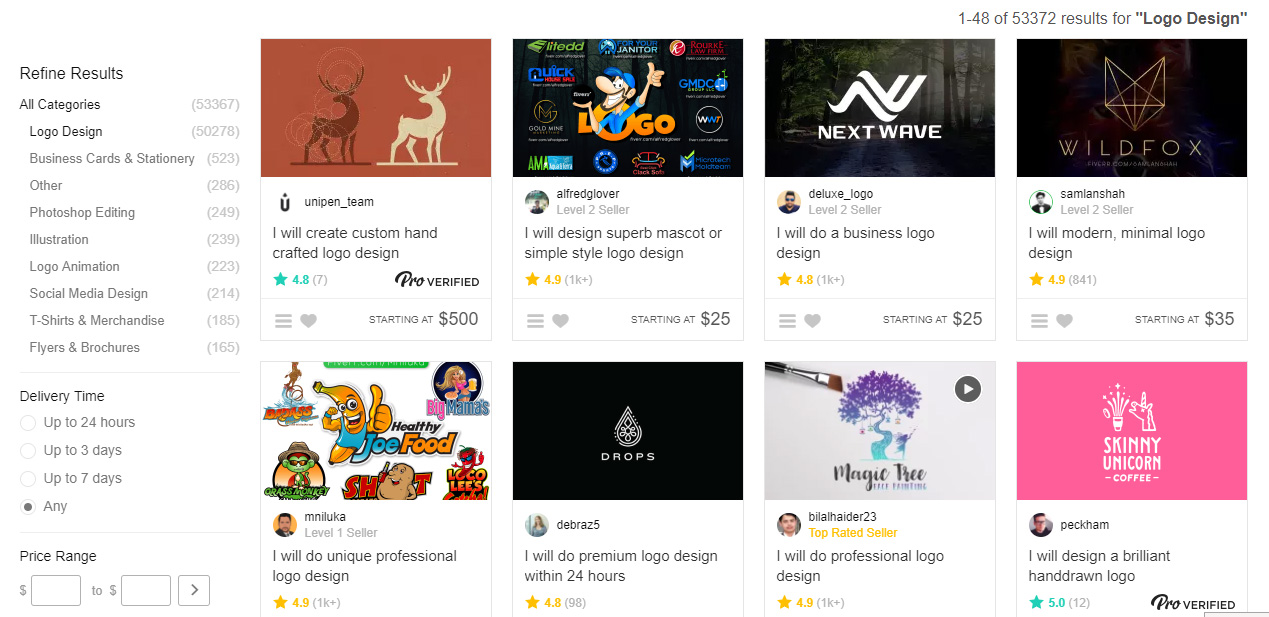 Artwork and desgin gigs pose little risk for your investment
These gigs are a lot safer than SEO gigs. Obviously, the only possible downfall isn't a penalty, but the loss of your time and money. That being said, many sellers for these gigs proudly showcase their work. This is likely where you will see pictures of completed projects alongside reviews for their gigs.
The many subcategories for design gigs include brochures, ad banners, cartoon characters, t-shirt and merchandise designs, and so forth. Due to the nature of the gigs, expect to pay more than other services. It takes time to create quality designs. Very rarely will you find gigs in this section that start off at just $5.
I've only ordered gigs from one particular subcategory, but I suspect that the quality and price are similar to related gigs in this main category. You could easily pay 3x as much outside of Fiverr for the same results. I'm talking about…
Logo Design
For less than $50 you should be able to get a high-quality professionally designed logo. This may even include a character, mascot or intricate design depending on the seller. I would advise that you make sure your logo is available in vector format too. This will allow you to scale it infinitely without loss of quality.
There certainly are plenty of sellers to choose from for logo design. Browsing through these sellers will help you decide which one you should hire. The cover photos shown for these gigs display the art style through example logos. Are you looking for something cartoony? Or perhaps a snappy-looking 3D render? There's something for everyone's tastes.
In my case, the design I purchased for my niche website didn't come out as expected. Initially, I was going to ask for a revision. However, after some review, I came to like the design and quickly put it on my website. It gave my site an instant boost in regards to presentation. As a result, I believe it will help with converting visitors into sales.
Apparently, I'm not the only one with logo love on Fiverr. Entrepreneur Spencer Haws, mentioned he purchased logo services for his website in the Niche Site Project 4 case study. I suspect some other participants in NSP4 will follow suit.
The Final Verdict on Fiverr
Don't believe the naysayers. While you absolutely need to be cautious and research gigs through and through, there is definitely value to be had. Try to see if you can find any presence of a seller you're interested in on other platforms. Sometimes copying and pasting their username in Google will show a LinkedIn profile, author biography page, portfolio, etc.
It helps to really dissect reviews and see if those users have the work they ordered implemented into their business. I've found several websites and Facebook business pages that matched the work shown on the respective Fiverr reviews.
It's hard to give an accurate score when, sadly, I do think that there are more bad gigs than good ones on the service. Although I believe I'm more forgiving than others when it comes to assigning blame when expectations aren't met. I think we all need to have some accountability for ourselves. With this in mind, an overall rating of 4 stars for Fiverr seems fair. When you take the proper steps and precautions, positive experiences should outweigh any negative ones.
RATING: