One of the most nerve-wracking issues a web host provider can face is dealing with websites that go down. Usually, a rather irate customer will contact their hosting provider or web developer and inform them of the problem. With this notice, questions such as "How long has my site been down?" follow. Not only does the web host have to deal with an upset customer but they also must troubleshoot and rectify the problem as quickly as possible. That's why having a website monitoring service is a must!
When I was working for another web design & hosting company, part of my job was dealing with this exact problem. We didn't have error logs or concrete answers as to why a site went down. The only remedy was to apologize and get that customers' site back up immediately. I was always sympathetic to customers for this issue. After all, who doesn't feel angry when their internet goes out for a lengthy period. A service you pay for, at a full price, that you can't use at that moment. Sure, business owners probably aren't hitting the refresh key to check the status of their website. However, it can become really uncomfortable when they do discover it has been down and then trying to explain the how and why.
The web host could check the website status manually every 5, 10, or 15 minutes but that really isn't feasible either. That is why it makes the most sense to use a service that will automatically check the status and send an email notification to the contact person. Such services usually have a free plan that allows you to monitor a limited amount of websites. When you reach that limit, that's when it can start to get pricey. Fortunately, there is one free website monitoring service that doesn't limit the number of websites you can add.
Limitless Website Monitoring

StatusCake is not a name you would expect from a website monitoring service. With competitors such as Uptime Robot, Pingdom, and Site24x7, it would be easy to overlook them. Based in London, they have been around since 2012, and to my knowledge are the only company to offer unlimited monitoring. Allowing you to have your cake and eat it too! They've certainly raised the bar as far as offering plans that crush their rivals. But is it a reliable service? Is the user interface easy to navigate? In my experience, the answer is yes to both questions!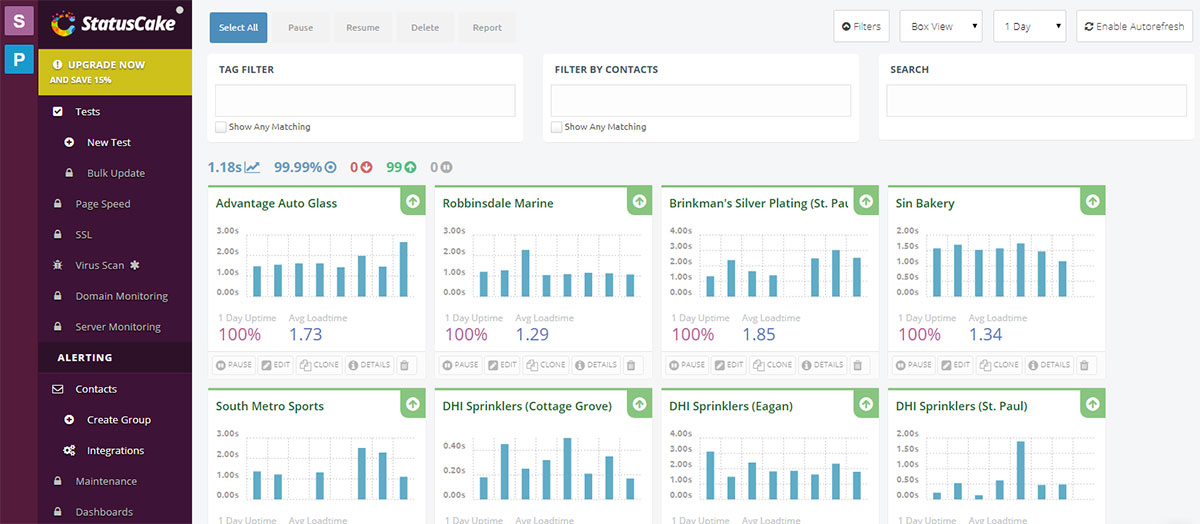 StatusCake lists your websites in an easy-to-navigate interface
When you first log into a free account with StatusCake you'll notice a lot of locked features. Of course, the most important one – tests, is free and easily accessible at the top of the list. As the title implies, this is where you will add domains for websites you would like to monitor. Each new test allows you to configure a variety of options.
Some of the free options include:
Check Rate – the time between each test for a domain, can be set to as low as 5 minutes with the free plan. I prefer a longer duration, such as 15 minutes, so as not to put too much stress on my server with all the tests occurring. You can also set what types of errors will trigger an alert. HTTP status codes such as 404 (Not Found) or 500 (Internal Server Error) are automatically added along with over 30 other codes.
Alert Delay Rate – the time elapsed before being notified of a website going down. You don't want to have this set too low. Doing so may cause notifications to come flooding in if a site is offline briefly.
Confirmation Servers To Use – the number of testing servers that will verify a site in a failed state before a notification is sent. Helps prevent false positives.
And more options.. –

Test Type

has settings for DNS, SSH, SMTP, HTTP (obviously), etc.

User Agent

can narrow tests to specific browsers and devices.

Hosting Provider

comes in handy when you want to group websites together to filter out statistics in the main testing dashboard.
Creating Contact Groups
A nice feature is the contact group. Here you can enter email addresses, phone numbers, and even webhooks that trigger an event or notify you of a failed test. When adding a test, you may choose a group to assign to a domain. Modifying these groups makes it very easy to add or remove contacts instead of having to enter an email address directly into each test. Aside from contact groups, there is an option for bulk updating. Although, this is unavailable in the free plan. Presumably, this lets you change options like Alert Delay Rate on a wide scale instead of having to do so individually.
When you add a phone number to a group, an SMS will be sent when a site goes down. However, this feature is only in paid plans and has limitations depending on that plan. It seems like a nice option to have, but when you think about it, unnecessary for most web hosts. It isn't too far-fetched to assume that StatusCakes' members have a smartphone with email notifications set up. So even if you aren't on a computer you'll still get word of a website failure.
Test Results
The test results show graphs of that websites' average load time for each testing interval. These graphs range over the span of hours, useful for pinpointing a specific time for when a site went down. You'll also get information on the testing servers, including their location. Don't panic if you see a failed test from a server located in Germany or another foreign country. This is why it is good to set the Confirmation Servers To Use to at least 2 servers. Every so often, I'll get an email that a website is down at one test interval and then another email at the next interval alerting me the site is back online. When this happens, it is most likely from two out-of-country servers. However, this doesn't happen but maybe 2-3 times a week and I don't find it to be a nuisance in any way.
The results can help you determine peak load times too
The Verdict
The ability to monitor an endless amount of websites for free still leaves me feeling blown away. There is a sense of worry upon being notified of a site going down, but also a sense of relief. Knowing, first hand, of a website issue rather than finding out through a customer makes it a no-brainer to get a website monitoring service. Should you need more vigorous or frequent testing, paid plans offer shorter interval periods, the ability to select test locations and even PageSpeed monitoring. These paid plans include other services like Domain Monitoring – so you don't forget to renew your domains. SSL monitoring is another benefit of being on a paid plan, helping to avoid visitors from seeing the dreaded Not Secure Message.
When it comes down to it, there is no reason not to sign up for StatusCake. You won't find any referral or promotional links / codes in this review. This is my honest and unbiased opinion. I do not grade lightly. However, given what you can do for free, it isn't difficult giving this service a solid 5-star rating.
RATING: